Volunteer Costume-makers Produce Stunning Replica of Queen's Coronation Dress
30th May 2022
A dedicated team of voluntary costume-makers has spent three months producing a stunning replica of Her Majesty the Queen's Coronation gown.
The ornate gown will feature in this summer's performances of Kynren and will have particular pertinence in the first show on Friday, June 3rd – almost exactly 70 years to the day after the Queen came to the throne on June 2nd 1952.
Taking place at Bishop Auckland, the multi award-winning outdoor spectacular features a 1,000-strong cast and crew and takes audiences on a thrilling journey through 2,000 years of history, myth and legend.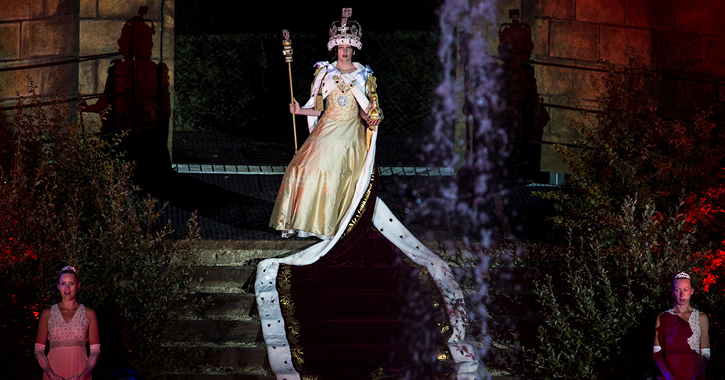 One of the volunteers in the costume team said: "The coronation gown is a very special creation for the Kynren costume team, and one which gives us an overwhelming feeling of pride and emotion."
The pre-design work included the challenge to find the correct colour of velvet, because the show's lighting significantly changes the appearance of on-stage outfits.
Another consideration was the length of the dress, in order to give an accurate perspective of its original length, given the audience's proximity to the stage. It was eventually decided that the dress should be five metres long, requiring 25 metres of burgundy velvet and 10 metres of white synthetic fur.
All the prints on the dress were designed by a volunteer from the Kynren Props department, before a local company printed them. The Kynren Costume team then re-cut and affixed each one. Once all the elements were assembled, the ermine spots were hand-painted on to the white fur.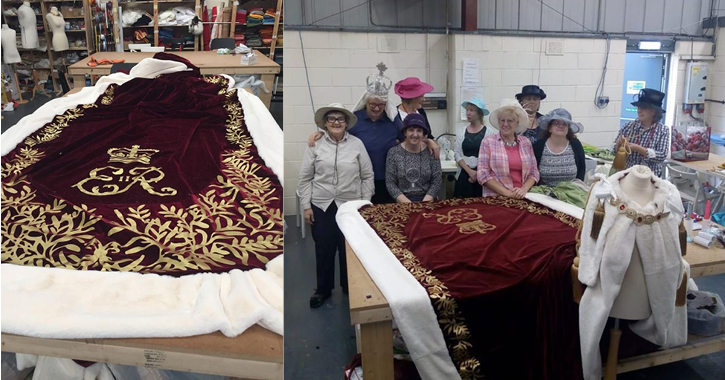 One of the volunteers even donated her wedding dress to complement the gown and it has pride of place in the show every night.
Kynren has a six-week run on Saturdays during the summer holidays starting on August 6, but next month's performance is an additional show to mark the historic royal event.
From Boudicca's battles with the Romans to two world wars, via Vikings, Tudors, Stuarts, Queen Victoria and the Industrial Revolution, Kynren is a spellbinding, family-friendly experience delivering thrills, shocks, tears, laughs, goosebumps and gasps on a truly cinematic scale. The 8,000-seater Tribune provides panoramic views across the giant seven-and-a-half-acre outdoor stage.