Durham Cathedral to allow visitor photography 
4th March 2019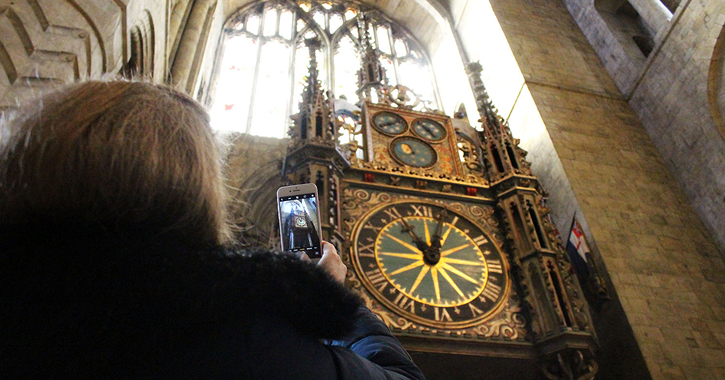 Durham Cathedral is delighted to announce that as of Friday 8 March 2019, photography for personal use will be permitted inside the Cathedral.
This marks a change to the existing policy which has limited the taking of photographs to the Cathedral Cloister and the church's exterior, for reasons of fabric preservation and the maintenance of peaceful worship. While these remain firm priorities, the Cathedral recognises that the ban has prevented many keen visitors from taking a permanent reminder of the Cathedral's beauty home with them.
Guests are now encouraged to get snap happy, capturing everything from the medieval architecture, to the intricate stained glass windows and St Cuthbert's Tomb, which lies at the heart of Durham Cathedral.
Canon Chancellor of Durham Cathedral, Charlie Allen, said: 'I am thrilled about the update to our Cathedral's photography policy. It is important for us to reflect that we are a living, working, progressive place of worship, with many visitors wanting to create lasting visual memories of their time at Durham Cathedral. With the rapid advancement of social media, a lot of our visitors are keen to share their experience with family and friends, and it feels good that we can now encourage them to do so, spreading the wonder of Durham Cathedral and all that it represents to a wider audience.'
The Cathedral's attitude to worship remains unchanged, with the privacy of visitors of the utmost importance, especially during quiet periods of prayer and reflection. This is why some areas of the Cathedral will remain photography free zones, such as the Gregory Chapel. Photography and filming during services and events remains prohibited, as well as photography in Open Treasure. In areas where photography is permitted, flash must not be used.
Permits are still necessary for commercial photography and fees will apply.