New Art Gallery Brings Masterpieces to Durham
9th May 2019
Launching in Bishop Auckland on Saturday, 1 June the Bishop Trevor Gallery, part of The Auckland Project, will offer a programme of special temporary exhibitions, displaying fine art on loan from national institutions and private collections.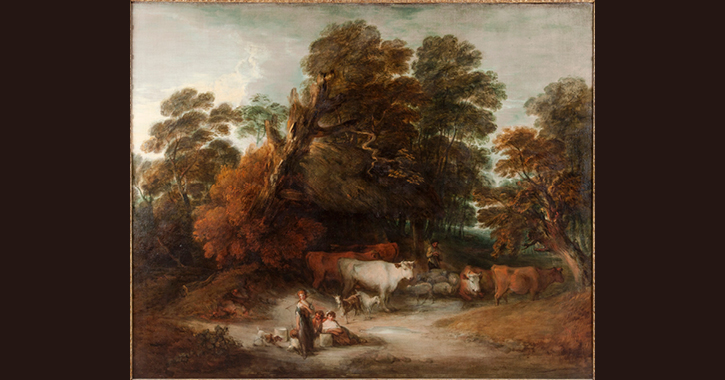 Wooded Landscape with a Milkmaid, Rustic Lovers, and a Herdsman by Thomas Gainsborough c.1775–1777
The first exhibition will feature works by masters such as Thomas Gainsborough and George Stubbs.
The new gallery is housed within 900-year-old Auckland Castle and has been named after Bishop Richard Trevor, Bishop of Durham from 1752 to 1771, who lived at the Castle and left a legacy of art in the town.
The Bishop was a serious art collector and gathered a large collection at Auckland Castle, including Jacob and His Twelve Sons by Spanish master, Francisco de Zurbarán, which he purchased in 1756.
The life-sized paintings have hung in the Castle's Long Dining Room for over 250 years, and during the Castle's conservation, have travelled to Dallas, Texas, New York and Jerusalem, putting Bishop Auckland on the map for art-lovers the world over.
Created by The Auckland Project, which owns Auckland Castle, the Bishop Trevor Gallery honours Bishop Trevor's legacy, bringing famous masterpieces and original works to the town for all generations to enjoy.

The new gallery space sits within a suite of apartments in Auckland Castle, which were first built for Bishop Trevor in the 18th century and have never been open to the public before. Originally designed by one of the most renowned architects of the time, John Carr of York, the apartments were specially arranged so that the picturesque views of the landscaped Deer Park and surrounding scenery could be easily admired from the windows.
The first temporary exhibition - Origins of British Landscape: Saturday, 1 June – Sunday, 8 September 2019 has ataken inspiration from these views, exploring the rich history and beauty of British landscape painting, featuring paintings by some of the most influential artists of the 18th century, such as Thomas Gainsborough, George Stubbs and Claude Lorrain.
The exhibition will take visitors through the origins of British landscape painting in the mid-1700s to its development into one of the most enduring and significant genres of British art.
Clare Baron, Head of Interpretation and Exhibitions at The Auckland Project, said: "The first British landscape artists created the traditional 'chocolate box' view of England with their idealised depictions of rolling green hills, quaint country lanes and dramatic mountain ranges.

Visitors coming to Bishop Trevor Gallery will also be able to take a sneak peek inside Auckland Castle, which is currently closed to the public while a multi-million pound programme of conservation is taking place. The Castle is due to re-open later in 2019.