Community Commemorates Cornish Centenary
28th March 2019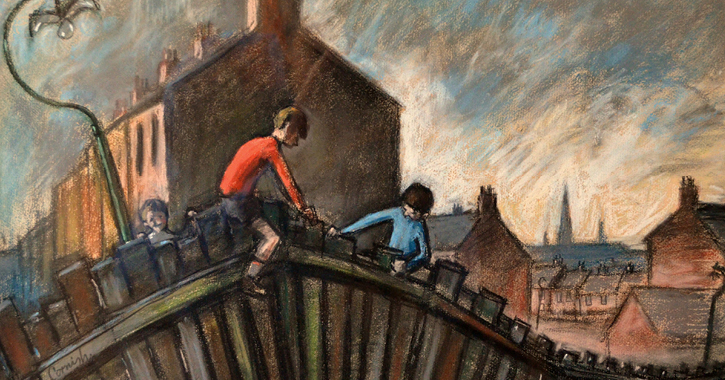 The Durham mining community that provided a lifetime of inspiration for artist Norman Cornish, will sit at the heart of a special exhibition, commemorating his centenary year.
Perhaps one of the most celebrated artists of the north east, Norman Cornish lived all his life in Spennymoor. Now generations of the former mining town have come together to co-curate an exhibition of his work at the Mining Art Gallery.
Titled, Norman Cornish – A Slice of Life, the exhibition is part of a county-wide celebration marking 100 years since the artist's birth, it will open on Saturday, 6 April 2019 .
Describing his hometown, Norman Cornish said, "Spennymoor has all that a painter needs to depict humanity." And for decades the streets, faces and landscapes that surrounded him were a constant source of inspiration.
The pit road he walked every day to work in the mines, children playing in the street and men leaning companionably at the bar all feature in his work. And whether in paint, pastel or his famous Flo-master pen, each scene is captured with the same compassion and warmth that characterised Norman's popular renderings of everyday life.
Now, to celebrate this legacy, residents of Spennymoor have joined Norman's children, John and Ann in choosing some of their favourite Norman Cornish artworks to be displayed at the Mining Art Gallery.
Angela Thomas, Curator at the gallery, which is part of The Auckland Project also worked with Spennymoor Settlement Sketching Club, Rosa Street Primary School and Tudhoe and Spennymoor Local History Society to select works to be part of the commemorative exhibition.
Their selections, whether bar settings, street scenes or familiar landscapes reveal that Norman's carefully observed and lovingly created depictions of his hometown continue to resonate with the community living there today.
Norman's son, John and daughter, Ann, have chosen more personal works, portraits of them, their home life and childhood, lovingly captured and preserved forever by their father. These artworks bring back memories of being instructed to "hold that pose" by Norman as he grabbed a pen and paper to take down a sketch.
Norman Cornish - A Slice of Life opens at the Mining Art Gallery, Bishop Auckland Market Place on Saturday, 6 April 2019.
Angela Thomas, Mining Art Curator at The Auckland Project said: "Norman Cornish is one of the most enduringly popular mining artists in the country and to celebrate his centenary we wanted to focus on his home town of Spennymoor.
"That is where it all began and where he found new inspiration every day. It has been fantastic to work with a range of generations and people from all across the community to explore how Norman's legacy lives on in the town and what his artwork means to them.

The temporary exhibition sits alongside the Mining Art Gallery's permanent collection featuring further work by Norman Cornish, as well as other mining artists such as Tom McGuinness, Tom Lamb and Bob Olley.
The exhibition at the Mining Art Gallery is one of a number of exhibitions planned across the county in 2019 to mark the centenary of Norman Cornish, including exhibitions at the Bowes Museum in Barnard Castle and the Bob Abley Art Gallery in Spennymoor.
Image credit: Boys Climbing Fence, Norman Cornish. Copyright: © Estate of Norman Cornish. Courtesy of Mining Art Gallery, The Auckland Project