Durham Cathedral's new glazed lobbies revealed
24th February 2020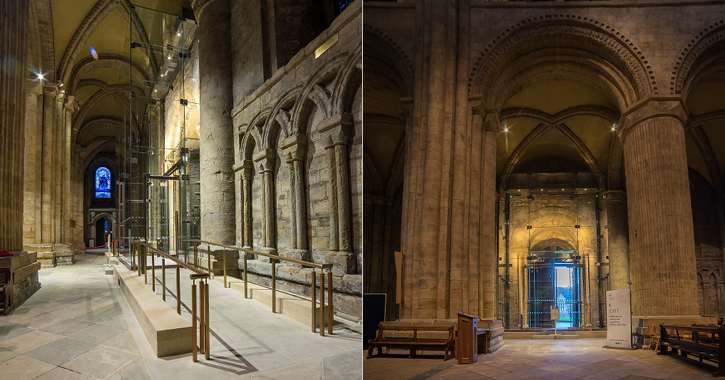 After a lengthy period of construction work to erect new internal lobbies, Durham Cathedral's north and south doors have reopened to the public.
The construction of the glass porches that frame the delicate architecture of the north and south doors began in July 2018, to improve visitor access, use of the doors for liturgical processions and events, and the environmental conditions within the church. For the past 18 months, visitors have been accessing the cathedral via the Galilee Chapel and the Cloister via the old Prior's Door.
The new glazed lobbies, designed by cathedral architect Chris Cotton from Purcell (one of the world's leading design practices), provide a much-improved welcome for those arriving at the cathedral, dramatically opening up visibility into the church and onto the Cloister. Their completion marks the final stage of the cathedral's Open Treasure project; a six-year programme of works and activities, supported by the National Lottery Heritage Fund, that included the creation of the cathedral's award-winning museum.
Chris Cotton, said: "The new lobbies achieve several practical and aesthetic outcomes that we were striving towards back when the Open Treasure project was in its planning phase.
"First and foremost, we wanted the lobbies to overhaul the visitor experience. We hope that the first impression visitors get upon stepping foot inside the lobbies, is a feeling of openness and fluidity, owing to their minimalist and transparent design.
"Visitors are afforded panoramic views of the cathedral and beyond as they enter through the north door. The great arcades and vaults are now on full view, and visitors can see straight through to the south door, leading on to the Cloister. The lobby on the south side has in turn improved access to previously hidden claustral buildings such as the cathedral's museum, shop and restaurant.
"A new longer ramp from the North Door provides a fully accessible route into the cathedral church, ensuring that this extraordinary space can be enjoyed and explored by all."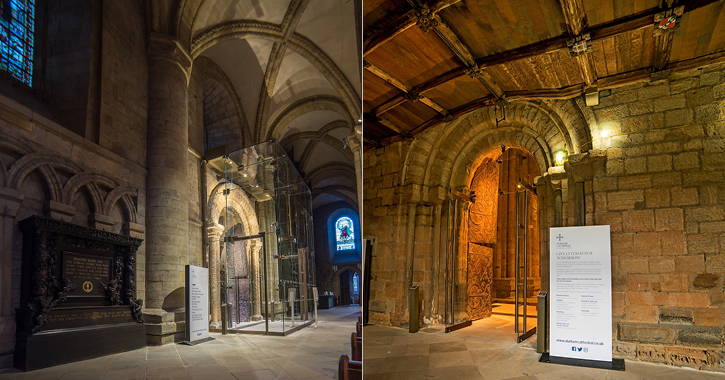 The innovative new structural additions to the church replace their narrow, timber-framed predecessors from the 1970s, which were no longer fit for purpose. The previous lobbies restricted access into and out of the cathedral and resulted in frequent bottlenecks, particularly at the south door.
The Very Reverend Andrew Tremlett, Dean of Durham, said: "I am delighted to see the lobby project reach completion, having arrived in Durham when it was in its infancy. The new lobbies, with their stunning view of the cathedral interior and cloister, are just one example of how we are constantly striving to be a modern place of welcome, worship and hospitality.
"It is particularly good that the lobbies are complete as we prepare to welcome pilgrims from near and far, during Durham's 2020 Year of Pilgrimage, a celebratory year which will also see the launch of six new permanent pilgrimage routes – the Northern Saints Trails- in March this year."
All photos credit John Attle.