Joint Stocks Route
Active Life Centre @ Coxhoe
Linden Grove
Coxhoe
Durham
County Durham
DH6 4DW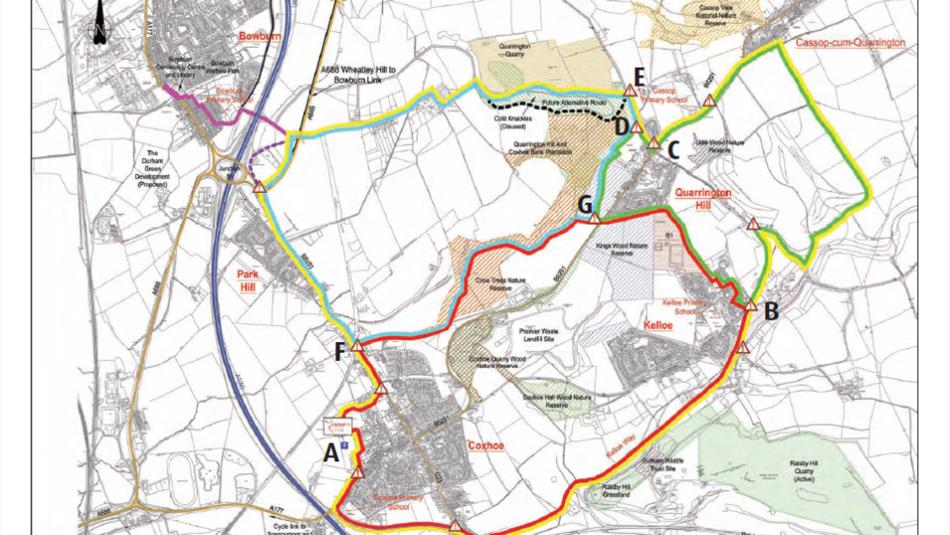 About
Joint Stocks Route: 4 miles


1. With the Active Life Centre @ Coxhoe behind you (A on map), exit the car park and turn right onto Linden Grove. Continue straight on ignoring left turn. Follow to end and turn right through the gap in the fence onto the path and turn left.


2. Continue to Cornforth Lane and turn right along Cornforth Lane to the roundabout. Bear left staying on the shared use path alongside the A177 and to the crossing at Station Road – use the crossing refuge.


3. Cross to The Pottery and turn right. Continue past Station Road East using the shared use path.


4. Turn left at the cycle direction sign and follow the path through the chicane, along the bridleway straight ahead.


5. At B on the map, turn left, cross the road and go through metal chicane and up the ramp. Turn right onto Morley Crescent and follow all the way around until the right turn passed the telephone box. Then follow the signposted path on the right.


6. Follow the path to the left passing Kings Wood Nature Reserve, to meet the road.


7.At G on the map, cross the B2691 carefully and go straight on bearing left. Follow the path all the way through Crow Trees Nature Reserve, through the chicane and to join the quarry road.


8. Turn right and keep to the shared use path next to the quarry road and continue to meet the C23. Turn left.


9.At F on the map, follow the shared use path back alongside the C23 into Coxhoe. Carefully cross the road at the signed path back to the Active Life Centre @ Coxhoe and the start.


Part of the Limestone LinX walking and cycling route.
Information provided by Durham County Council's Sustainable Travel Department with the Active Life Centre @ Coxhoe, Natural England and East Durham Leader.

Book Tickets
TripAdvisor
Downloads
378 Kb
Access Information