It's hard to believe we've almost come to the end of another year! While that's always a time to look back, we're also looking forward to an exciting year ahead in Durham.
From incredible stays to amazing days out, let our guide to the top 23 things to look forward to in Durham help inspire you!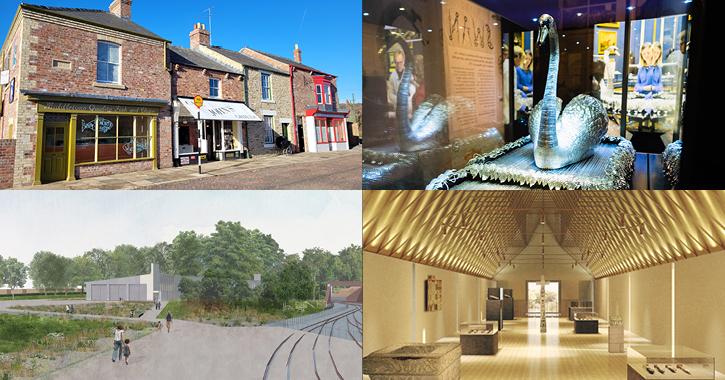 Remaking Beamish
There's more exciting 'Remaking Beamish' developments coming to Beamish Museum in 2023, with a host of new exhibitions and buildings opening. Alongside 1950s Front Street Terrace and Spain's Field Farm, the 1950s town will continue to grow with the addition of Aged Miners' Homes, which will host sessions for old people living with dementia along with a bowling green.
Replicas of semi-detached council houses and a pair of police houses will enable visitors to learn about the expansion of housing in the 1950s, and what life was like on a new housing estate.
Happy Birthday Silver Swan!
The Bowes Museum's Silver Swan will take centre stage for the museum's main exhibition of 2023 - Movement: Celebrating 250 years of the world's most famous Silver Swan opening on 8 July 2023 to 7 January 2024.
Discover the incredible story of John Joseph Merlin, the swan's marvellous inventor, alongside other automata from the 18th century at this special landmark exhibition. Play with automatons from today, make your own clockwork objects and enjoy architectural metal sculptures inspired by nature and the Silver Swan by Martin Smith, which will be on display across the museum's grounds and galleries throughout the year.
Full Steam Ahead at Locomotion
As the countdown to the 200th anniversary of the opening of the Stockton & Darlington Railway in 2025 continues, there's lots of new developments to enjoy at Locomotion. Railway fans can already explore newly preserved and renovated historic buildings linked to Shildon's railway history across the museum site.
In autumn 2023 visitors will be able to explore Locomotion's new exhibition hall, which will house 45 railway vehicles from the national collection, making Locomotion home to the largest collection of railway vehicles in all of Europe!
England's First Faith Museum
Autumn 2023 will see the opening of the first museum in England dedicated to faith in Britain at The Auckland Project. The museum will explore the ideas, implications and impact of faith, from the beliefs of small communities centuries ago, to Britain's multi-faith society today.
Sitting in the historic Scotland Wing of Auckland Castle, The Faith Museum will house seven new gallery spaces spanning two floors. And explore how faith, belief, and religion have shaped lives and communities throughout British history.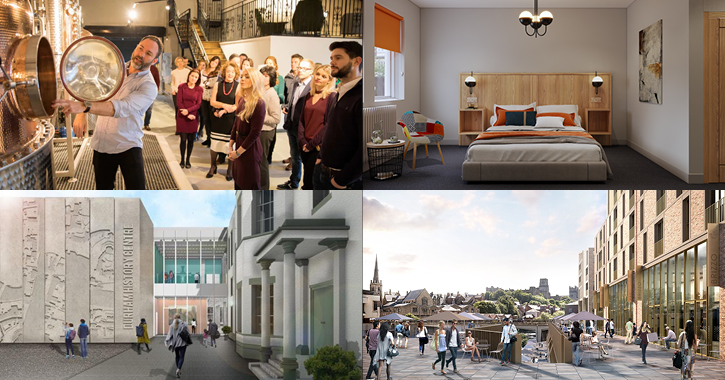 Durham Distillery
Work on the new home of Durham Distillery is almost complete. The 5,000 square foot distillery, shop and bar will be found under the streets of historic Durham City, in Prince Bishops Place, and offer distillery tours and different gin making and cocktail classes, as well as a chance to pick up Durham's range of gins, vodka and whisky. Opening date TBC.
Park Head Hotel
Following an extensive refurbishment, Park Head Hotel will be open from 1 February 2023. The hotel will offer 38 modern en-suite hotel rooms, including single rooms and two-bedroom suites. Guests and visitors can also tuck into delicious local produce, including fruit and vegetables grown in Auckland Castle's Walled Garden at the 80 seat Oak Room Restaurant.
Only a short drive from Bishop Auckland town centre, Park Head Hotel will make the perfect base for those exploring The Auckland Project and those attending Kynren, An Epic Tale of England throughout the summer. And another great addition to the range of places to stay across the county.
The Story at Mount Oswald
The grade II listed Mount Oswald is currently undergoing restoration and will become the new home of County Durham registration services and also a state-of-the-art history centre. The Story will bring Durham's fascinating history and heritage to life through historic records, photographs and objects, alongside exhibitions, activities and events. Opening date TBC.
Millburngate
2023 will see the completion of the Milburngate development on the banks of the River Wear, in the heart of historic Durham City. As well as office and residential space, you'll find an amazing range of retail and leisure attractions to enjoy as you wander along the banks of the river. Stay over in the new Premier Inn hotel, grab a drink in the BrewDog Bar, tuck into delicious food at Bar + Block restaurant and catch the latest movie at Everyman cinema. Openings dates TBC.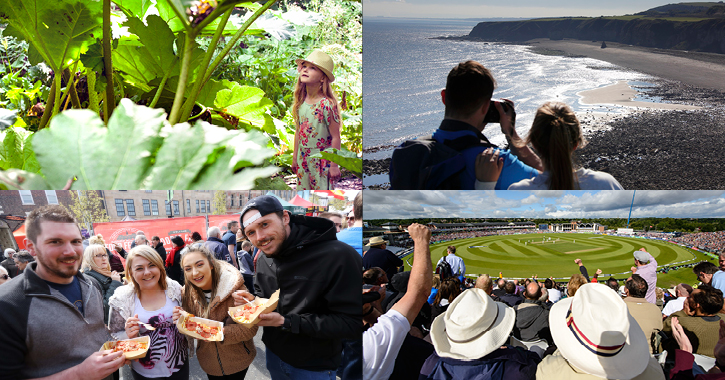 Springtime Wonders
After the long dark winter nights, it's always lovely to see the first signs of life starting to transform Durham's great outdoors. Spring is a wonderful time of year to visit Durham, and as the weather starts to warm up, spring is a great time to visit the county's beautiful parks and gardens. From stunning flower gardens to grand country parks, there's plenty of natural spaces to explore and enjoy the first sights of spring.
Year of the Coast
2023 is Year of the Coast! A year-long celebration, shining a light on England's coastal heritage and seaside hidden gems. All along the 11-mile stretch of Durham Heritage Coast you'll find amazing places to explore and events to enjoy throughout the year. Tuck into delicious local produce, discover hidden natures reserves, enjoy a day at the beach, or take a walk along Durham's coastal footpath and soak up the beautiful views.
Did you know Year of the Coast also heralds the completion of the England Coast Path? The England Coast Path also includes the Durham Heritage Coastal Path. Once it is fully open in 2023 it will be the longest coastal walking route in the world!
Fab Foodie Festivals
One of the region's biggest and most popular food festivals - Bishop Auckland Food Festival, will be returning in spring, from 22 – 23 April. The town's streets will be transformed with a host of culinary delights, from top chefs and tasty demonstrations to fabulous local producers and delicious street food. Seaham Food Festival will also be returning in summer 2023, to take over the bustling seafront from 5 – 6 August with a fantastic weekend of food and family fun.
International Cricket
International cricket returns to the Seat Unique Riverside ground for a summer of sporting action in 2023. England's Men's team take on New Zealand on 30 August in the Vitality IT20 and England Women return to take on Sri Lanka during the WIT20 on 9 September. Tickets on sale now!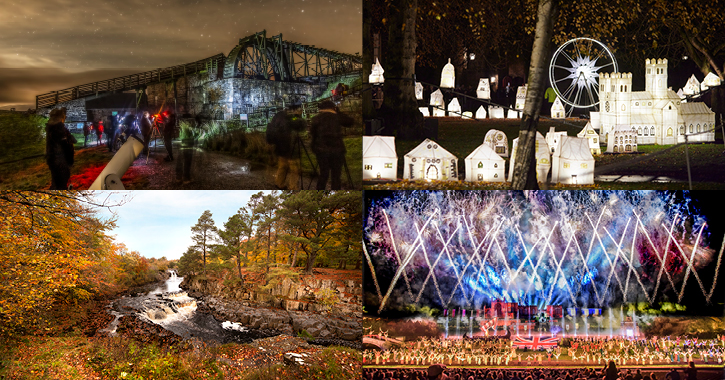 Dazzling Dark Skies
Throughout the Durham Dales and North Pennines AONB you'll find some of the darkest skies in the UK, making Durham the perfect place to enjoy a stargazing break. The winter months are peak stargazing season with crystal clear skies, but throughout the year you'll find an amazing range of events and activities to enjoy. Head to Grassholme Observatory to get expert help when exploring the night sky, or time your visit right for the North Pennines Stargazing Festival from 20 October to 5 November and enjoy a fun programme of events, suitable for all ages.
Lumiere Durham Returns
The UK's leading light festival will return to transform Durham City into a night-time wonderland from 16 - 19 November. Explore the cobbled streets after dark and see well-known attractions in a new light as Lumiere Durham illuminates the city with a new programme of spectacular artworks.
Amazing Autumn Colours
Soak up those stunning reds, oranges, and yellows as Durham's great outdoors is transformed into a colourful kaleidoscope of dazzling displays. From High Force Waterfall, to Hamsterley Forest and Raby Castle, you'll find lots of incredible outdoor attractions you can visit on an autumn escape in Durham. Across the county you'll also find hundreds of lesser-known walks, rides and beauty spots waiting to be explored, perfect for peaceful strolls and seasonal wildlife watching.
Kynren, An Epic Tale of England
Travel through time and watch legends come to life at Kynren, An Epic Tale of England! This spectacular live-action extravaganza returns for an extended summer run in summer 2023. Voted one of the top 5 performances to see in the UK by Tripadvisor, Kynren will take you on a whistle stop tour of 2,000 years of history, myth and legend, every Saturday from 29 July to 9 September. A truly unique experience, not available anywhere else in the UK!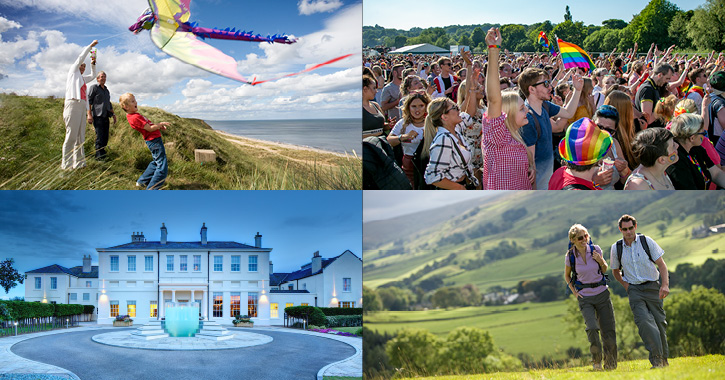 Summertime Seaside Fun
Summers were made for the seaside, and along the Durham Coast you'll find lots of seaside fun. From hunting for Seaham's world-famous sea glass and heading to the county's one and only Harbour Marina to try out water sports. To taking in the view along the cliff top walks of the heritage coast footpath, admiring the rare Little Turn and other incredible wildlife, or paying a visit to the new Dunes Café at Crimdon Beach.
Exciting Events
No matter what time of year you visit Durham, you're certain to find an event to entertain the whole family. Learn something new at immersive exhibitions at world-class attractions, join the celebrations at Durham Pride, delve into the county's rural life at Wolsingham Show and meet world-famous authors at the Durham Book Festival. And summer 2023 will see the third year of the Durham Fringe Festival (26 - 30 July).
Check out our guide to Durham's top 2023 events for inspiration.
Stay at the North England Hotel of the Year
Seaham Hall on the Durham Heritage Coast has been named the North England hotel of the year in The Times and Sunday Times definitive guide to the best places to stay in 2023. From soaking up the seaside views, to relaxing in the award-winning Serenity Spa and treating yourself to delicious food, a stay at Seaham Hall is definetly on the cards in 2023.
Wonderful Walks
Dreaming of getting away from it all and losing yourself in the outdoors? The Durham Dales has plenty of space to explore, dotted with adventurous trails and incredible natural wonders including the mighty High Force Waterfall, Hamsterley Forest and Derwent Waterside Park. Perfect places for short strolls or long distance hikes overflowing with breathtaking views.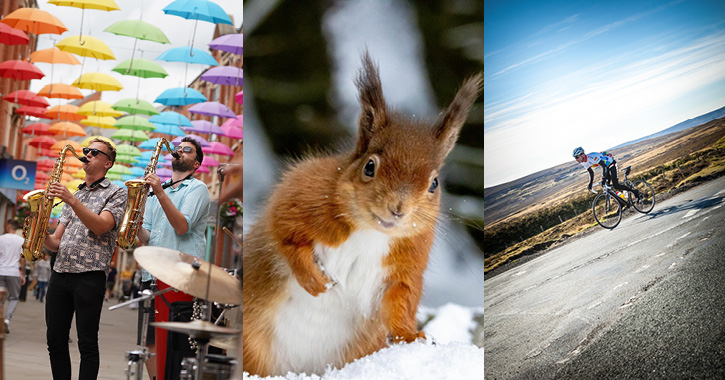 Live Music
No matter what your taste in music is, you're certain to find a festival, gig or performance that will get your toes tapping in Durham. Soak up the atmosphere as Durham City's streets burst to life with music and colour as traditional colliery bands march towards the Durham Miners Gala on 8 July, see world-class brass musicians and bands at Durham's liveliest festival – Durham Brass, and see top acts including Noel Gallagher's High Flying Birds and The Vaccines at Hardwick Festival 18 – 20 August.
Wildlife Watching
No matter what season you choose to visit Durham, you'll find lots of furry and feathered friends to spot, alongside rare plants and flowers. From the Durham Dales famous Black Grouse and cheeky Red Squirrels, to Durham City's resident Otters, rare Spring Gentian flower in the upper dales moorlands and the Northern Brown Argus Butterfly on the Durham Coast.
Check out our interactive nature and wildlife calendar to find out more.
Get On Your Bike!
From challenging climbs to adrenaline pumping trails and shorter family friendly routes, you'll find the perfect bike ride in Durham. Take on the challenge of Killhope Cross – England's highest A Road, see if you can spot the Gruffalo as you ride through Hamsterley Forest, or soak up the beautiful waterside views at Derwent Waterside Park. There's a ride in Durham, suitable for all ages and abilities.
Discover more exciting events on our dedicated what's on in Durham page.
Related
0 Comments