Lumiere 2021
Lumiere, the UK's largest light festival, will return to Durham in November.
Across four magical winter evenings from 18-21 November 2021, Durham City will once again transform into a glittering art trail.
The largest light festival in the UK saw hundreds of thousands of visitors enjoy 37 dramatic light art installations in 2019, across Durham City, bringing the number of people who have enjoyed the festival since it began in 2009 at just over one million.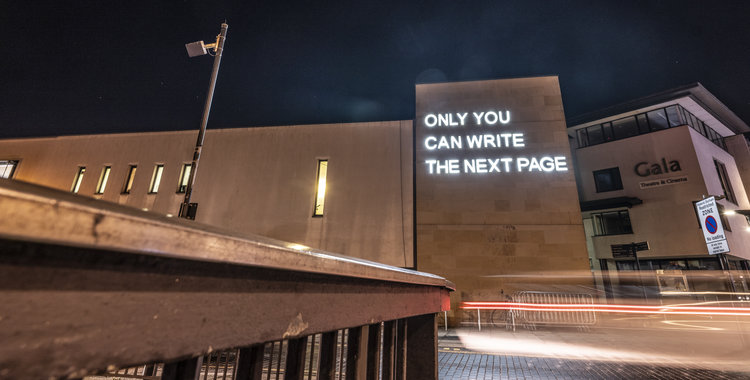 Lasting Lumiere Legacies
The Next Page, a striking neon words artwork displayed on the back of Clayport Library will become the latest Lumiere legacy piece to become a permanent fixture in Durham City. Created as part of a project with women at HMP Low Newton following a series of writing workshops with poet Hannah Jane Walker, it will join the existing permanent Lumiere installations, Heron, Lightbenches and Helvetictoc.
In Millennium Place, Helevetictoc by Swiss jazz drummer turned software engineer, Tobie Langel projects the time in words as a permanent public clock. The installation first appeared in the city during Lumiere 2011 and 2015. The clock uses language in an iconic typeface to recall a pre-smartphone era of asking strangers for the time.
In 2016 Lightbench by German artist Bernd Spiecker was installed at Freeman's Quay, just down the steps from the Gala Theatre. The colour-changing benches featured in Lumiere 2015 are lit by hundreds of LEDs, reinventing the notion of public seating.
And in 2018 the latest legacy piece from Lumiere 2017 was unveiled - Heron by artist Jon Voss. Located on the banks of the River Wear near Freeman's Quay. The installation was designed as a homage to one of England's most magnificent birds, many of which are often spotted along the banks of the river in Durham City.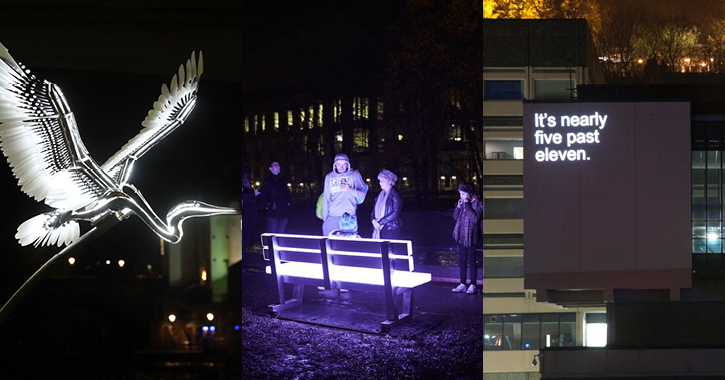 Image L-R: Heron by artist Jon Voss - photo by Paul Norris. Lightbenches by artist Bernd Spiecker and Helevetictoc by Tobie Langel - photos by Matthew Andrews.
Lumiere is produced by leading arts charity Artichoke and commissioned by Durham County Council with additional support from Arts Council England.
Lumiere is just one of the many wonderful things you can enjoy this winter in Durham.
Why not stay a little longer and explore more of what Durham has to offer? From stylish spa hotels and friendly B&Bs, to cosy cottages and scenic campsites, you'll find the perfect place to stay. You'll also be spoilt for choice of where to explore, from award-winning attractions and exciting activities, to tempting places to eat and opportunities for some retail therapy. And for incredible scenery, head to the Durham Dales or Durham Heritage Coast and explore on two feet or two wheels for views that will take your breath away.