Lumiere Durham
Lumiere, the UK's largest light festival, returns to Durham in 2019, illuminating Durham City for the sixth time.
Lumiere Durham will take over Durham City from November 14 - 17 and will bring back a number of the most popular artworks and installations from the previous five festivals. The event marks the 10th anniversary since Lumiere was established in Durham 2009. In 2017, more than 240,000 visitors witnessed the stunning light installations over four spectacular evenings in Durham City.
You don't need a ticket to experience Lumiere.
As with previous editions of the festival, the central peninsula area will only be ticketed nightly during the peak visiting hours of 4.30pm - 7.30pm. The rest of the festival outside the central peninsula area will be accessible to visit at any time without a ticket and everyone will be able to enter the central peninsula area without a ticket after 7.30pm. Many of the installations will be outside the ticketed area so there is plenty to see without a ticket.
The full Lumiere programme will be revealed on Thursday 17th October.
Tickets will be released on Monday 28th October.
A further statement regarding the purpose of the tickets will be available later on this year.
Be sure to follow us on facebook or check the Lumiere Durham website regularly for further news and updates.
When is Lumiere Durham 2019?
Save the date: 14 - 17 November 2019.
Best places to stay for Lumiere
Staying in the heart of Durham City would be your best option in terms of proximity to Lumiere, but accommodation does get booked up quickly. Take a look through these places to stay in Durham City or visit our main accommodation page to view more options across the county, or call 03000 262626 for help and advice on where to stay.
Lasting Lumiere Legacies
No matter what time of year you visit Durham City, you can catch a glimpse of Lumiere with reminders of past Lumiere festivals now finding a permanent home across Durham City.
In Millennium Place, Helevetictoc by Swiss jazz drummer turned software engineer, Tobie Langel projects the time in words as a permanent public clock. The installation first appeared in the city during Lumiere 2011 and 2015. The clock uses language in an iconic typeface to recall a pre-smartphone era of asking strangers for the time.
In 2016 Lightbench by German artist Bernd Spiecker was installed at Freeman's Quay, just down the steps from the Gala Theatre. The colour-changing benches featured in Lumiere 2015 are lit by hundreds of LEDs, reinventing the notion of public seating.
And in 2018 the latest legacy piece from Lumiere 2017 was unveiled - Heron by artist Jon Voss. Located on the banks of the River Wear near Freeman's Quay. The installation was designed as a homage to one of England's most magnificent birds, many of which are often spotted along the banks of the river in Durham City.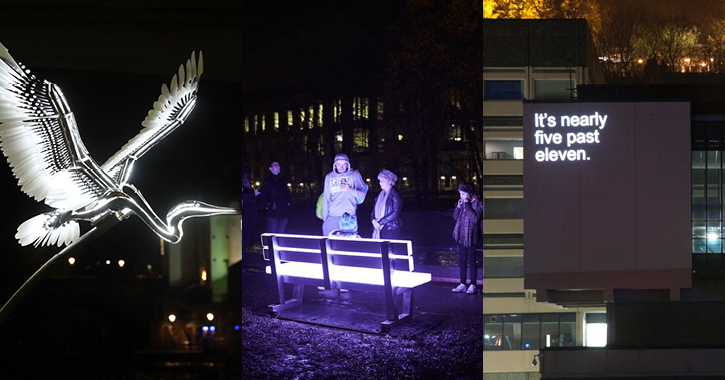 Image L-R: Heron by artist Jon Voss - photo by Paul Norris. Lightbenches by artist Bernd Spiecker and Helevetictoc by Tobie Langel - photos by Matthew Andrews.
Lumiere is produced by leading arts charity Artichoke and commissioned by Durham County Council with additional support from Arts Council England.