There's nothing better after a long winter walk, or on a chilly dark night than sinking into an inviting armchair next to a roaring fire, tipple in hand and hearty pub grub on the way.
Across the county you'll find many intimate pubs and country inns where you can spend a lazy afternoon or evening chatting over local craft ales, great food, and soaking up the friendly atmosphere. We've picked some of the top spots in Durham where you can snuggle up and keep yourself warm and cosy this winter.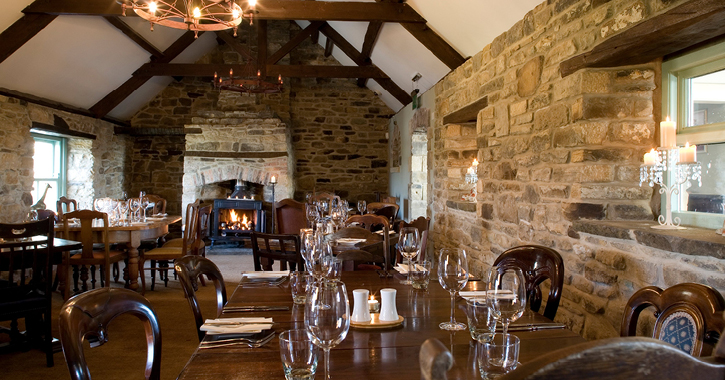 Where? Beamish Burn Road, Red Row, DH9 0RW
Overlooking the beautiful Beamish Valley, the 300-year-old Black Horse Beamish is steeped in history, originally built as a large cottage, it was transformed into a pub around 1850. Here you can enjoy fresh seasonal food and delicious drinks next to a roaring open fire. Or make a stay of it and treat yourself to a night away in one of their boutique bed and breakfast rooms.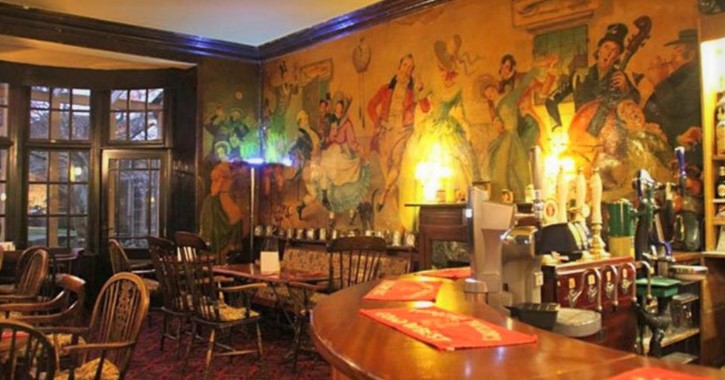 Where? Greta Bridge, Barnard Castle, DL12 9SE
In 1838, a young Charles Dickens travelled north to research his third novel, Nicholas Nickleby, and during his travels stayed at The Morritt, which was a former coaching inn positioned on an important cross-Pennine route.
His stay at the historic coaching inn inspired the bar's name, and also the beautiful murals that decorate the walls within. Tyneside born artist John Gilroy spent eleven days painting a mural on the walls in 1946. It was initially thought that Gilroy had painted Dickensian characters but, on closer inspection, the images were recognised to be caricatures of local people and hotel staff. New murals were also added in 2012 to celebrate Dickens' 200th birthday.
This classic country pub is open daily, where you can enjoy coffee, drinks, and lunch or dinner with a menu featuring traditional bistro classics and great local produce in relaxing surroundings.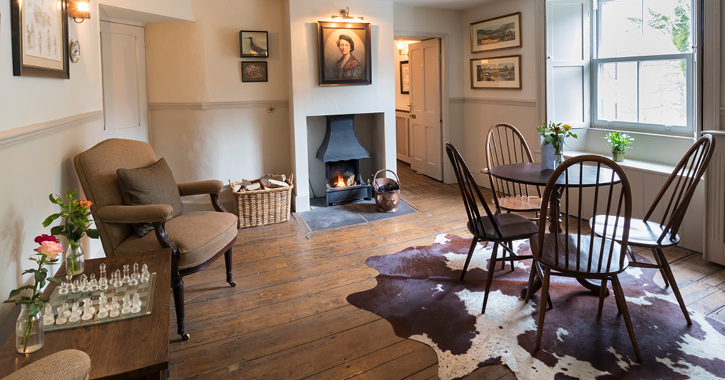 Where? Alston Road, Forest-in-Teesdale, DL12 0XH
High Force Hotel is the perfect rural retreat, set in the beautiful surroundings of Upper Teesdale. Here you can enjoy flavourful home-cooked food and refreshing drinks after a day exploring the stunning Durham Dales countryside. It makes for a great pitstop on the High Force and Bowlees Geo Trail.
Sit back and warm up by the open fire with tipple in hand, or treat yourself to a traditional roast dinner in the hotel's beautifully decorated restaurant. High Force Hotel is dog-friendly too! So, you can pop in with your furry friends after a waterfall stroll or spend the night in charming dog-friendly bedrooms.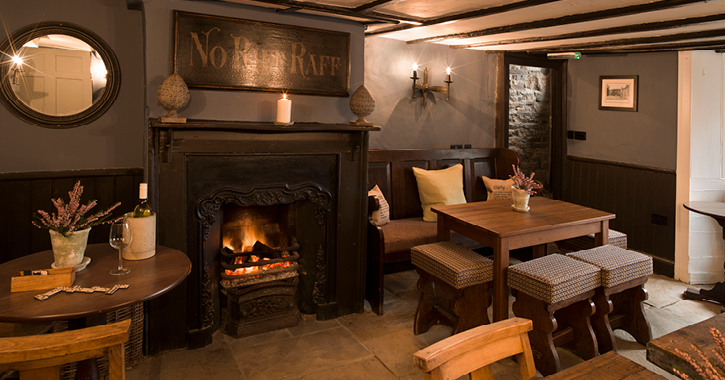 Where? The Square, Blanchland, DH8 9SP
Nestled in the village of Blanchland, on the border between Durham and Northumberland stands the historic Lord Crewe Arms. Just a stone's throw from Derwent Waterside Park, and surrounded by miles of walking trails, Lord Crewe Arms is makes for a tasty pitstop when exploring Durham's great outdoors.
Grab a refreshing pint or warming glass of red wine and get cosy by The Hilyard's open fire, tuck into award-winning food in The Bishop's Dining Room, or treat yourself to an indulgent afternoon tea. You can also extend your outdoor adventure with an overnight stay in one of the hotel's luxury suites.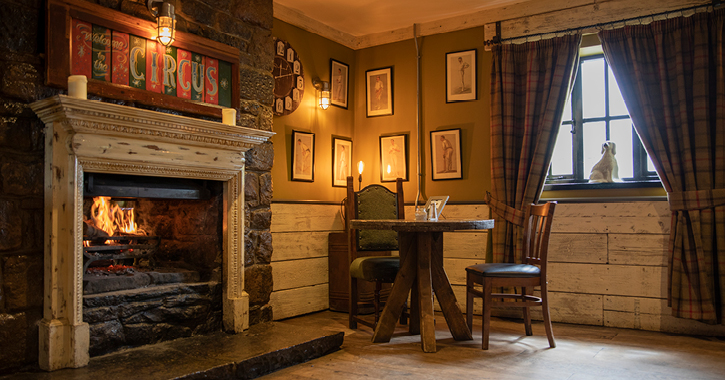 Where? Beamish Burn Road, Stanley, DH9 0LS
Set in 100 acres of beautiful Beamish Valley countryside, sits the South Causey Inn. This family-ran hotel, bar and restaurant offers an extensive food and drinks menu, including their very own ales, lagers and gin - all created on site at the hotel's brewery & distillery. Take your pick from four bars or get comfy in the cosy seating area next to a roaring log fire, where you can snuggle up with a pint and your pooch.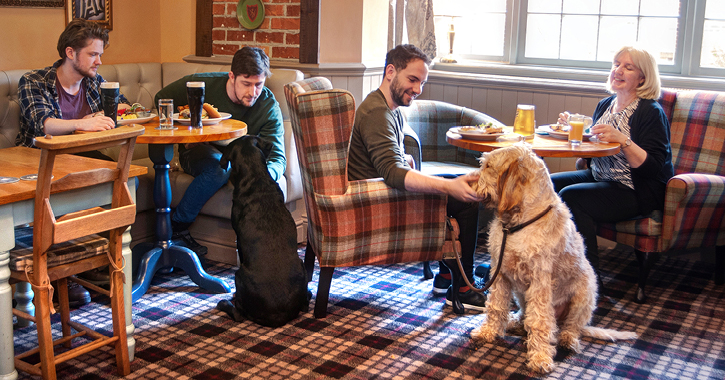 Where? Waddington Street, Flass Vale, Durham City, DH1 4BG
Voted best venue in Durham in the national Pub & Bar Awards 2019 and named by The Times as one of the '20 best places to stay in the UK with a dog', a warm welcome awaits at The Kingslodge Inn. After a day exploring historic Durham City, warm up by the fire with delicious home-cooked food and tasty drinks. As a pub of dog lovers, The Kingslodge Inn makes for the perfect dog walk pit stop, where you'll also find cosy dog-friendly rooms.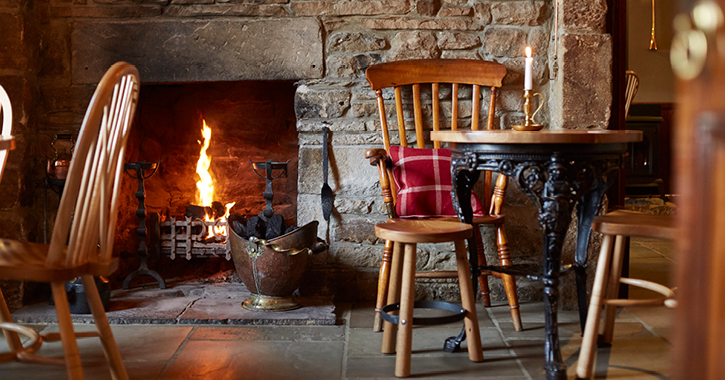 Where? Romaldkirk, Barnard Castle, DL12 9EB
Dating from 1733 this 18th century countryside coaching inn is home to a cosy bar, complete with big open fireplace, old wooden beams, oak settle, gleaming carriage lamps, and a very warm welcome - a true countryside bar with bags of character.
Pull up a chair in front of the fire with the dog at your feet after a long winter walk, or dig into traditional British menus but with a local twist in the main restaurant. You can also take your pick from The Rose and Crown's 14 boutique rooms, many of which are dog-friendly too!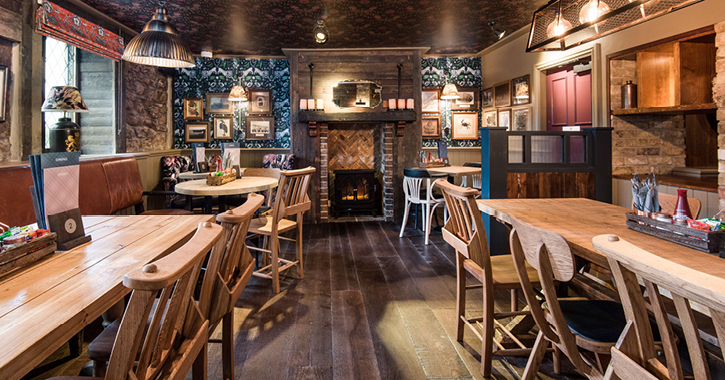 Where? Seaton Lane, Seaton, SR7 0LP
The Seaton Lane Inn is a great place to warm up after a refreshing clifftop walk along the Durham Heritage Coast. Tuck into tempting drinks and delicious home-cooked food in this traditional village pub with a quirky twist. The Inn also has 18 recently refurbished en-suite rooms to choose from, making it the perfect base for exploring the Durham coast.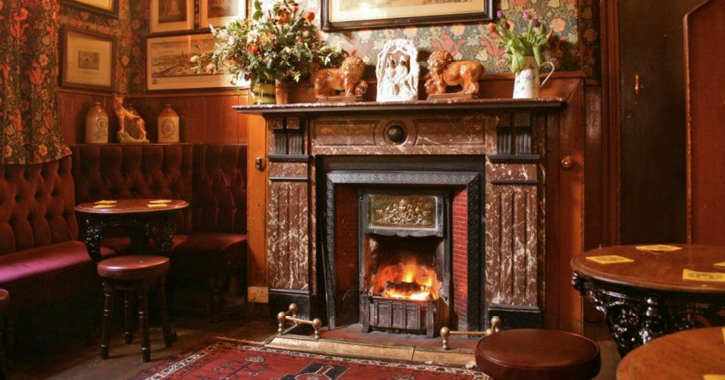 Where? 86 Hallgarth Street, Durham City, DH1 3AS
A place where you can truly step back in time and get a real taste of the past. The Victoria Inn is a historic pub of national importance, listed on CAMRA's (Campaign for Real Ale) National Inventory of Historic Pub interiors, and once named by The Independent as one of the best 50 B&Bs in the country.
This award-winning family run traditional inn is a great place to soak up the friendly atmosphere next to the open coal fire whilst sipping hand pulled traditional ales, all just a five-minute walk away from Durham City centre. Constructed in 1899, when originally built a "Family Department" was created and those words can still be seen etched into cut-glass panels, and the classic curved bar counter follows the shape of the room.
You can check out more of Durham's top pubs and bars on our dedicated page. And if you're searching for a cosy place to stay, check out our inns and pubs page.
Related
0 Comments