Across Durham you'll find lots of walks where you can also enjoy a beverage or a bite to eat outdoors, from outdoor gardens in country pubs, to riverside restaurants and seaside cafés,
See our picks below of bars, restaurants, and eateries with al fresco dining in Durham.
We always recommend checking directly with businesses before you visit regarding opening times and if you need to pre-book a table.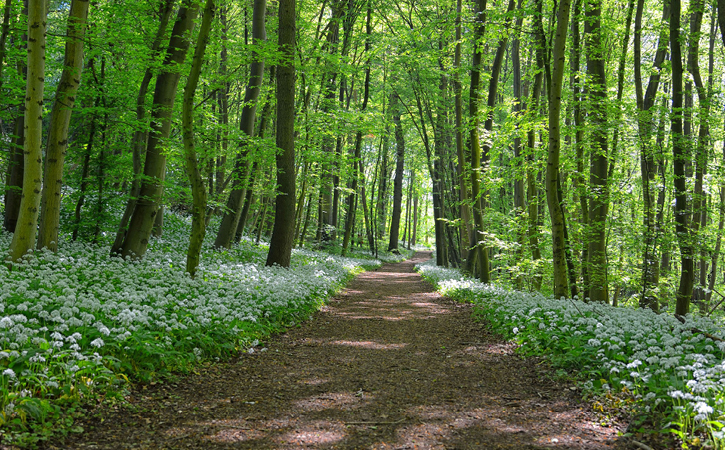 Beamish Woods
Next to Beamish, The Living Museum of the North you'll find Beamish Woods – a great place for a family-friendly walk. Follow the old packhorse trails and wagonways under ancient oak trees and along the banks of the dene's gentle stream and see how many relics left behind from the county's mining past you can spot along the way.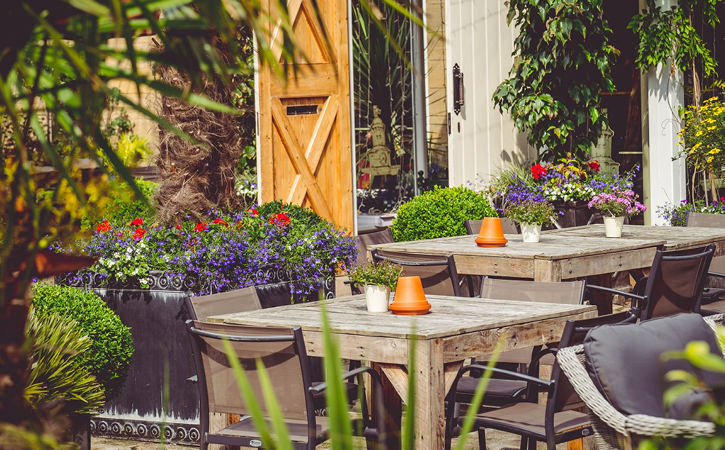 Just over a mile from the walk starting point you can enjoy a refreshing drink and delicious seasonal menu in the cosy courtyard at the Stables Bar & Restaurant at Beamish Hall Hotel. To pre-book a table please via the Beamish Hall website or by calling 01207 288750.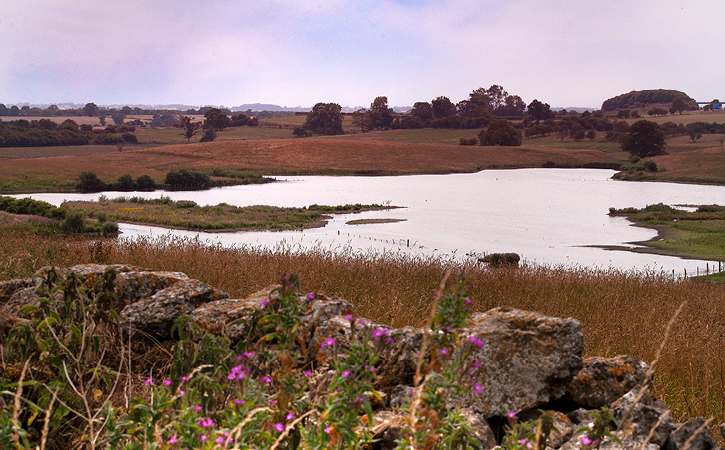 Bishop Middleton to Hardwick Hall Country Park
Bishop Middleton village was once surrounded by waterlogged landscape, where you would find the Prince Bishops of Durham's fishponds. Ancient causeways linked Bishop Middleton Castle - once a fortified manor house to the village centre.
Step into the land of the Prince Bishops as you follow the public footpath from Bishop Middleton village all the way along to Hardwick Country Park. These trails are a must-visit for wildlife lovers and bird watchers, as the site is now a Site of Special Scientific Interest and is teeming with life throughout the year.
On the Discover Brightwater website you can download the trail guides to follow. You can choose the full route or pick shorter walks including Bishop Middleton & Skerne or Hardwick Park & Bishop's Fen.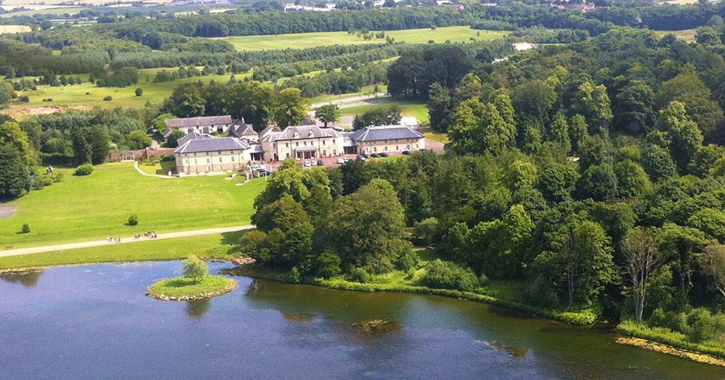 You can pick up refreshments and food to take with from The Cross Keys Inn at Bishop Middleton or treat yourself to a well-deserved drink and tasty treat at Hardwick Hall Hotel. Sit back, relax, and enjoy the springtime views across Hardwick Country Park and Serpentine Lake.
The massive beer garden is open every day from 10am, with delicious street food, bar, coffee station and children's entertainment. No pre-booking is required.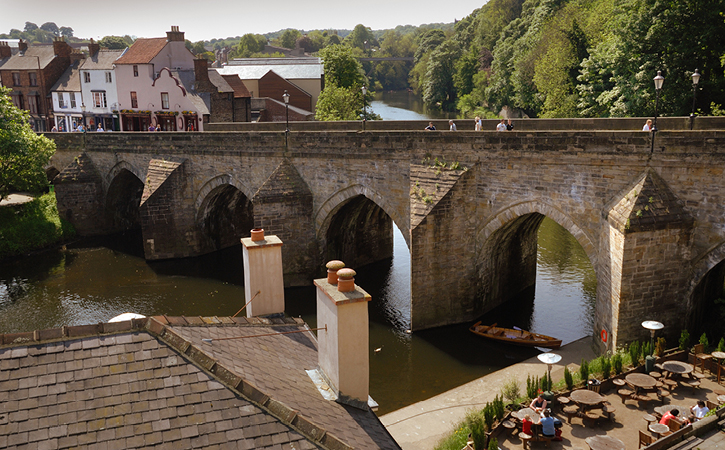 Durham City
You'll be spoilt for choice of which picturesque walking route to follow through Durham City. From riverside strolls, to following the historic cobbled streets to Durham's World Heritage Site or taking in the magnificent view of Durham Cathedral and Castle. Across the city you'll find an incredible array of eateries where you can refuel and watch the world go by.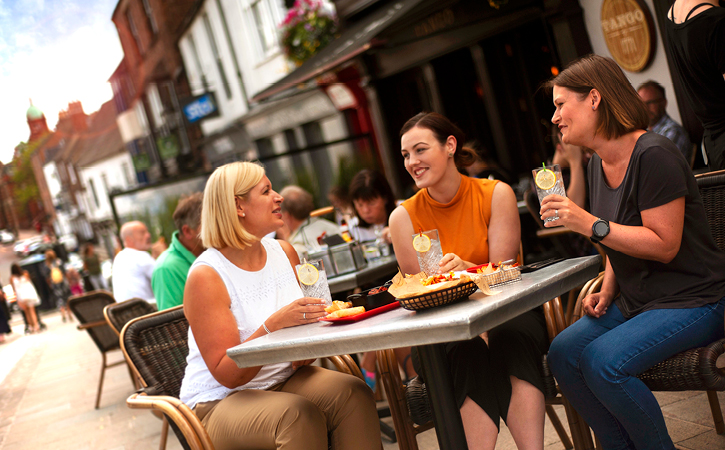 Soak up the springtime sunshine from The Boat Club's outdoor area right on the bank of the River Wear. Tango on Elvet Bridge is a great spot for people watching alongside mouth-watering comfort food. Sit back, relax and take in the view as you try tempting street food from across the globe at The Food Pit's outdoor area. Or head to the quirky Vennels Café and enjoy a delicious warming drink as you soak up the historic atmosphere in their heated and canopied courtyard.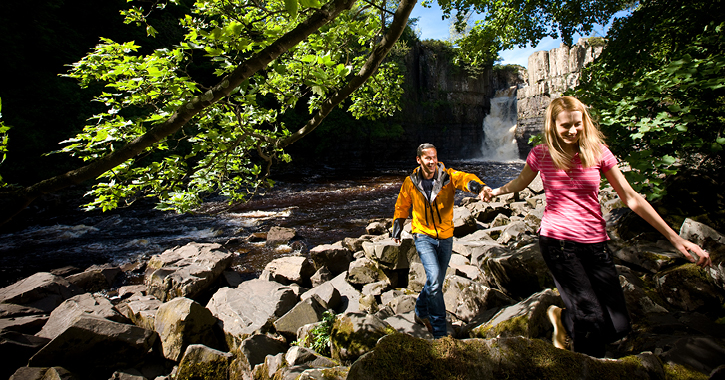 High Force Waterfall
The circular woodland walk at High Force Waterfall is open every day between 10am and 4pm. One of England's most magnificent waterfalls, High Force is a must-visit natural wonder when exploring the Durham Dales. You can hear the mighty roar of the powerful waterfall before you see it by following the wonderful woodland walk, which leads you to a viewing area to take it the amazing sight of the River Tees suddenly dropping 21 metres over the Whin Sill into a plunge pool below.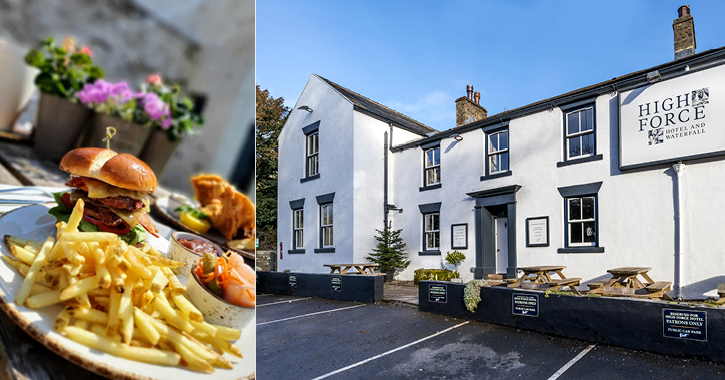 If you're planning on visiting High Force Waterfall during the weekend, you can enjoy delicious food and drink in High Force Hotel's pretty outdoor Courtyard at High Force between 10am and 4pm. Enjoy a stroll to the Waterfall and a breakfast roll in the morning, or a delicious High Force burger for lunch. Pre-booking is advised by calling 01833 622336 or emailing highforcehotel@raby.co.uk. If you're visiting through the week you can pick up takeaway food, drinks and tempting ice cream from the hotel's refreshment kiosk which is open every day.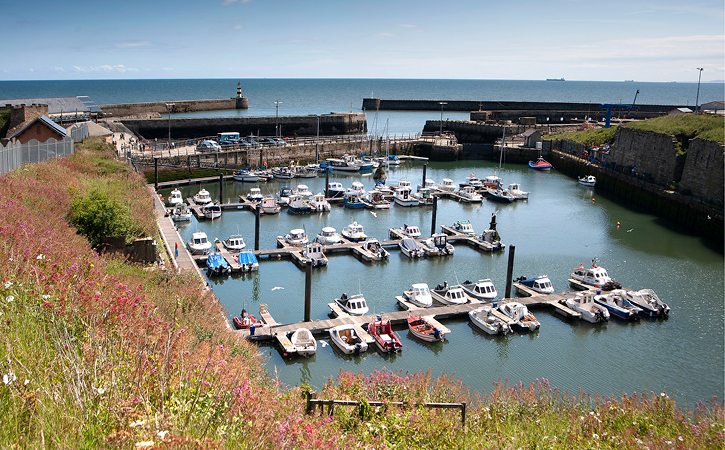 Seaham
Seaham on the Durham Heritage Coast is the perfect spot to enjoy a day out with your four-legged friend. From making a splash at Seaham's many dog-friendly beaches to taking in breathtaking views from the clifftop walks or simply enjoying a drink and bite to eat. You'll find lots of dog-friendly eateries along the coast, where you both can enjoy refreshments.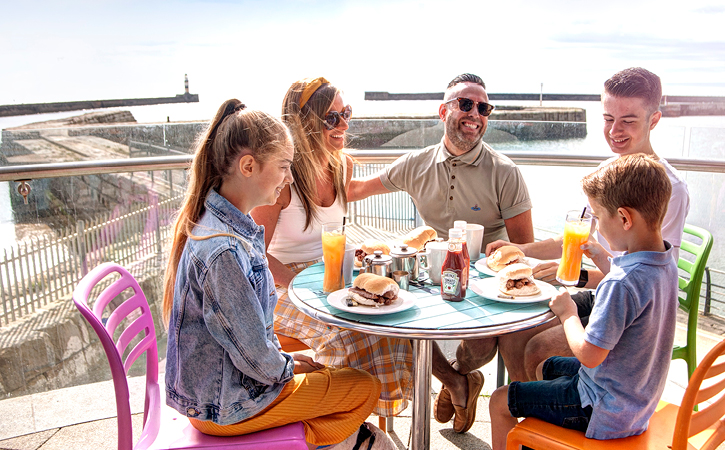 Breathe in the fresh sea air and admire the view out towards the North Sea from the Lookout Café at Seaham Harbour Marina, or head to Flamingo Bar and Café where you can pre-order delicious food using their app to take away or enjoy al fresco style on their outdoor terrace overlooking Harbour beach. Along North Terrace you can enjoy artisan coffee and delicious surf and turf at The Lamp Room, where the seating area overlooks the iconic 1011 sculpture – known locally as Tommy.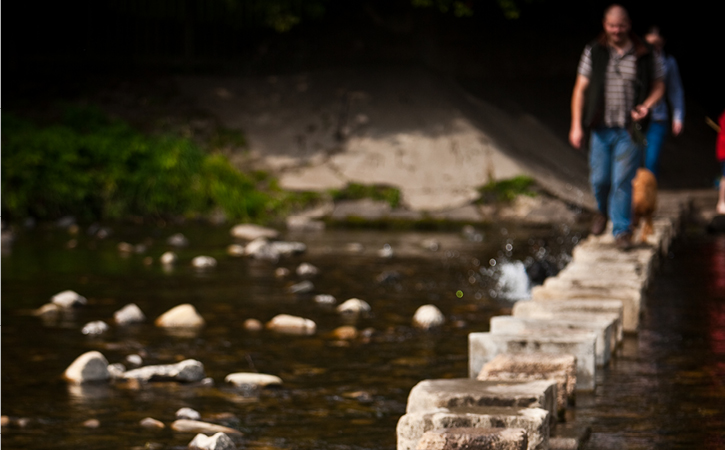 Stanhope
Surrounded by rolling hills and the breathtaking countryside of the Durham Dales, the tranquil market town of Stanhope is a fantastic place to explore. There are three different walking routes to choose from, taking you through the picture-perfect town, along the banks of the River Wear and through beautiful countryside. A must-visit location for all walkers is the ford, where you can cross the river using massive stepping-stones.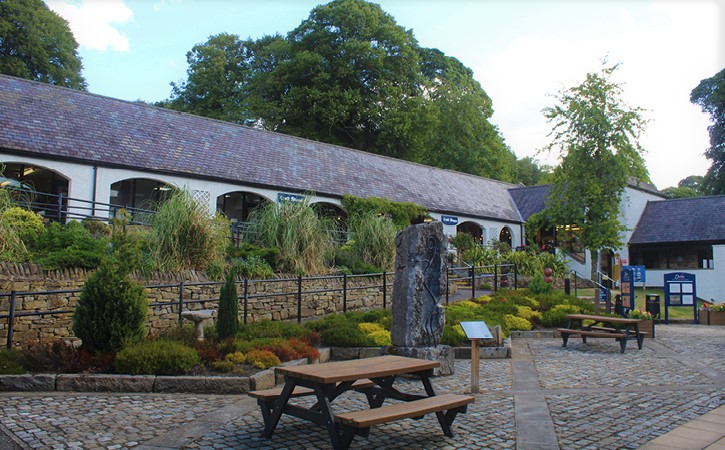 Stanhope is home to the Durham Dales Centre, where you'll find our visitor information point, and traditional tearoom serving up delicious homemade food and drink. The tearoom is open daily, from 10am to 3pm, offering takeaway food or pick a seat in the sheltered outdoor courtyard as you enjoy your homemade sandwiches, cakes, and refreshments.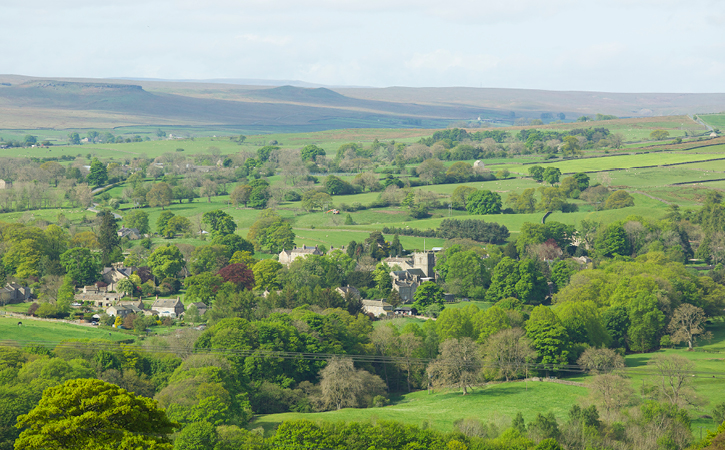 Tees Railway Path
Starting in Middleton-In-Teesdale, the 11 mile Tees Railway Path follows the route of a former railway, taking you through some of Durham Dales most spectacular landscapes and picture-perfect villages. A great route for walking and cycling, there is lots to see along the way including railway relics, grand viaducts and breathtaking views.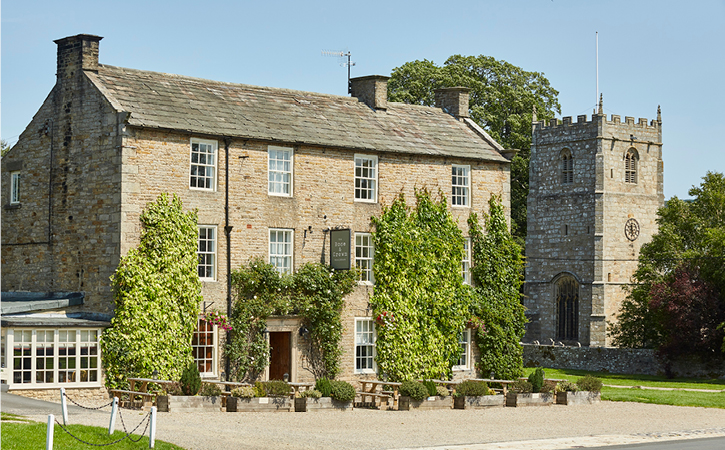 As you pass through the quiet village of Romaldkirk make a pit stop at The Rose and Crown, an historic countryside inn serving up award-winning food and drink. Enjoy a seasonal menu made from local ingredients, refreshing drink or a tasty local ale in charming surrounds.
When out enjoying Durham's great outdoors we are asking everyone to #lovedurham safely and always follow the Countryside Code #RespectProtectEnjoy.
You can find more tasty places to eat and drink on our food & drink page. And discover more walking routes on our dedicated walks in Durham page.
Related
0 Comments