Hills, Vales and Pitman's Ways
Start from the Limestone LinX interpretation panel.
Kelloe
Durham
County Durham
DH6 4PG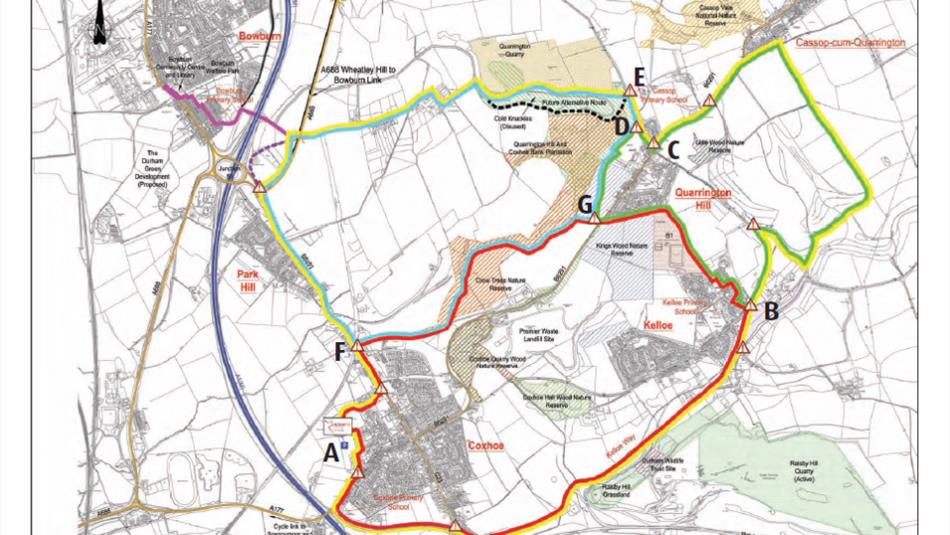 About
Hills, Vales and Pitman's Way: 3 miles


Start at the Limestone LinX interpretation panel at B on the map.


1. From B, take care at the road crossings and continue straight on through the boom gate along the Kelloe Way past the Kelloe Heritage Trail on the right and straight on until you reach the road.


2. Cross the road carefully and take the steep path up to the horsestile and entrance to East Hetton Reclamation Site, follow the path to your right.


3. At the junction of paths turn right. Then at the next junction continue straight on over the bridge before turning left up the hill at the next junction. Continue ahead and uphill towards Cassop, through two chicanes.


4. Turn left along the tarmac path behind the houses which comes out at the B6291. Continue on the shared use path straight ahead, using the crossing point just before Cassop School and continue past Cassop School. Stay on the shared use path to the cross roads.


5. Turn right at the Half Moon at C on the map, cross the road and take the shared use path on the left just past the play area at D on the map. Continue to a junction of paths, turn left and take care to cross the B2691. Take the path straight ahead.


6. Follow the shared use path round to the right at the bottom of the hill and continue on to Kelloe. As you enter the housing estate, turn left past the telephone kiosk turning left and following the road to the right.


7. Keep following the road as it bends right again and take the next left at the road junction following the ramp back to the start.


Part of the Limestone LinX walking and cycling route.
Information provided by Durham County Council's Sustainable Travel Department with the Active Life Centre @ Coxhoe, Natural England and East Durham Leader.

Book Tickets
TripAdvisor
Downloads
378 Kb
Access Information
Opening Times
2023
(1 Jan 2023 - 31 Dec 2023)