Causey Arch Picnic Area Walking Route
Marley Hill
Near Stanley
County Durham
NE16 5EG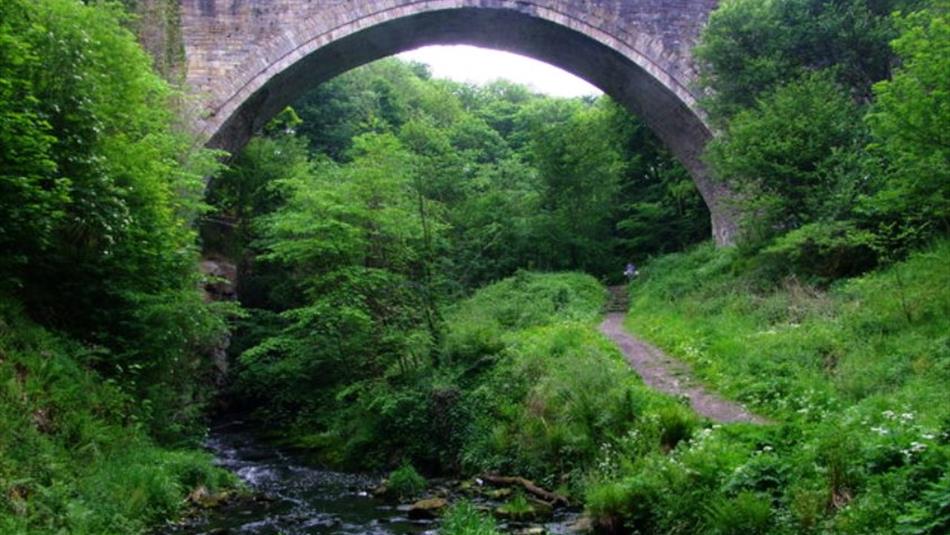 About
Causey Arch Picnic Area is UK Woodland Assurance Scheme certified, a scheduled monument and Local Wildlife Site. Habitats include Ancient woodland, running water and grassland. It is suitable for walkers and wheelchair users.

The world's oldest surviving single arch railway bridge stands high above a wooded gorge. The arch spans over 100ft, stands 80ft tall and beneath it runs Causey Burn. If you stand under the archway it sounds as though the water is running above your head! Ralph Wood, a local master mason, built the arch in 1725-26 to link Tanfield collieries with the main waggonway on the River Tyne. He didn't have much faith in his own work; tradition reports that he was so worried the bridge would collapse he jumped to his death from it before it was even completed. Throughout the site there is evidence of its railway past; a replica of an 18th century coal waggon, a concrete bollard marking the former location of Bobgins pumping engine and a series of panels explaining the early waggonways.

Since the railway closed, the area has been recolonised by nature. Woodland paths lined with wildflowers overlook an ancient tree canopy. A large variety of birds live in the woodland and visitors are rewarded with a wonderful chorus of birdsong.

Causey Arch has a linear Easy Access route from the car park to the Arch. It is a minimum of 1.6 metres wide, is tarmacked and has seats at regular intervals. There is one steep gradient from the car park but after that it is virtually flat. There are long paths on both sides of the wooded gorge allowing you to wander around this site. An Easy Access route enables visitors who are less mobile to enjoy wonderful views over the Arch and the gorge below. Part of this route is shared by vehicles so take care and
use the pedestrian refuges when necessary. The other paths are undulating, vary in width and have quite a lot of steps. Care must be taken where the paths cross the railway track.

Route supplied by Durham County Council's Countryside Service.
Book Tickets
TripAdvisor
Downloads
385 Kb
Facilities
Accessibility
Distance: 1-5 Miles
Grade: Easy
Route Surface: Off Road
Provider Features
Access Information
Opening Times
2023
(1 Jan 2023 - 31 Dec 2023)
2024
(1 Jan 2024 - 31 Dec 2024)