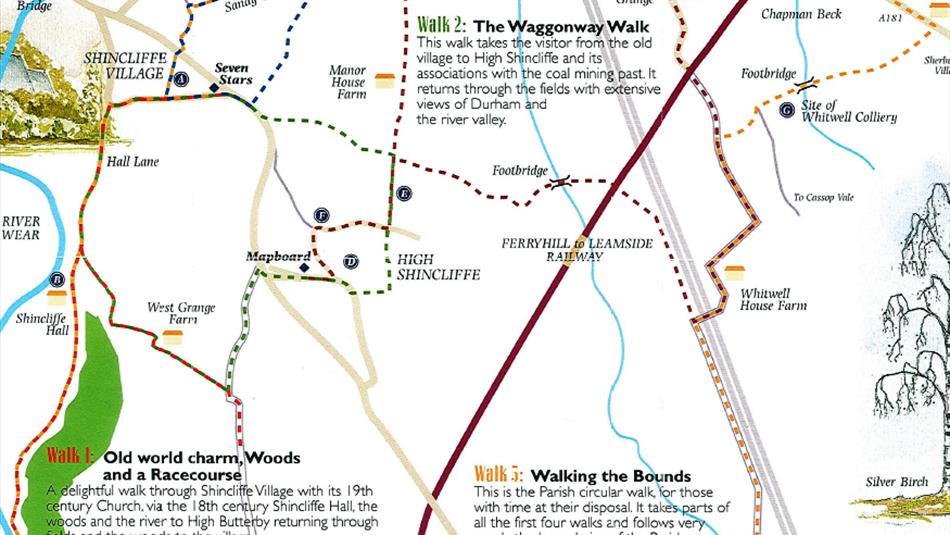 About
Distance: 5.5 miles
Grade of walk: Moderate
Time:4.5 Hours


Walk 5
Walking the Bounds
Start: The Seven Stars


Shincliffe Village is an example of a 'roadside village' with narrow greens bordering the roadway. At Each end of the street the view out is 'stopped' Giving the village the appearance of being enclosed. Take the path down the street. The Church, Behind the Rectory on the R was built in the 'Early English' style. Adjacent to the Church Hall is Forge Cottage reminding us of the days when blacksmiths provided an essential service.


At the bend in the road turn left into Hall Lane. Opposite the Garden Centre were four rows of Miners' cottages which were demolished after the Closure of Houghall Pit in the 1880s. Continue to Shincliffe Hall which was built around 1781 by William Rudd, Recorder of Durham.


Shincliffe Wood is mixed woodland and provides a Habitat for a wide variety of wildlife. From the Woods are good views across the river to Houghall And along the wooded escarpment. Climb the hill To High Butterby Farm.


Continue along the tarmac lane, passing South Grange, and then at the A177 the roadside path towards Bowburn.


Turn left at the garage into Tail upon End Lane.

In half a mile turn left into the bridle path to Whitwell Farm South. Follow path to footbridge over A1(M) and past Whitwell House Farm. After about a quarter of a mile turn right over a stile and continue to Byers Garth farm on A181 Hartlepool road. Turn left here and take roadside path to Sherburn Hospital.

Turn left passing the Hospital on the right. In the dip in the road take the marked footpath on the left. Note the mediaeval bridge over the stream. In 100 yards climb to the old railway embankment and turn left up 2 steps onto the permissive path through the plantation.


Continue to the A181 Hartlepool road. Turn right and follow the roadside path across the A1(M). Cross the road to take the track leading up the old waggonway to Manor House Farm. Here was sited the stationary engine which probably hauled the coal waggons from the pit and where a brakeman controlled their descent to the main line.


Continue along the waggonway to the road and return to the lay-by.


This route passes near to the following Taste Durham establishments:- Seven Stars Inn, Bramble Coffee Shop, and The Rose Tree Inn.


These walks are produced by Shincliffe Parish Council.
TripAdvisor
Facilities
Accessibility
Distance: 5-10 Miles
Grade: Moderate
Theme: Forest / Woodland Trail
Theme: Nature
Theme: Rivers / Reservoirs
Theme: Tasty Trails
Provider Features
In countryside
Outdoor Attraction
Village Location
Downloads
164 Kb