Cold Knuckles Connection
Nr the Play Area at Belle Vue
Quarrington Hill
Durham
County Durham
DH6 4QE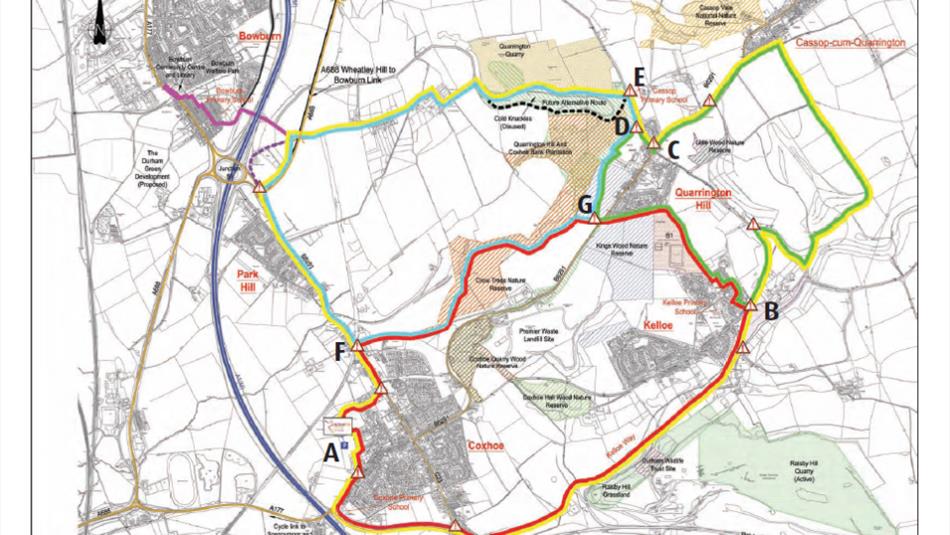 About
Cold Knuckles Connection: 4 miles

1.At D on the map, from the shared use path near the play area at Belle Vue, Quarrington Hill, head north out of Quarrington Hill until you get to the bridleway at Old Quarrington near the churchyard. Just past the quarry entrance at D on the map look for a signpost on the left pointing to Old Quarrington.

2. Follow the path to the left, then as it comes out at the road follow it to the right passing the farm and then bear left through Old Quarrington. Continue along the road passing under the main road bridge before turning left towards the A688. Follow the shared use path just past the bridge, turn right and then left at the road crossing near the roundabout and then follow the route to Coxhoe passing Park Hill on your right.

3.At F on the map turn left up the landfill road and take the left turn into Crow Trees Nature Reserve.

4. Follow the path until you get to a junction of paths just before the B6291. Turn left and continue through the chicanes straight ahead until you reach the start of your walk/ride at D on the map.

Part of the Limestone LinX walking and cycling route.
Information provided by Durham County Council's Sustainable Travel Department with the Active Life Centre @ Coxhoe, Natural England and East Durham Leader.
Book Tickets
TripAdvisor
Downloads
378 Kb
Access Information
Opening Times
2023
(1 Jan 2023 - 31 Dec 2023)