Pity Me Carrs Local Nature Reserve Walk
Front Street
Pity Me
Co Durham
DH1 5BZ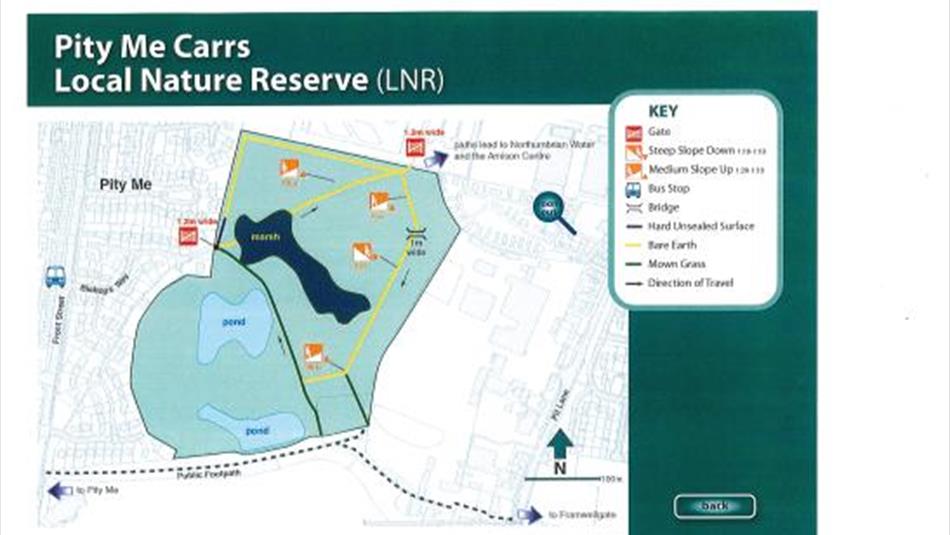 About
Pedestrian access only from public footpaths which run between Bishops Way and Northumbrian Water and behind Mere Drive and Finchale Road.

A pocket of green space surrounded on all sides by houses and businesses makes this a quiet haven in which people can walk and enjoy the fresh air.

It is also a much needed area for local wildlife to take refuge from the surrounding urban area. One theory about the name Pity Me is after the Norman French 'petit mere' which means 'small lake'.
Ponds and marshes still exist here and they support frogs, newts, damselflies and dragonflies. A new housing estate built next to Pity Me Carrs will help to improve the wetland area by the installation of a Sustainable urban Drainage System (SuDS). The SuDS will manage surface water created by the housing development in a more sustainable way than conventional drainage systems. It mimicks natural drainage systems by slowing water down and reducing the risk of flooding. The SuDS will be made up of a series of ponds and reed beds which will slow the flow of water and filter out any pollutants. The clean water will be allowed into the nature reserve and will help maintain the existing wetlands. In time it will become a valuable wildlife habitat and attract birds and amphibians. The site may look like a vast expanse of grass but look closely and you will see a huge variety of different plants. The plants which grow here are typical of acidic areas and include heath bedstraw, sheep's sorrel and tormentil. Other plants to look out for are marsh pennywort and the striking orange flower of fox and clubs. There are small patches of lowland heath, scrub and trees which attract a range of insects, butterflies and birds. If you are very lucky, you may even see a roe deer hiding in the trees.

This route also passes near to the Lambton Hounds Inn, a quality assured Taste Durham establishment.

Please note there is no parking at this site.

Route supplied by Durham County Council Countryside Team.
TripAdvisor
Facilities
Accessibility
Distance: 1-5 Miles
Route Surface: Off Road
Provider Features
In countryside
Village Location