Taste Durham Month
Each October we celebrate the diversity of Durham's food and drink with Taste Durham Month, giving endless opportunities to enjoy award-winning foodie experiences, fresh local produce to get your taste buds tingling and make dining out even more of a treat at an array of independent restaurants.
Discover which celebrity chefs think Durham is such a tasty destination as they eat their way around the county.
Treat yourself to a special Michelin-starred dining experience or dinner at acclaimed five-star resorts during Taste Durham Month, or simply enjoy a unique Durham-inspired dish or a drink to tempt your taste buds at eateries, attractions, hotels and B&Bs across the county.
Celebrate the autumnal harvest and sample dishes inspired by local ingredients such as lamb reared in Teesdale, handmade cheeses including Brie de Weardale and Durham Blue from the Durham Dales, artisan bread, locally farmed pork and beef, and home-grown fruit and vegetables as well as local ale and gin.
Taste Durham Month makes autumn a great time to visit.
You may also like...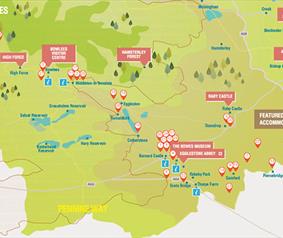 Get a real taste of the county as you eat your way around Durham using our tasty food trails as a guide.