When it comes to Durham, no one knows the county better than the people who live here. That's why we asked Durham's residents to share with us what they love about our amazing county, to uncover Durham's many hidden gems.
The best places to eat in Durham are the ones that locals love to go to time and time again. From laid back burger joints, to cosy countryside inns and luxurious steakhouses, you'll be spoilt for choice with what's on the menu in Durham. With the help of Durham's residents we've rounded up the top restaurants that locals love to dine at.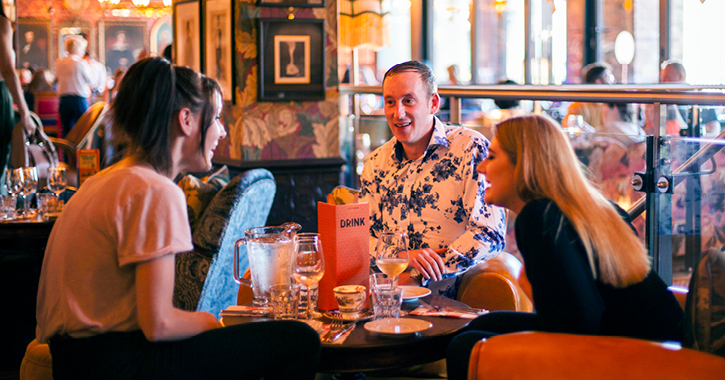 Cosy Club, Durham City
The Cosy Club can be found at The Riverwalk, in the centre of historic Durham City, overlooking the River Wear. Enjoy tasty food and drink whilst soaking up the tasty views of Durham Cathedral and Castle from the outdoor terrace or quirky indoor bar area.
Davy's Fried Fish and Chip Potato Restaurant, Beamish, The Living Museum of The North
Get a real taste of the past at Davy's Fried Fish and Chip Shop, found in the 1900s Pit Village at Beamish Museum. Try Davy's famous fish and chips, made in coal-fired ranges using beef dripping! This working exhibit uses traditional cooking methods, and is popular pit-stop when exploring the outdoor museum.
Finbarr's, Aykley Heads, Durham City
A firm favourite with locals, Finbarr's serves up locally sourced, honest food daily, including their popular 3 course Sunday Lunch and mouth-watering Steak Night Tuesdays.
Lanchester Garden Centre, Lanchester
The Greenhouse restaurant and garden centre deli found inside Lanchester Garden Centre, is a popular local haunt throughout the year. Get cosy under heaters and blankets on the balcony and enjoy the view with a light snack or delicious home cooked meal. Grab a meal to go or treat yourself to a tempting afternoon tea.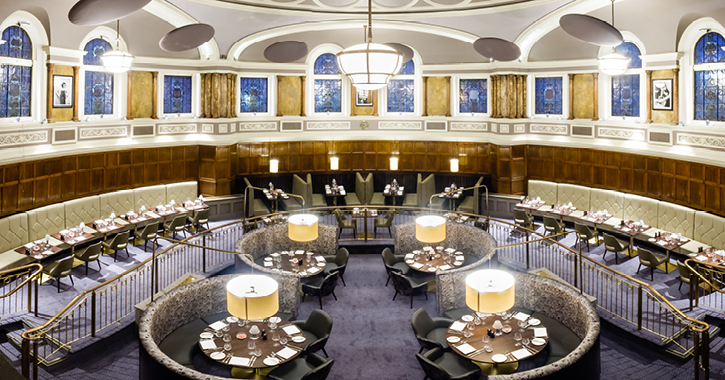 Marco Pierre White Steakhouse Bar & Grill, Hotel Indigo, Durham City
Dine out in style in the grand surroundings of the Old Durham Shire Hall at the Marco Pierre White Steakhouse Durham. Found within the boutique Hotel Indigo, treat yourself to signature steak and timeless English and French classics.
Seaton Lane Inn, Seaton, Seaham
This quirky inn is the perfect place to eat, drink, sleep and explore the Durham Heritage Coast from. Take your pick from traditional pub food, as well as new contemporary dishes.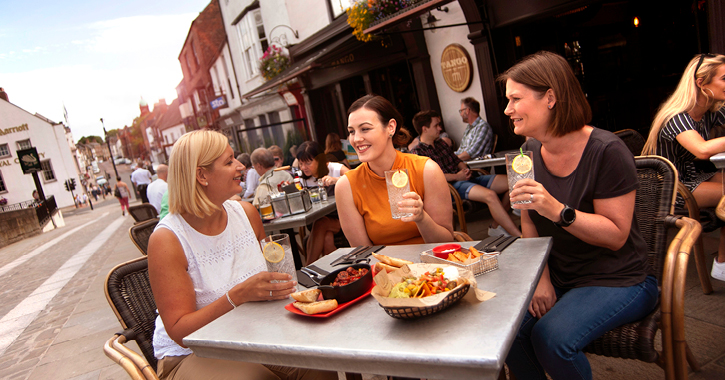 Tango, Durham City
If you love your comfort food with a side of people watching, Tango is the place for you. Watch the world go by as you tuck into delicious burgers, hot dogs, nachos and more, all washed down with lip-smacking cocktails and local ales.
The Cellar Door, Durham City
Home to fine food and friendly service, soak up stunning riverside views at The Cellar Door restaurant, set in a 13th Century cellar conversion just off the bustling cobbled streets of Durham City.
The County, Aycliffe Village
Offering the perfect combination of a countryside restaurant and local village pub, The County is a great pit-stop to refresh and refuel when out exploring the Vale of Durham.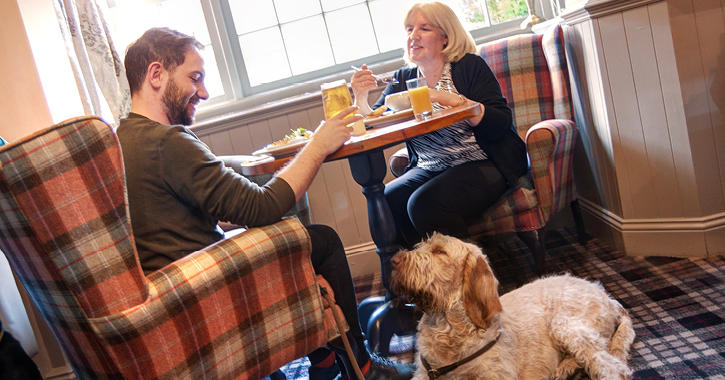 The Kingslodge Inn, Durham City
Named 'Best venue in Durham' in the National Pub & Bar Awards 2019, and included in The Times '20 best places to stay in the UK with a dog', a warm welcome awaits at the Kingslodge Inn. Found just a stone's throw from Durham City train station, here you'll find tasty pub grub, a tempting selection of real ales, and cosy bedrooms - a great base for exploring the city.
The Stables Bar and Restaurant, Beamish Hall Hotel
The Stables Bar and Restaurant can be found in the beautiful Beamish Hall Hotel, nestled in the back of the Hall in the converted 18th century stable block. A popular dining spot with hotel guests and locals alike, serving up seasonal dishes prepared from the freshest, local ingredients.
Woodlands Venue Bar & Kitchen, Edmondsley
Within the grounds of Congburn Garden Centre you'll find this cosy little spot, that locals love. Woodlands Venue, Bar & Kitchen serves up a delicious menu of food and drink throughout the year.
Zen, Durham City
Situated near Durham Cathedral, tucked away down a historic street, you'll find Zen. Known as one of the finest places to eat in Durham, it isn't hard to see why once you taste their delicious Thai Asian fusion cuisine. You'll definitely be in a zen-like state of mind once you've dined here.
Other restaurants across Durham that locals recommend include -
Ala Spicery Restaurant, Beamish – Indian cuisine
Amaani at The Pumphouse, Durham City – Indian cuisine
Antico Restaurant, Nevilles Cross, Durham City – Italian cuisine
Barrio Comida, Durham City – Mexican cuisine
Bills Restaurant and Bar, Durham City – seasonal British cuisine
Bistro Italiano, Durham City – Italian cuisine
Clems Fish Restaurant, Spennymoor
Elpincho, Durham City – Mediterranean cuisine
Fat Hippo, Durham City – burgers and comfort food
Inshanghai, Durham City – Chinese buffet
Italian Farmhouse, Coxhoe – Italian cuisine
La Spada Ristorante, Pity Me – Italian cuisine
La Spaghettata, Durham City – Italian cuisine
Lamp Room, Seaham – Tapas
Spice Lounge, Durham City & Bishop Auckland – Indian cuisine
Tapas Factory, Durham City – Tapas
Thai River, Durham City – Thai cuisine
The Dairy Barn, Crook – Ice Cream parlour
The Green, Crook – classic pub grub
The Old Courthouse, Consett – classic pub grub
The Old Mill, Knitsley, Consett – seasonal British cuisine
Tias Durham, Durham City – Mexican cuisine
Whitechurch, Durham City – seasonal British cuisine
Zizzi, Durham City – Italian cuisine
Related
0 Comments