Taste Durham
The secret ingredient to the perfect break is enjoying great food and drink, and you'll be spoilt for choice with what's on the menu in Durham.
If you're planning on exploring Durham's great outdoors during your break, what better than enjoying a hearty lunch in a friendly pub along the way, or take some time out and indulge in a tasty homemade treat at a cosy café or tearoom. And after a busy day exploring the county's heritage or award-winning attractions why not enjoy an evening of fine dining at a delicious restaurant.
Enjoy great food and drink in the shadow of Durham City's UNESCO World Heritage Site, or break up your day by relaxing in one of the city's many coffee shops. Feast your eyes on the breathtaking views of the Durham Dales as you tuck into local produce in amazing locations. And in the Vale of Durham and Durham Coast you will find award-winning eateries and more fantastic foodie experiences.
Did you know that Durham was the birthplace of English mustard, invented by Mrs Clements and first ground at a mill in Saddler Street in Durham City in the 18th Century? Today the county is still home to innovative local producers, including award-winning cheese makers, artisan bakers, brewers, butchers and farmers. Get a true taste of Durham by stocking up at one of the county's farm shops, farmers markets or foodie events including the Bishop Auckland Food Festival which is held every April and Durham's first ever seaside food festival at Seaham in June.
And to take your taste buds on a gastronomic journey, these two food trails will help you explore the Durham Dales and North Pennines National Landscape , experiencing great food and drink along the way.
Take advantage of our delicious deals for some super savings on dining out across the county, and for accommodation with award-winning food, view our list of tasty places to stay.
You may also like...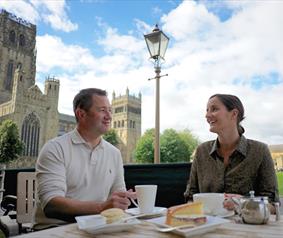 Tuck into homemade treats at quirky cafes, tearooms and coffee shops.