Lasting Lumiere Legacies
No matter what time of year you visit, you can catch a glimpse of Lumiere with reminders of past Lumiere festivals now finding a permanent home across Durham City.
In Millennium Place, Helevetictoc by Swiss jazz drummer turned software engineer, Tobie Langel, projects the time in words as a permanent public clock. The installation first appeared in the city during Lumiere 2011 and 2015. The clock uses language in an iconic typeface to recall a pre-smartphone era of asking strangers for the time.
In 2016 Lightbench by German artist Bernd Spiecker was installed at Freeman's Quay, just down the steps from the Gala Durham. The colour-changing benches featured in Lumiere 2015 are lit by hundreds of LEDs, reinventing the notion of public seating.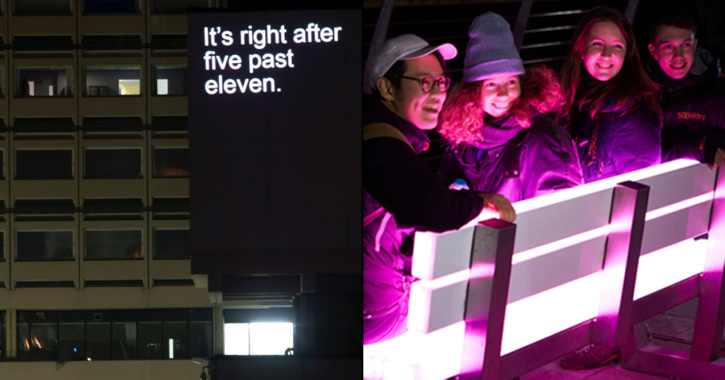 Image L-R: Helevetictoc by Tobie Langel and Light benches by artist Bernd Spiecker - photos by Matthew Andrews.
Heron by artist Jon Voss was unveiled in 2018 as the legacy piece from Lumiere 2017. Located on the banks of the River Wear near Freeman's Quay. The installation was designed as a homage to one of England's most magnificent birds, many of which are often spotted along the banks of the river in Durham City.
The latest legacy piece from Lumiere 2019 is The Next Page, a neon sculpture shining a light on the words of women in prison. The thoughtful message is now permanently on display at Clayport Library and was chosen by women at HMP Low Newton following a series of writing workshops with poet Hannah Jane Walker. The artwork was designed by Neon Workshops, UK.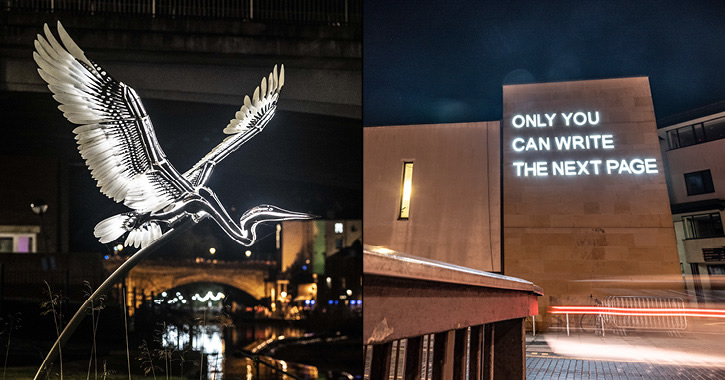 Image L-R: Heron by artist Jon Voss - photo by Paul Norris and The Next Page – photo courtesy of Durham County Council.
Lumiere is produced by leading arts charity Artichoke and commissioned by Durham County Council with additional support from Arts Council England.