Durham City - Culture Vultures
Calling all culture vultures! Mix mesmerising light installations with world-class attractions and quirky cafés.
Head off for a stroll and soak up the atmosphere of this heritage city.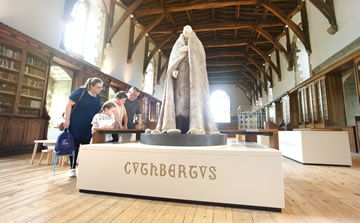 Discover one of the first designated UNESCO World Heritage Sites - Durham Cathedral and Castle. Head inside "the best Cathedral on planet Earth" (according to Bill Bryson) and climb the Central Tower for incredible views, and at Durham Cathedral Museum a guided tour will uncover 2,000 years of history. Hear the untold stories and hidden secrets of Durham's past on a tour of Durham Castle, which was built under the orders of William the Conqueror, and learn more about this special place at the World Heritage Site Visitor Centre.
Palace Green Library is home to Durham University's special collections, with galleries displaying treasures that span the globe. And at another of Durham University's visitor attractions, discover treasures including ancient Egyptian mummies and Chinese porcelain at the Oriental Museum.
In Durham City's bustling marketplace step inside Durham Town Hall which has been central to life in the city for more than 650 years, or at Ushaw: Historic House, Chapels and Gardens on the outskirts of the city enjoy stunning architecture and glorious grounds.
And at Gala Durham, a packed programme of entertainment is certain to keep you on the edge of your seat.