May is National Walking Month, and the annual celebration aims to encourage people to get outside and experience the benefits of walking – it's free, it's fun and is proven to improve both our physical and mental health.
Across Durham you'll find hundreds of walks suitable for all ages and abilities, from family-friendly woodland trails, to challenging hikes through wild landscapes and peaceful riverside footpaths.
Whether you're searching for your next dog walk, family adventure or just want some peaceful 'me time' away from the same four walls at home, follow your own path this May with our top picks of walking trails to try out on your next visit to Durham.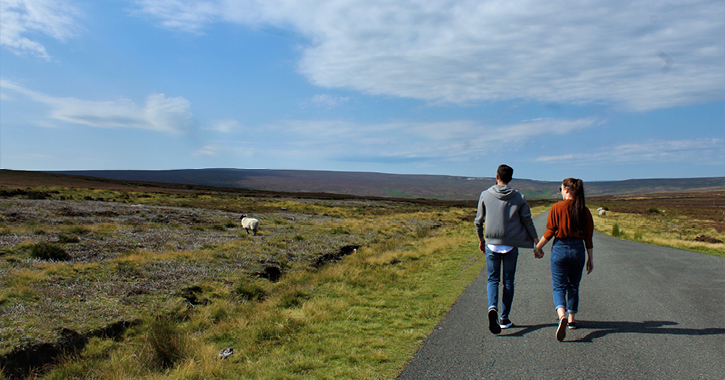 Challenging Hikes
From windswept moorland hikes to lengthy treks through epic landscapes, Durham is home to many long distance trails that will push you that bit harder and further, perfect for challenge seekers.
Northern Saints Trails
Follow in the footsteps of ancient Saints and start your own pilgrimage with the Northern Saints Trails - six incredible trails based on historic pilgrimage routes.
Tipped to be the UK's answer to Spain's pilgrimage route the Camino de Santiago, the six long distance routes take walkers through some of the region's most incredible landscapes, landmarks, and attractions, from the awe-inspiring Hadrian's Wall, to breathtaking shorelines and the majestic Durham Cathedral.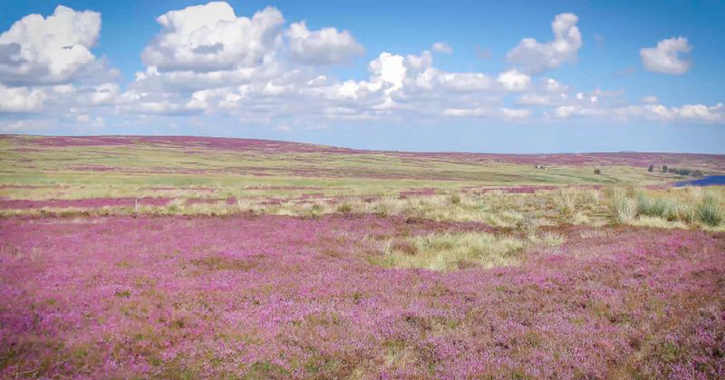 Weardale Way
Discover the "Land of the Prince Bishops" by taking on the Weardale Way, a long distance 77 mile trail which follows the route of the mighty River Wear, from its mouth at Sunderland to its source high in the hills of the Durham Dales and North Pennines Area of Outstanding Natural Beauty and UNESCO Global Geopark.
Whichever direction you choose to follow, this walk will guide you through Durham's incredible history, from the county's industrial and railway heritage to the Durham Cathedral and Castle UNESCO World Heritage Site, ancient Roman settlements, and unspoiled countryside.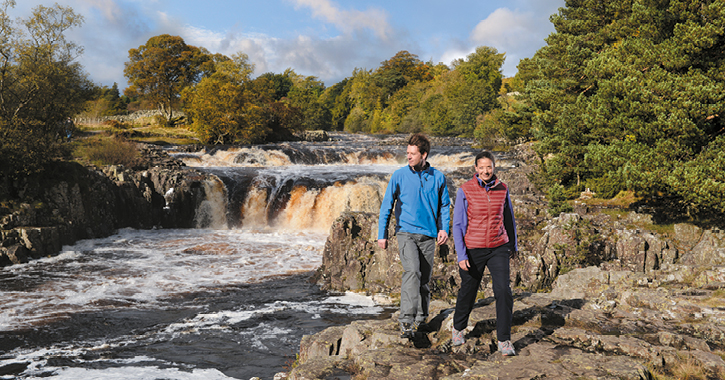 Rewarding Strolls
Across the county you'll find a whole heap of walking routes with refreshing pit stops along the way, including welcoming pubs, perfect picnic spots and al fresco dining areas.
High and Low Force Circular Walk
Take in the spectacular sights of Low and High Force waterfalls on this moderate five mile circular walk. Many visitors choose to start at Bowlees Visitor Centre, where you can grab takeaway refreshments from the centre's cafe. It's not hard to see why Low Force Waterfall has been chosen as the backdrop to many blockbuster movies and shows including 1917 and Netflix's The Witcher. The route is a must-visit for nature lovers out there, as this area is home to important flora, rare birds and wonderful wildlife.
From Low Force you will follow the riverside trail to get the astounding view of High Force Waterfall, many would argue the magnificent crown jewel of the Durham Dales' natural wonders.
Be sure to make a pit stop at High Force Hotel where you can enjoy delicious food and drink in the pretty outdoor courtyard. Pre-booking is advised by calling 01833 622336 or emailing highforcehotel@raby.co.uk. If you're visiting through the week you can pick up takeaway food, drinks and tempting ice cream from the hotel's refreshment kiosk which is open every day.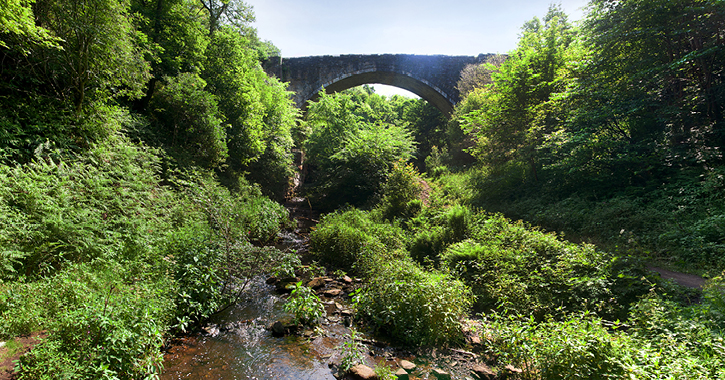 Causey Arch
Follow the woodland route along the historic railway line to the Causey Arch - the world's oldest surviving single arch railway bridge. After exploring the steam side trail you'll find plenty of beautiful spots to enjoy a picnic or pick up refreshments from the Causey Arch Café.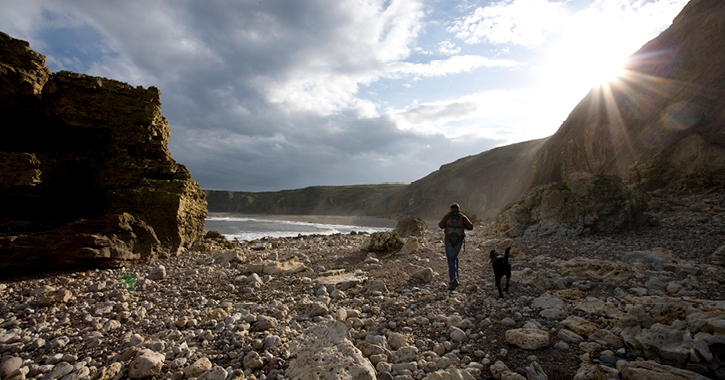 Picturesque Paths
After the long days of lockdown there's nothing better than getting outside and escaping those same four walls at home. So if you're searching for walks with scenes that take your breath away and landscapes which have inspired poets and artists alike, you've come to the right place.
Durham Heritage Coast
The 11-mile Durham Heritage Coastal footpath offers unparalleled views out across the dramatic North Sea and far along the coast to North Yorkshire. Stretching from the lively harbour town of Seaham in the North, to the sandy Crimdon Dene beach in the south, this route was made for walking. All along the route you'll find picture-perfect picnic spots, wonderful wildlife watching opportunities and many dog-friendly beaches.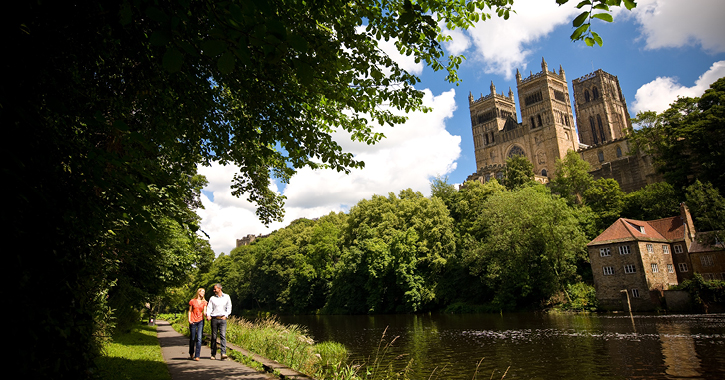 Durham City Riverside Footpath
The world-famous view of Durham City peninsular is best enjoyed (in our humble opinion) from the banks of the River Wear. Follow the riverside walk as it takes you on a whirlwind tour of the historic city's most iconic sights, including Durham Cathedral and Castle. It's also a great walk for wildlife watching, as the river is home to many amazing creatures including otters and grey herons.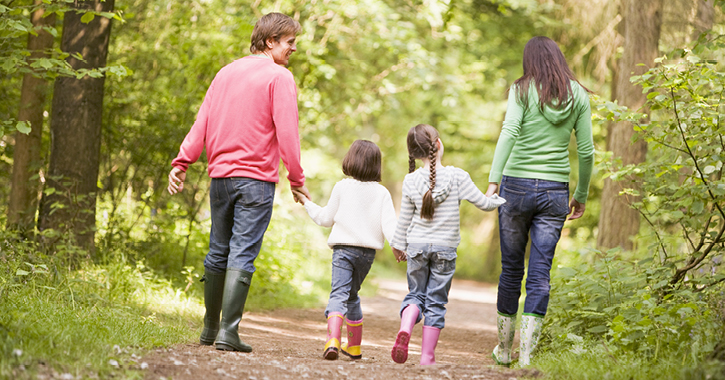 Family-Friendly Strolls
From countryside to coast, Durham has amazing family-friendly walks. From shorter walks for little legs and wide accessible trails (perfect for pushchairs) to nature trails and even woodland walks where you may spot the Gruffalo!
High Force Waterfall Woodland Walk
Feel the force as you follow the wonderful woodland walk to High Force Waterfall – one of England's biggest waterfalls. You'll hear the mighty roar of the waterfall plunging into the River Tees below, before it comes into view, and along the way you'll have plenty of opportunity to spot wildlife residents.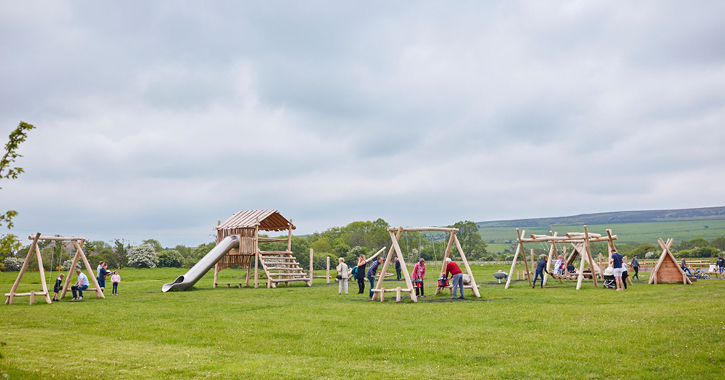 Derwent Waterside Park
Derwent Waterside Park is a great place for a family day out with accessible footpaths with wide open views of Derwent Reservoir, bird and wildlife watching hides, outdoor adventure playground, picnic area and on-site café with toilets.
Top Tip – a short walk from Derwent Waterside Park main car park you'll find Pow Hill Country Park, which is a haven for the rare Red Squirrel.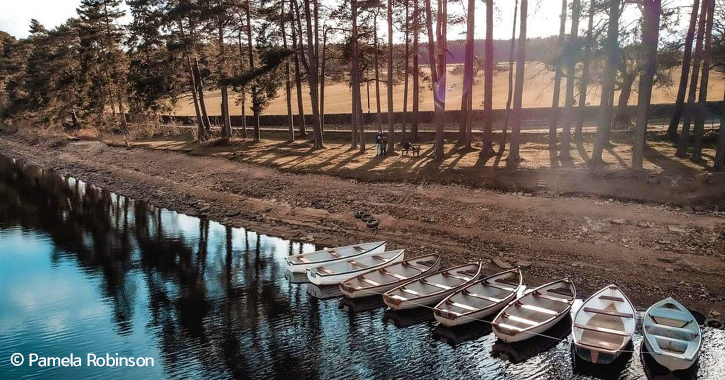 Tranquil Trails
If peace and quiet is what you're after, follow the path less travelled to discover beautiful landscapes at lesser-known 'hidden gem' trails. Away from the madding crowds and with plenty of wide open space, these trails are perfect for socially-distanced days out.
Tunstall Reservoir
Offering views of the surrounding rolling hills of the Durham Dales and out across the peaceful waters of Tunstall Reservoir this short route is child and dog-friendly, taking you around the reservoir and through the ancient Backstone Bank Wood, which hundreds of years ago was the site of iron smelt bloomeries and charcoal production.
You can even extend your walk by starting off from nearby Wolsingham – which is an official 'Walkers are Welcome' town.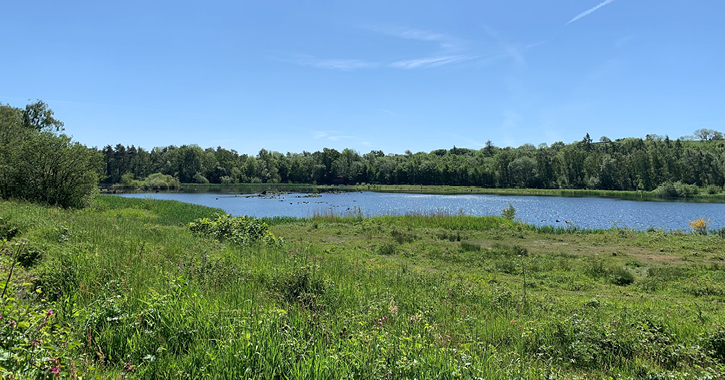 Low Barns Nature Reserve
A must-visit site for bird watchers and wildlife lovers alike, the peaceful Low Barns Nature Reserve is one of Durham's most important wildlife sites. Across the 47 hectare site you'll find plenty of stopping points to sit back, relax and take in the beautiful views of the reserve's woodlands, wetlands, grasslands and the sounds of visiting birds and resident wildlife.
Check out our dedicated walking in Durham page for more walking routes and inspiration >
Related
1 Comments