We invited David and Penny, who run the Instagram account Wheelie Fab Times, to Durham for an action-packed staycation. In this blog, they write about accessibility and their experiences exploring some of the county's most popular attractions.
Day One
On 4 August 2023, we headed up to Durham for a fun filled weekend with not much idea of what to expect and we were pleasantly surprised from the moment we arrived!
As a wheelchair user, visiting new places can cause a lot of worry due to the unknown of whether an area is going to have suitable accommodation, facilities, activities etc to suit your needs. However, for us, Durham had them all.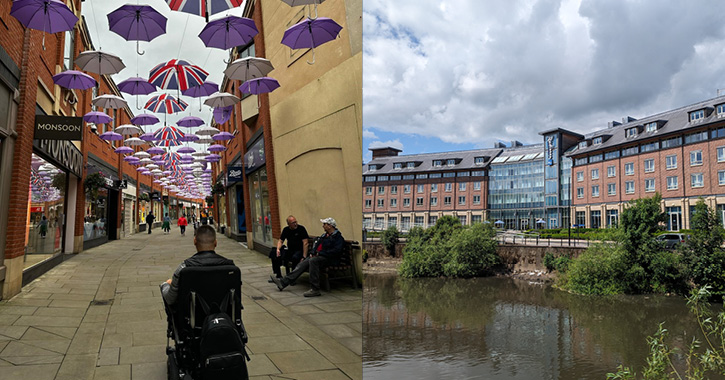 We stayed at the Radisson Blu Hotel, located in Durham City centre, and the accessible room was the most spacious hotel room we have ever stayed in, with a large roll in shower; leaving plenty of room to navigate around, and beautiful views overlooking the city. The hotel had numerous accessible parking spaces out the front and everywhere was flat and easy to access.
Our first outing was to Durham Distillery for a cocktail making class, located in the heart of the city centre. From the hotel we were able to stroll there in under ten minutes and got a chance to explore the stunning views and history of the city along the way.
When we got to Durham Distillery there was level access doors and a lift that took us to the underground bar. The bar area itself is extremely spacious and has an accessible toilet. We were greeted by Alex, a cocktail making expert who showed us how to make a number of different cocktails using spirits crafted by the distillery itself.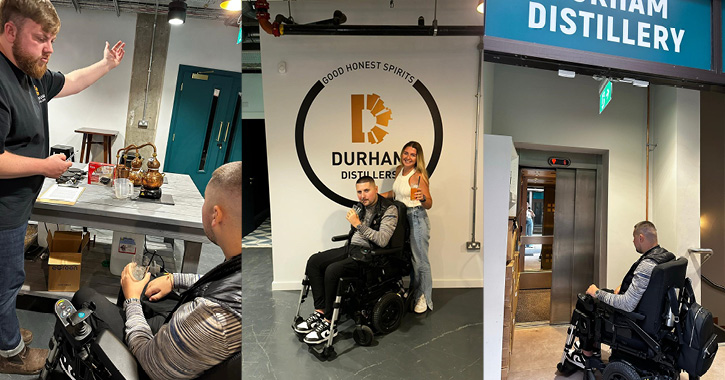 All the cocktails tasted absolutely delicious and we had a great class, with even greater company. The underground bar has a great atmosphere, so whether you're going on a hen/stag do, celebrating a special occasion or just wanted to learn how to make tasty cocktails – it has something for everyone!
Once our cocktail class had ended, we headed for dinner at the Marco Pierre White Steakhouse Bar & Grill, located in Hotel Indigo. In terms of wheelchair accessibility, the restaurant had a spacious lift, accessible toilets and tables that David's wheelchair (a large powerchair), could easily fit under.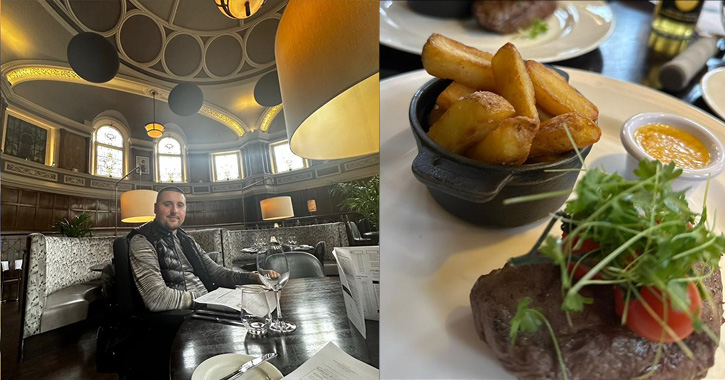 If you're looking for a restaurant with a beautiful ambiance and delicious food, we would highly recommend a visit. We had a three-course dinner from the summer menu and the steak was up there with one of the best we have ever had (and that is saying something!). After dinner we strolled home and were already looking forward to what day two had in store for us.
Day Two
After a delicious breakfast at our hotel, we headed to The Bowes Museum, a beautiful 19th century French-style building in the Durham Dales. The building from the outside alone is spectacular and the museum itself had numerous exhibitions to explore, including Movement - a special exhibition marking the 250th anniversary of the Silver Swan automaton, and a private collection from Vivienne Westwood.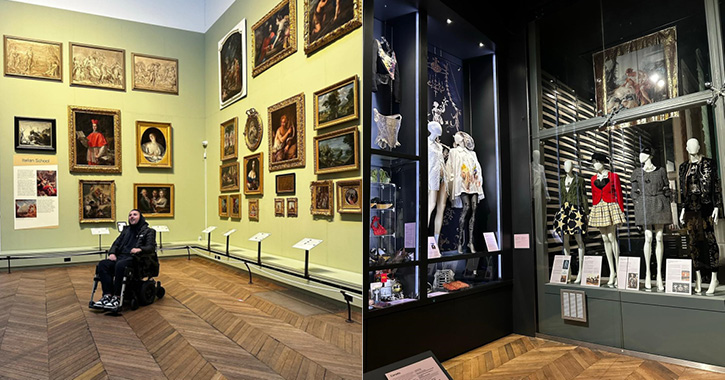 In terms of wheelchair access, the entire museum was accessible, with a lift to get to the different floors and disabled toilets. In typical British summer style, the weather wasn't on our side so we couldn't stroll round the gardens as we would have liked, but the views from the windows inside alone were wonderful.
We then headed back to Radisson Blu hotel for dinner at the Collage Restaurant, which has a varied menu of British brasserie-style food, leaving us with plenty to choose from. With full stomachs and the sky luckily brightening up, we got back into our van and headed to Kynren, An Epic Tale of England, oblivious to the fact we were about to experience one of the best nights of our lives!
Kynren, An Epic Tale of England, is a multi-award-winning outdoor theatre show that takes you on a journey through 2,000 years of history, with a 1,000-strong cast and crew and a 7.5 acre stage. In terms of wheelchair accessibility, there was blue badge parking, priority queing system, plenty of disabled toilets, flat paths throughout and front row accessible seats (not the cinema front row kind where you are too close, the amazing front row kind where you want to be sitting!).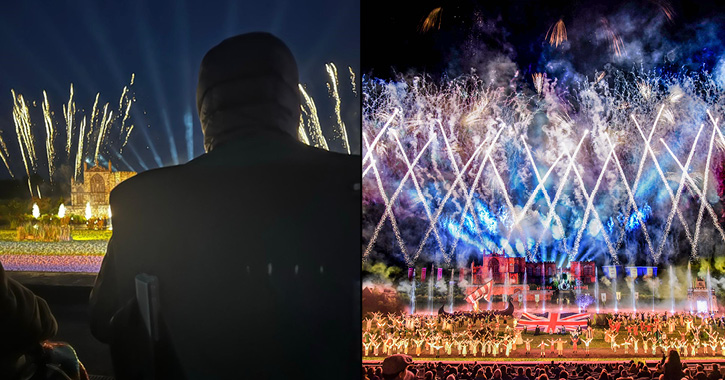 The show itself is quite difficult to put into words but the kind of words that do spring to mind are flabbergasting, spectacular and extraordinary – to name a few. The cast, crew, set, animals (yes lots of real-life animals!) really do bring to life a show that makes you feel like you are in a time tunnel through history. It's a journey that you don't want to end, because you're enjoying it so much! We would undoubtedly say that it was one of the best live performances we have ever seen and a real must-see for all ages!
Day Three
For our final full day in Durham we headed to Beamish, The Living Museum of the North, an open-air museum, telling the story of life in North East England during the 1820s, 1900s, 1940s and 1950s. From the moment we arrived we felt like we had gone back in time and we were amazed at what we saw around us, as we have never experienced anything quite like it before! There are many different towns within Beamish, all brimming with things to do/explore.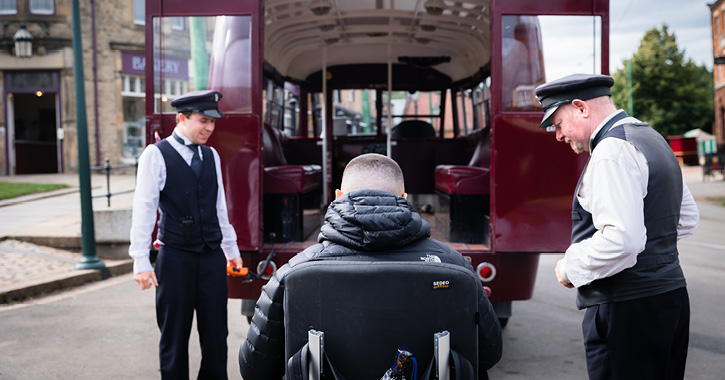 When we arrived we were given an accessibility guide, showing us the best routes and accessible facilities around the museum. You can travel around Beamish Museum in historic vehicles and they have even adapted a vintage bus with a towel gate for wheelchair users, allowing you to be picked up and taken anywhere you like on site. All we had to do was ask a staff member to radio for the bus and we would have someone with us in a maximum of 15 minutes (it was always much sooner).
Within all the different towns they have replicated different places and years, including a Pit Village, 1950s council houses, a bowling pavilion and much more. There are plenty of places to eat and drink so it was a hard choice, but we chose to have lunch within the 1900's Tea Room and it went down a treat.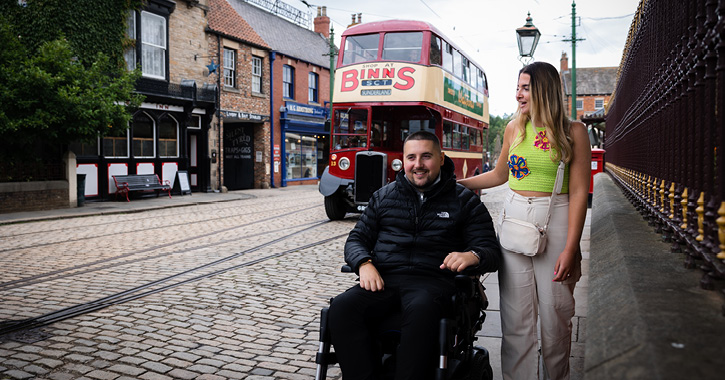 We were highly impressed with the wheelchair access and features around the museum. There are lifts in multiple places including the buildings on the 1950s Terrace, allowing us to be able to explore all around. There was also a wheelchair accessible carriage on the steam train.
Within the 1950's town there is a welfare hall featuring changing places, including a wash and dry toilet, overhead hoist system and height adjustable basin. In every area we visited we were close to a disabled toilet and we were thoroughly impressed with wheelchair access throughout.
After exploring all the areas, having a lovely lunch, picking up treats in the Edwardian bakery, taking a trip on the steam train and much more, we headed back to Durham City after a great day at Beamish Museum.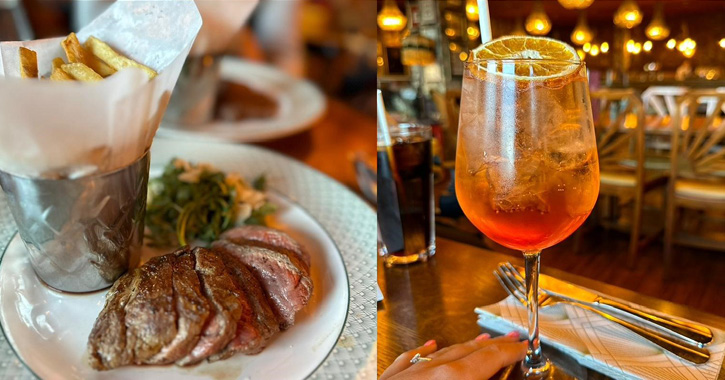 For our final dinner in Durham we headed to Cosy Club, overlooking the city's beautiful riverside walk. The Riverwalk development is fairly new so there's a great variety of bars and restaurants to choose from. Although Cosy Club was upstairs, there were automated doors and a spacious lift for wheelchair access. Our meal was delicious and the restaurant itself gives you a warm, welcome and cosy feel!
Day Four
On our last morning in Durham, we had our final all-you-can-eat breakfast at Radisson Blu Hotel (delicious every time), and headed to the bus stop across the road from the hotel to head to Durham Cathedral. The bus has a ramp that pulls out and a dedicated seating area for wheelchair users. Unlike many bus routes, it takes you to the cathedral and back directly, without having to stop constantly on route, taking only around ten minutes and with nice scenery along the way.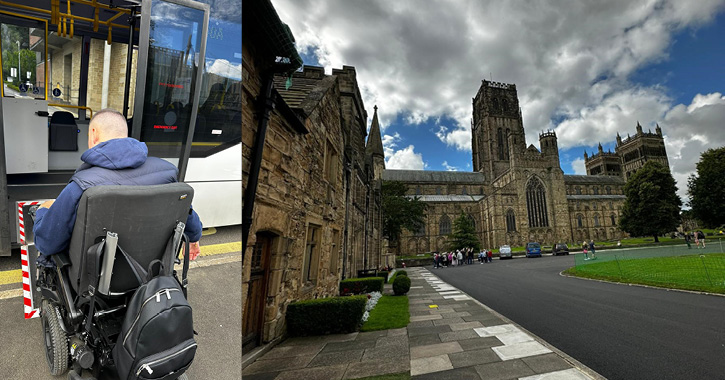 From the moment we got to Durham Cathedral we were absolutely blown away before we even went inside! The cathedral was built in 1093 and is not only brimming with history but has also been used as filming locations for Avengers Endgame and two Harry Potter movies!
During this summer, the cathedral has been hosting a spectacular art instillation called 'Gaia', a giant illuminated earth suspended from the ceiling. Although the cathedral is beautiful enough without the Gaia artwork, the artwork did make it even more outstanding.
As big Harry Potter fans, it was great to be able to walk through filming locations, imagining the scenes unfolding. In terms of wheelchair access, the main parts of the cathedral are wheelchair accessible, with disabled toilets and a lift to get to the gift shop, café and outside. It is now time for us to head home, but there is so much more to look at and explore in Durham so we will definitely be back.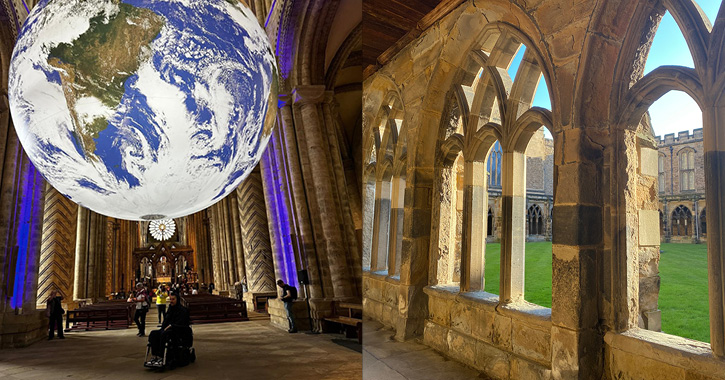 Overall Thoughts
We had an absolutely 'wheeliefab' time visiting Durham. There's so much to do, see and explore throughout. We had no issues in terms of wheelchair accessibility throughout our stay and everywhere we visited felt as though the correct facilities were put in place, making us feel very much at ease.
Whether you're a wheelchair user or not, Durham is definitely a must-visit destination for people of all ages. As long as you book your accommodation beforehand, Durham City is one of those cities that you can go to and just be spontaneous as the options of places to see and do are expectational. In the city, there's a real historic feel throughout, and everywhere you look you discover another beautiful street, river view or building.
We both agree that Durham is the greatest place we have visited in the UK for variety of accessible things to do, because as a wheelchair user, it can sometimes be difficult finding things that are wheelchair accessible and hassle free. Durham, a county overflowing with history has shown us that you can make adaptions to ensure a destination is inclusive for all, which is why we already can't wait to return!
Whether you are looking for somewhere to visit for a day trip, a UK staycation, a place to celebrate (the list goes on!) – Durham has it all.
Thank you 'This is Durham' for a wonderful trip – we will be back!
To see more of what David and Penny got up to on their visit to Durham, give them a follow on Instagram - @wheeliefabtimes.
Related
0 Comments