In this blog, disability and lifestyle blogger Kate Stanforth writes about her day exploring Durham City.
Kate Stanforth is a disabled blogger, dancer, and activist. Born in the North East, she became disabled at the age of 14 and her passion for disability rights ignited. As well as writing, Kate runs an inclusive dance school, models, and founded the charitable organisation, Project Parent.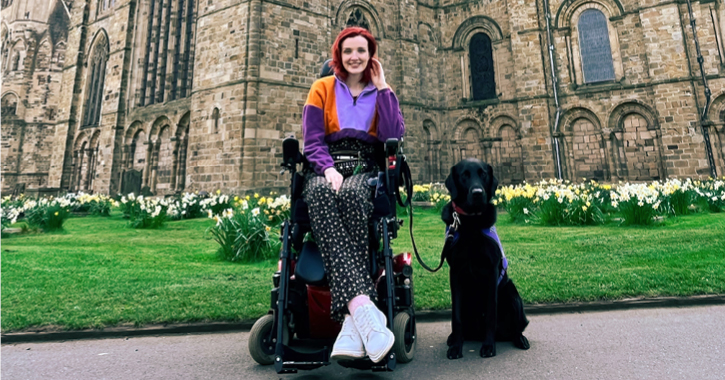 It's safe to say I was spoiled for choice as to what to visit on my recent day out in Durham City. I visited with my PA, Holly and we spent the day exploring attractions around the city centre. We visited Durham Cathedral, Cathedral Museum, Palace Green Library, the bustling city centre markets and Durham University's Botanic Garden, whilst also managing to squeeze in a spot of lunch at Turtle Bay.
It was a jam-packed day and I'm excited to tell you about our rather enjoyable day out!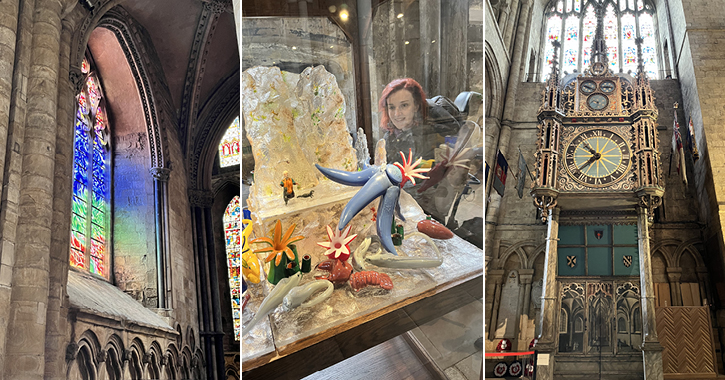 Durham Cathedral and Durham Cathedral Museum
Durham Cathedral, which was built in 1093 to house the Shrine of St Cuthbert, is known for its incredible Romanesque architecture and its magnificent location at the heart of the Durham UNESCO World Heritage Site. Personal highlights of the cathedral include the stained glass windows, the twelfth-century Galilee Chapel, and the medieval Cloister which was featured in the first two Harry Potter films.
Sited in the Cathedral is a Museum, featuring 2000 years of the North East's history, culture, and faith on display. We were able to see their newest exhibition, 'Crown and Cathedral: Durham's Royal Stories', which featured the royal cope worn by the Bishop of Durham at the coronations of Queen Elizabeth II, George VI, and Edward VII.
Durham Cathedral Accessibility
Parking: Poor. Very limited disabled parking behind the cathedral (non-reserve). More about parking in Durham later in the post. There is a cathedral bus which is suitable for wheelchair users and connects the cathedral with Durham train station, the coach park and the market place.
Disabled Toilet: Yes
Assistance Dogs: Allowed
Mobility Equipment: Wheelchairs/powerchairs can get around but could struggle with some sections due to widths. If you are bringing a scooter, the lift and museum spaces are unable to accommodate scooters.
Getting Around Indoors: Accessibility overall was good. Understandably the Cathedral has some parts you can't get into. But a real effort has been made to make adaptions with easy-to-use equipment.
Undercroft Restaurant: The restaurant has 'normal' tables which are a bit tricky to get wheelchairs in. It can be a bit tricky to get around because it's small. But, the food was lovely!
Cathedral Museum: The museum is mainly text-based with no audio guide. There are some occasional tours but there are some access features missing, particularly for people with visual or hearing impairments.
Cost: The Cathedral is free with a suggested donation. The museum is £7.50 entry for adults with carers free.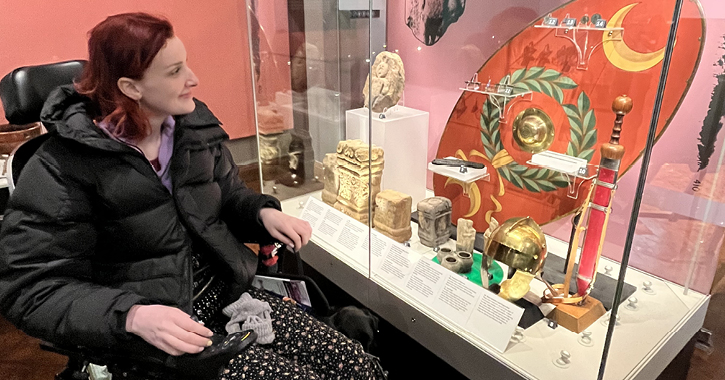 Palace Green Library, right next to the Cathedral, is home to the World Heritage Site Visitor Centre and holds Durham University's special collections. Also inside the library are two other attractions. The first is The Museum of Archaeology, where visitors can explore the prehistoric and Roman archeology of Durham. And, the second is The DLI Collections Gallery which tells the story of the Durham Light Infantry Regiment and its presence at some of the most important events in history. Please note this exhibition has since moved to Sevenhills at Spennymoor.
Palace Green Library was a popular location and there were plenty of children looking around the Museum of Archeology, especially. I was looking forward to the Barker Research Library, which, unfortunately, wasn't accessible, but if you can make it down the stairs it looked breathtaking!
Palace Green Library Accessibility
Parking: Poor. More about parking in Durham later in the post.
Disabled Toilet: Yes
Assistance Dogs: Allowed
Getting Around Indoors: It is a smaller space so during busier times it is slightly more challenging to get around, but it is accessible. There are lifts but the one up to the top floor is a smaller size. The staff are very friendly and happy to help out.
Cost: Free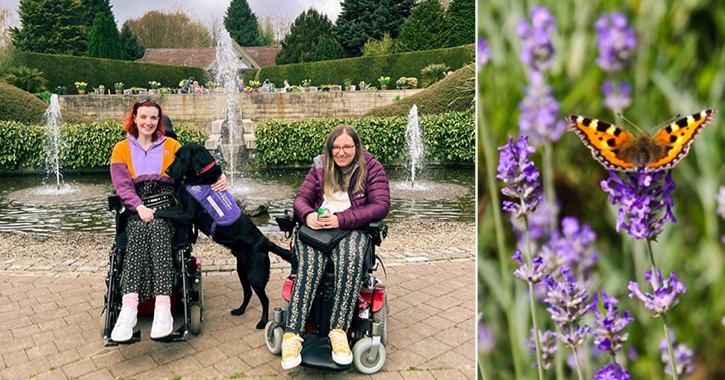 Durham University's Botanic Garden
The Botanic Garden is Durham University's hidden beauty spot just on the outskirts of the city. No matter what your age, there is something here for everyone to enjoy, from a stroll through the picturesque gardens to visiting the tropical bugs & insects. I must mention the incredible tulips which were in bloom when I visited, what a beautiful sight they were!
I could have spent hours here and there was so much to see. If you're a lover of gardening, photography, or just a nice cuppa out - this one is for you!
Botanic Garden Accessibility
Parking: Good! Remember to give your registration at reception to not be charged!
Disabled Toilet: Yes - didn't see it myself though. May not have all features.
Assistance Dogs: Allowed
Getting Around: There is a fantastic map and section on the website developed for access. Access, in general, is fairly good, but places such as the greenhouses may be hard to get in with wheelchairs/powerchairs
Cost: £4 adult, £3, concession, Carers Free.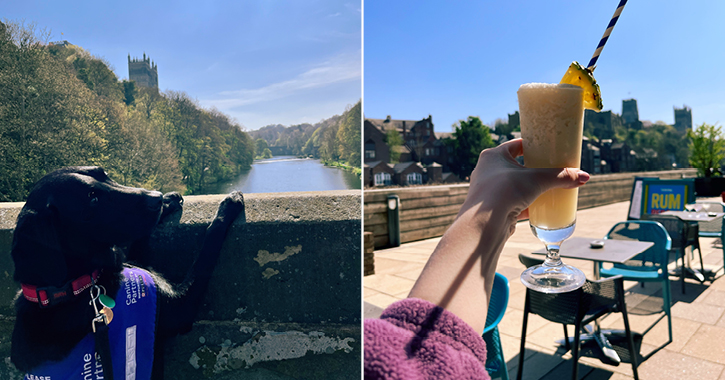 Durham City and Turtle Bay
Durham City is absolutely beautiful and I loved being able to wheel through and admire the architecture. We stumbled across the markets with local designers and stopped to have a look, leaving with our purses significantly lighter, on the way to lunch at Turtle Bay.
Turtle Bay overlooks the river and because of the glorious weather (I know, we were shocked too!) We decided to sit outside and enjoy the sun. With a fantastic menu and friendly staff, we had a very enjoyable lunch (and mocktails) before leaving for our next attraction. I wish I had more time to explore the city and sit to enjoy the view at Turtle Bay, so we are going to go back again!
Durham City Accessability
Parking: Expensive (see more details below).
Disabled Toilet: Various locations throughout the city and at Turtle Bay
Getting Around: The City was challenging. With hills and cobbles, then often being hit with some surprise stairs, it's important to know your route. Take your time and if possible have a powered device. Turtle Bay is accessible if you'd like to visit - I'd recommend it!
Overall Accessibility: I'll be honest, getting around Durham City as a wheelchair user is difficult. I'm not going to sugarcoat it. However, the attractions have made a real effort at making sure accessibility is a priority and that's what makes it worth visiting. I found that once in the attractions, it was easy to get around, it just was getting from A-B.
Top tips for visiting Durham City as a disabled person
1 - Prioritise - There's so much to see in the city. You could spend a day admiring the architecture by wandering the streets! The highlights of this blog for me were Durham Cathedral, Shopping in the City Centre, and The Botanic Gardens. Research and plan!
2 - Plan your route - Durham City isn't the most accessible place. Just as I thought we had got to our next attraction, we hit a set of stairs. Do not rely on google maps if you're exploring with mobility aids. There isn't an accessible map of the city, but stick to the main roads, it's your best bet although it takes longer.
3 - Prepare for uneven surfaces - Durham is known for its cobbles, at least that's what I know it for! If you're going to explore around the city, you'll be more comfortable in a power chair or a chair with suspension. Stick to main routes and take it slow. You just need to factor in the time and perhaps some extra painkillers.
4 - Parking isn't cheap - When you're visiting other places, you have the luxury of choosing your car park and perhaps going for a slightly longer wheel to save some money. In Durham City, because of the accessibility of the town you don't. Prince Bishops Car Park is central but pricey (even with a Blue Badge). You could get the Park & Ride, but if you're like me and have to save energy, sometimes it's not an option.
5 - Check what's on - We stumbled across a beautiful glass exhibition in the Cathedral by Katie Paterson which made the visit to Durham Cathedral even more special. Durham has a packed diary of events from exhibitions to music so it's worth checking what's on and see if there's anything you'd like to incorporate into your trip.
Related
1 Comments