Planning on exploring Durham's great outdoors? One of the best ways to experience Durham's beautiful scenery and spectacular landscapes is by walking.
Across the county you'll find lots of walks dotted with countryside inns, pubs and cosy cafés, where you can make a pit stop along the way for tasty food and delicious drinks.
We always recommend checking directly with businesses before you visit regarding opening times and if you need to pre-book a table.
For each walk we also advise which official Ordnance Survey Explorer Maps you can use for the route.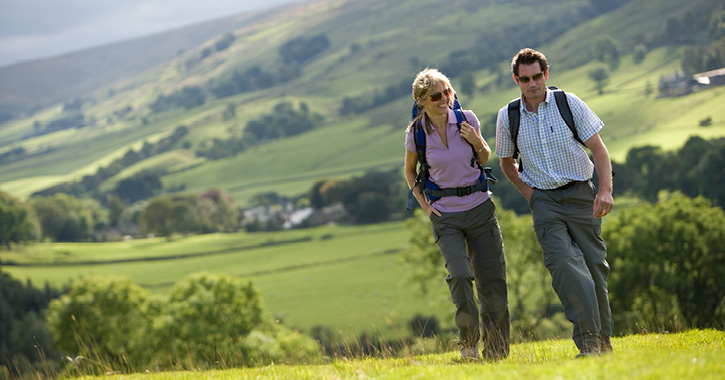 Barningham
Located in the historic Vale of Durham, Barningham is a quaint pretty village, with beautiful upland heather moorland easily accessed from the village centre which provides majestic views across Teesdale and fantastic wildlife watching opportunities.
The real gem is Barningham Moor which is pockmarked with evidence of early man. Ancient hut circles, cairn fields and boulders carved with rock art dating to the early Bronze Age really lend atmosphere to the area. Just south of Osmaril Gill is the site of a small stone circle. "Stoops" are old forms of waymarking placed in the landscape to help the travellers of the past navigate safely across the moor and Badger Way stoop, a late 18th century example, still has the letter "B" for Barningham visible on the top of the stone pillar.
Starting point - Barningham village centre (please park considerately)
Route - Map OS Explorer/OL30 – Yorkshire Dales (Northern and Central)
From Barningham village centre follow public footpath around north and east side of Barningham Park and Adam Hill.
Keep on footpath as it circles Barningham Park to reach Park House.
At Park House continue to Cathaw Stoop where a public footpath continues towards Badger Way Stoop.
From here follow the right of way towards Osmaril Gill but before reaching the gill the public right of way turns towards West Langbrough to return downhill to Barningham.
Distance - Barningham circular approx. 9.1kms/5.5miles
Refreshment Pit Stops
Coghlans at Barningham is a must-visit spot for food lovers. Ran by husband and wife team – Janet and Andrew, visitors can enjoy indulgent afternoon teas, grab fresh baked bread from the on-site artisan bakery and locally sourced products from the deli, or even pick up a picnic platter to enjoy on your walk.
The Milbank Arms, an Grade II listed public house which forms part of the Barningham and Holgate Estate, which has belonged to the Milbank Family since 1690. This traditional country pub serves up locally sourced food and delicious drinks.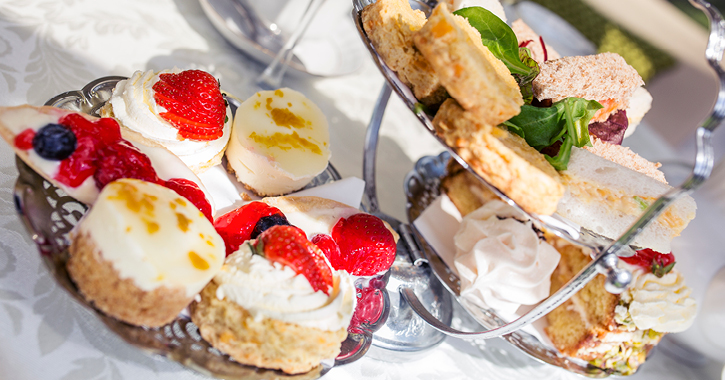 Middridge
Middridge has a long history of quarrying activity and evidence can be seen along this route. One old quarry site is adjacent to the modern railway line and the Magnesian Limestone extracted here was used in the construction of this railway which originated as part of the famous Stockton to Darlington line of 1825.
The local Magnesian Limestone in the Middridge area is rich in fossil-rich marl slate and quarrymen of old would have been quite used to seeing evidence of life on this planet dating back many millions of years. Numerous species of fossil fish, reptiles and invertebrates have been discovered making Middridge Quarry the second most important site in the world for fossils of the Permian geological era.
Starting point - Middridge village (east of Shildon)
Route - Map OS Explorer 305 (Bishop Auckland)
From the main street of Middridge and near Tuft Hill follow Walker's Lane south towards Middridge Farms.
Continue across railway line (bridge access) and head south.
Public footpaths lead to Redworth Grange farm, Mill Lane, Middridge Grange Mill and Middridge Grange before crossing east to re-cross railway line bridge and return to village centre.
This walk could be extended by visiting Redworth village and Redworth Hall Hotel before returning to Middridge.
Distance - Middridge circular approx. 7.4 kms/4.6 miles
Refreshments Pit Stop
From treating yourself to à la carte dining in Redworth Hall Hotel's 1744 restaurant, to tucking into an indulgent afternoon tea in The Lounge or grabbing a quick bite to eat and drink in the outdoor dining area – complete with tipi, Redworth Hall is definitely worth a pit stop.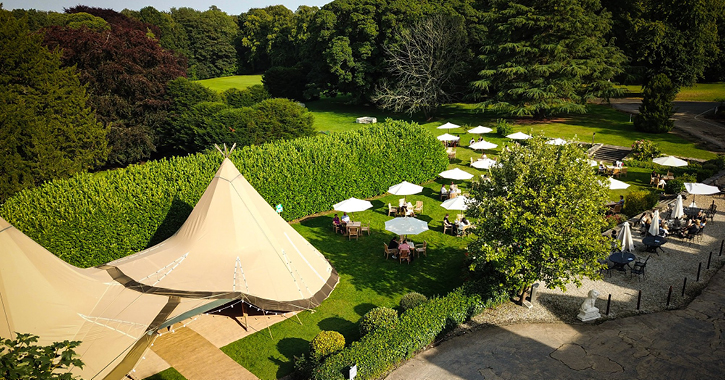 Pittington
Pittington - the "farm of Pitta's people" - has existed since before the Norman Conquest and stands in the shelter of nearby Pittington Hill. In 1258 Durham Priory established a manor house close to St Laurence's church at Hallgarth and that manor house became the centre of a medieval farming estate.
Coal mining helped shape the landscape in more recent times with the development during the 1820s of collieries owned by the Lambton family of Chester-le-Street. That industry has long gone and Pittington Hill now bears the conservation designation of a Site of Special Scientific Interest because of its special qualities as Magnesian Limestone grassland.
Starting point - High Pittington
Route - Map OS Explorer 308 (Durham and Sunderland)
Follow Newby Lane to its junction with Hillside Grove and Elemore Lane.
At the junction a public footpath leads around the base of Pittington Hill and passes Low Pittington village to the left.
Keep on footpath passing High Moorsley quarry (disused) and High Moorsley.
The right of way then crosses a playing field where a return footpath can be joined leading back to Low Pittington and High Pittington.
On returning to High Pittington the walk can be extended to Hallgarth and the parish church of St Laurence.
Distance - 6.5kms/4 miles
Refreshment Pit Stops
Treat yourself to a luscious Afternoon Tea in the tranquil surroundings of the Hallgarth The Manor House Hotel's private gardens or sunny conservatory, or tuck into tasty treats and delicious home cooked meals at the Tavern and Orangery.
Take in the beautiful views surrounding Ramside Hall Hotel with a drink and food in the large outdoor seating area, tuck into the wholesome grub at the famous Pemberton's Carvery, or try a signature steak from the Rib Room steakhouse and grill. There's plenty on the menu to choose from at Ramside Hall Hotel.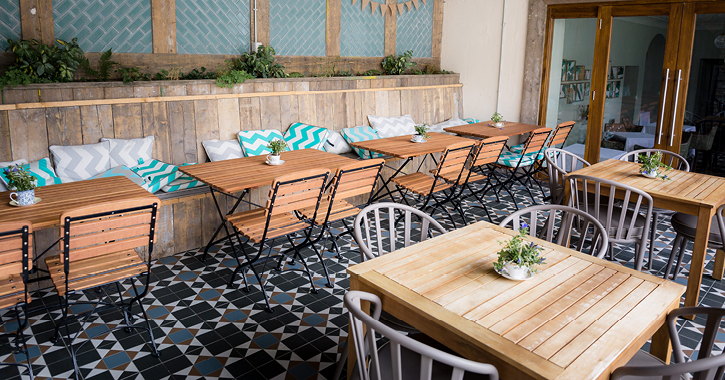 Hawthorn Village, Durham Heritage Coast
Hawthorne Dene is the second largest coastal dene in Durham and has a rich and varied habitat. Ancient woodland and lime-loving trees including elm and ash provide a habitat for a variety of woodland birds. Visit in springtime to smell the wild garlic carried on the sea breeze.
Nose's Point car park stands on the site of the former Dawdon Colliery and provides a fabulous view down to Blast Beach. Take the weight off your feet and sit on the seats a while to soak in the coastal view.
Seaham Harbour was developed in the 1820s by the influential and aristocratic Londonderry family as a means of exporting their vast amounts of coal to market. The former Londonderry offices stand guard above the harbour whilst on Terrace Green the much admired corten steel sculpture known affectionately as "Tommy" marks the turning point of this walk.
The return route passes close to Kinley Hill Tower which was built as a folly – to provide visual interest - in the 1830s. It also had a later use as a gazebo or summer house where the landowner could enjoy far reaching views over the sea and is now a quirky B&B.
Starting point - Hawthorn village
Route - Map OS Explorer 308 (Durham and Sunderland)
Some stiles/steps and steep paths
From Hawthorn village follow public footpath to South Farm and cross Hawthorne Dene via a footbridge.
Continue on path towards Easington Lea Farm and turn east to Beacon Hill.
From Beacon Hill turn north via Blue House plantation and join England's Coast Path near Chourdon Point.
Follow the coast path to Nose's Point and continue north to Seaham Harbour.
Return route same as outward, or to vary the return route follow England's Coast path from Seaham Harbour to Dawdon.
At the roundabout junction with Edith Street turn up Edith Street and follow public right of way through industrial estate to cross A182 to Hesledon East House.
From this point public footpaths lead via Kinley Hill Tower back to Hawthorne village.
Distance - Hawthorn to Seaham returning to Hawthorn approx. 13.5kms / 8.5miles
Refreshment Pit Stops
Down at Seaham Harbour Marina - the county's one and only marina you'll find an amazing array of eateries including The Lookout Cafe and Flamingo Bar and Café, where you can pick up grub to go or sit back and relax as you enjoy delicious homecooked food whilst overlooking the beach and harbour marina below.
North Terrace, where you'll find the beloved 1101 sculpture is also home to amazing eateries that champion all things local. The Lamp Room is famous for its tempting surf and turf tapas menu. Just a few doors away is Lickety Split Creamery, an award-winning 1950s style ice cream serving up speciality sundaes, milkshakes and delectable ice cream.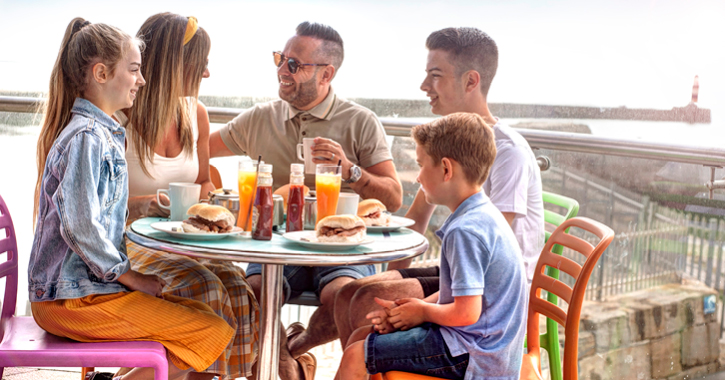 Check out our dedicated walking in Durham page for more walking routes and inspiration
Related
0 Comments