Earlier this year we invited family travel blogger - Travel Loving Family, to explore historic Durham during a family staycation. Throughout their stay they explored the historic Vale of Durham and the stunning Durham Dales, visiting some of Durham's top family friendly attractions whilst staying at Hotel Indigo in Durham City.
Read all about the Travel Loving Family's Durham adventure and their favourite bits below -
Hotel Indigo
We had the absolute pleasure of staying at Durham's newest hotel, Hotel Indigo Durham, and it's fair to say we were well and truly spoilt! It was such an honour to stay in this beautiful historic building located in Durham City.
Walking into the hotel for the first time I felt like I had stepped back into the Victorian era. Elaborate brass carvings decorate the lobby walls and stunning stained glass windows project a colourful light onto the floors.
The hotel bedrooms are all themed, we were in academic themed rooms decorated with old school science artefacts and academic paraphernalia from Durham University. My boys entered our two adjoining guest rooms first and excitedly ran around pointing out the quirky artefacts. They also loved the local sourced tea-tray goodies of cinder toffee, biscuits and popcorn.
One of the many highlights of our three night stay at Hotel Indigo was breakfast each morning in the Marco Pierre White Steakhouse and Grill. The eggs Benedict were to die for and my boys couldn't believe their luck when they spotted bacon, pancakes and maple syrup on the menu!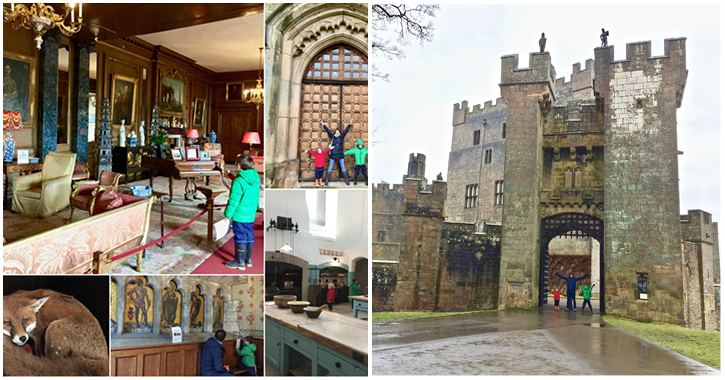 Raby Castle
What better way to start our family staycation in Durham than heading to the Durham Dales and discovering one of the most impressive and best preserved medieval castles in England!
My boys loved following the kids trail around Raby Castle and took it very seriously! It was quite funny watching them running about with their activity booklets and pencils. We went searching for the Raby Hunt eblem, Freddie the Fix who is engraved in furniture throughout the castle.
The cafe located in the old stables is really quirky and definitely worth a visit after your tour around the castle as is the Coach House, home to an impressive collection of 18th and 19th century coaches and carriages. My boys loved the fire engine which would have been horse-drawn back in the day.

The Bowes Museum
After a morning exploring the very impressive medieval Raby Castle we took a short 15 minute drive to The Bowes Museum, a hidden treasure in the heart of beautiful Teesdale. The museum is home to the collections amassed by John and Joséphine Bowes who built the museum to fill with international treasures and decorative arts in the 19th Century.
Be sure to get to the museum before 2pm so you don't miss the opportunity to watch the dance of the Silver Swan. The 240 year-old Silver Swan is a very loved object in the museum drawing huge crowds for her once daily 32 second performance.
My boys really enjoyed the Streatlam Galleries old toy exhibit, especially the old teddies on display and the penny farthing push bike. When we visited there were arts and crafts taking place. I seriously think this has to be the most elaborate setting for a kids arts and crafts session! There are lots of things to keep your kids entertained outside as well as in including a woodland walk, nature trail and dressing up.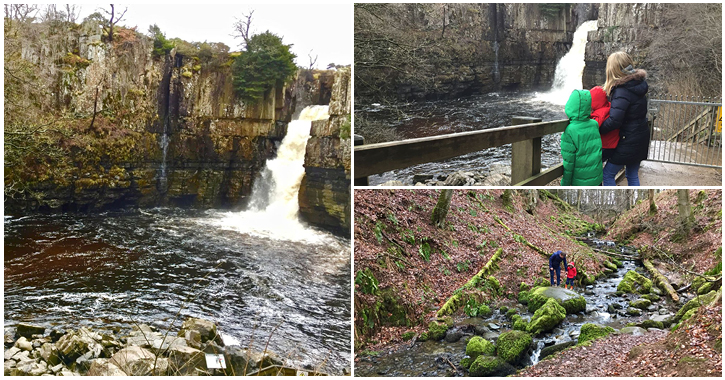 High Force
Our walk up to the High Force Waterfall was one of the highlights of our long weekend. Widely known as one of the most spectacular waterfalls in England it certainly didn't disappoint and the drive to get there through the stunning countryside of Upper Teesdale was a real treat.
My three-year old is not a great walker but even he had no problems with the easy 15 minute walk from the High Force visitor car park to the falls. The path is fairly flat and very wide so perfectly suited for push chairs and it felt really safe with railings along the side too to prevent any accidental falls.
My boys were playing with sticks, building dams in the streams, pointing out unusual tree roots and collecting stones along the way. They loved being outside and exploring a new area. I think High Force Waterfall is a fun and budget friendly attraction to visit with children of all ages.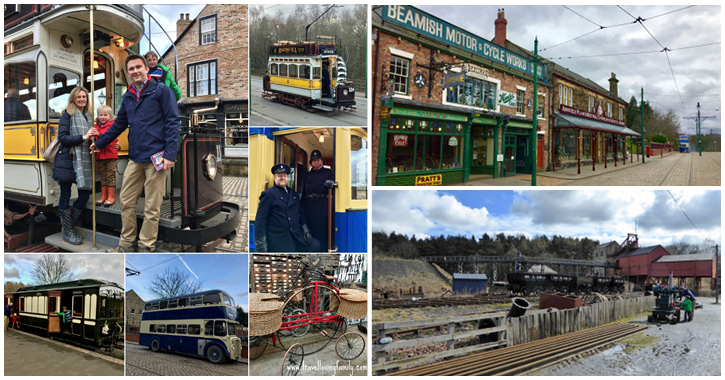 Beamish - The Living History Museum of the North
The highlight of our long weekend in Durham was our absolutely brilliant day at the Beamish Museum. When you think of a museum you think of a dusty dark room filled with artefacts off bounds to kids and their sticky fingers. This could not be further from the reality of Beamish.
It's a highly interactive, authentic, educational and fun day out for 'kids' of ALL ages. (My hubby and I enjoyed just as much as our boys!) It's not like any museum we've ever visited before. We loved our day wandering around the authentic pit village, cottages and shops many of which were taken down and literally rebuilt brick by brick from their original locations throughout the North East. We spent the day chatting to costumed staff and volunteers who made us feel like we'd gone back in time to life in the 1800 & 1900's.
My boys loved learning about life down the pit, and were fully engrossed by the pit mens tales of the pit ponies and demonstrations of the pit lifts and were literally giddy with excitement riding in a 200-year-old tram. If you've not been you are truly missing out.
You can read the full Durham blog on Travel Loving Family's website.
All images featured in theis blog were kindly provided by Travel Loving Family.
Related
0 Comments