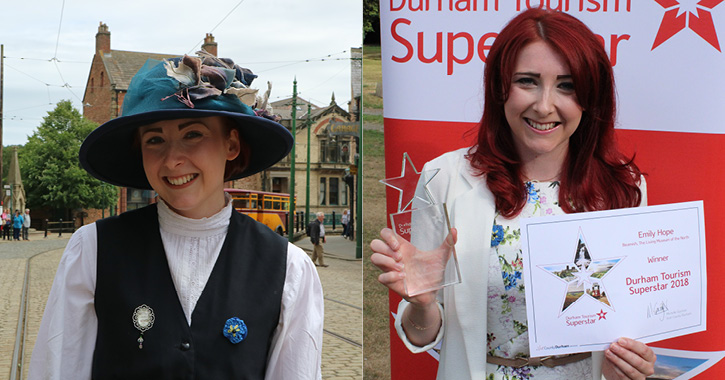 Pictured: Emily Hope - Durham Tourism Superstar and Beamish Museum Project Officer.
Congratulations to Emily Hope from Beamish - The Living Museum of the North who was crowned Durham's 2018 Tourism Superstar.
The results of the public vote were revealed yesterday (Tuesday 24th July) as part of Visit County Durham's annual Summer Garden Party celebrations at Beamish Hall Hotel.
Emily was one of four local finalists who were recognised for their dedication and passion working in Durham's tourism industry, ensuring visitors to Durham have a unforgettable experience. Alongside Emily, the 2018 finalists included Leanne Jeffrey of The Kingslodge Inn, Angela Pickering of Tanfield Railway and Gary lintern of Gary Lintern Photography.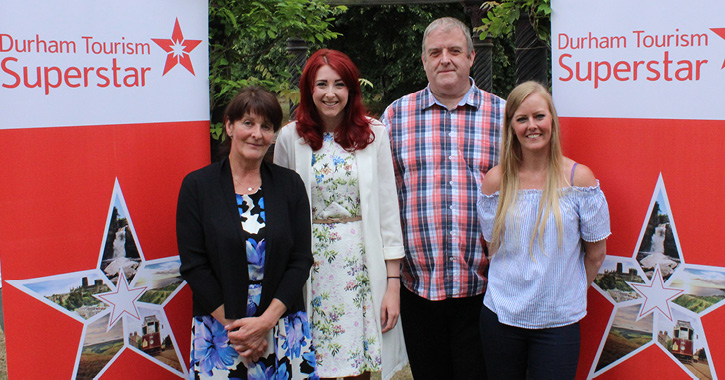 Pictured: Durham Tourism Superstar Finalists 2018 (L-R) Angela Pickering, Emily Hope, Gary Lintern and Leanne Jeffrey.
Project Officer Emily, a member of the entrance development team at Beamish – The Living Museum of the North, is responsible for making sure that the 764,000 annual visitors enjoy an exceptional experience from the moment they arrive into the world famous open air museum.
The Tourism Superstar winner also volunteers as an Alzheimer's Society champion, training more than 100 staff, volunteers and members of the community to become 'Dementia Friends', making a real difference to visitors living with dementia, supporting the museum's commitment to health and wellbeing at work.
Emily adds: "I'm incredibly honoured and genuinely humbled to be crowned Durham Tourism Superstar. There's nothing I love more than putting on my costume and I take great satisfaction in being able to share my knowledge to enhance visitors' experience."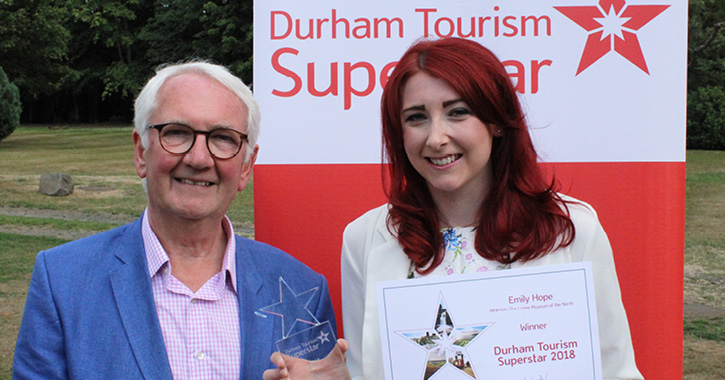 Pictured: Ivor Stolliday, chairman of Visit County Durham and Emily Hope - Durham Tourism Superstar 2018.
Ivor Stolliday, chairman of Visit County Durham, said: "The competition is a wonderful way to recognise those individuals working tirelessly in the tourism industry. All of the finalists are incredible and each act as ambassadors for our county, we should all be extremely proud of them. It's a privilege to crown Emily as Durham's Tourism Superstar 2018".
Emily is the latest member of the Beamish visitor experience team to be recognised for her outstanding contributions to customer service. She follows in the footsteps of colleague Matthew Henderson, who won both Durham Tourism Superstar and VisitEngland Tourism Superstar awards in 2015.
Emily will now be nominated by Visit County Durham for the VisitEngland Tourism Superstar 2019 shortlist.
Last year's winner, Richard Darlington from Hall Hill Farm made it to the national Tourism Superstar 2018 finals in association with VisitEngland and The Daily Mirror.
Related
0 Comments