Norman Cornish Centenary
The family of Norman Cornish along with galleries and art venues across the county, will hold a series of exhibitions and events throughout 2019 to mark the centenary of the birth of the celebrated North East artist – Norman Cornish.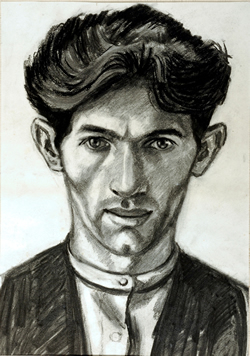 Norman Cornish MBE was perhaps one of the most famous artists to emerge from the North East of England in the 20th Century and became one of the most celebrated British artists of his time.
Born into the mining town of Spennymoor, in the Vale of Durham on 18 November 1919, Cornish was famous for capturing the hard-lived but often bright lives, in mining communities where he lived and worked. He left school at 14 and began work as a coal miner and it was only in 1966 that he chose to leave the pits to work as a professional painter.
Norman continued to paint until his peaceful passing at the age of 94 in August 2014. His work continues to be loved by people of all ages and backgrounds. To mark the centenary of his birth and his family has worked in partnership with curators, academics, artists, biographers, galleries and the community to draw together a celebration of his life and work.
Six exhibitions throughout 2019 will offer visitors the chance to see previously unseen works, learn fresh insights and enjoy a major retrospective of Norman Cornish's art at venues across the county including The Bob Abley Gallery in Spennymoor Town Hall, the Mining Art Gallery, and The Bowes Museum.
The Norman Cornish Trail
Walkers will also be in for a treat, as they can follow in the footsteps of the artist around his home town of Spennymoor on the new Norman Cornish Trail. Setting his work in their actual locations, the trail takes people back to a time when coal was once the life-blood of industry.
Download the Norman Cornish Trail >
Norman Cornish Home
Cornish's former home from the 1950s and 60s is set to be recreated as part of the Remaking Beamish project 1950s' town, which is expected to conclude the centenary events in 2020.
"The local collieries have gone, together with the pit-road. Many of the old streets, chapels and pubs, are no more. Many of the ordinary but fascinating people who frequented these places are gone. However, in my memory, and I hope in my drawings, they live on. I simply close my eyes and they all spring to life." Norman Cornish
To help celebrate the century of Norman's birth, we are lucky enough to be able to share a series of blogs, giving a unique insight about the man himself by members of the Cornish family.