The North East has a whole host of excellent buildings and monuments waiting for you to discover along the Northern Saints Trails. Check out this guide below: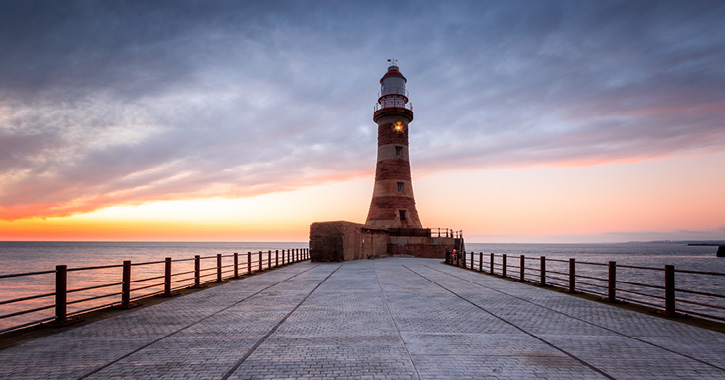 Roker Lighthouse
Standing majestically at the end of Roker Pier with red and grey granite stripes, is Roker Lighthouse. At just 25 years old, Henry Hay Wake became the new Chief Engineer of the River Wear Commissioners. He led the construction of a new pier, the Roker Pier and Lighthouse, which began in 1885 and ended in 1903. Be sure to marvel at this landmark which is seen as a great engineering achievement.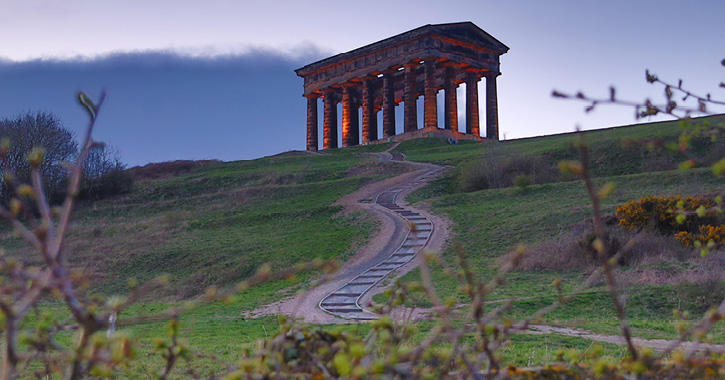 Penshaw Monument
Penshaw Monument is a splendid, 70ft high replica of the Temple of Hephaestus in Athens. It was built in 1844, in honour of the first Earl of Durham, John George Lambton. His support for political reform earned him the nickname, 'Radical Jack' and he was one of the four politicians involved in the drafting of the 1832 Great Reform Act. As you walk to the monument, you may spot the Lambton Worm. According to legend, it is a worm which turned into a monster!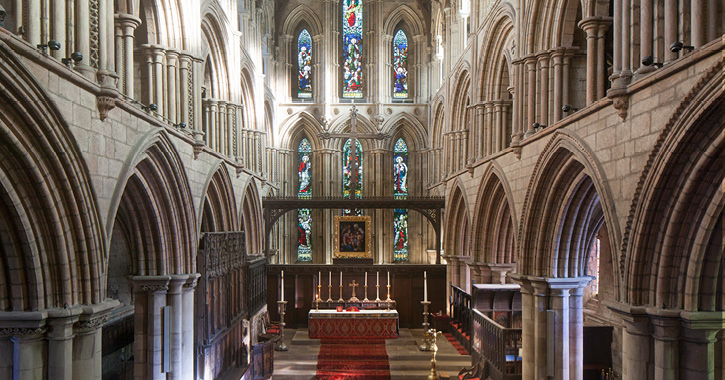 Hexham Abbey
Hexham Abbey's history dates back over 1000 years when Queen Etheldreda granted Bishop Wilfrid the lands of Hexhamshire for a new Benedictine monastery. Ancient parts still remain, including the Saxon crypt of Wilfrid's Benedictine Abbey, where you'll see a leaf and berry design on some of the stones. In the chancel, there is a collection of captivating medieval paintings in the form of wood panels, some show a dancing skeleton!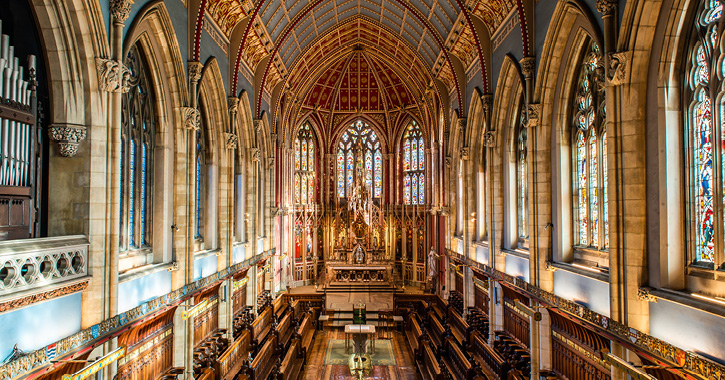 Ushaw: Historic House Chapels and Gardens
Many years ago, Ushaw was born in secret, beginning as a Catholic seminary (school for priests). It is now an arts and heritage venue where they say, wonder, curiosity and amazement collide! Visit the spectacular St Cuthbert's Chapel which celebrates the Northern Saint's life. You'll find beautiful Gothic architecture and striking stained glass windows. Mass is celebrated every Friday in St Cuthbert's Chapel at 12:30pm and the public is welcome to attend.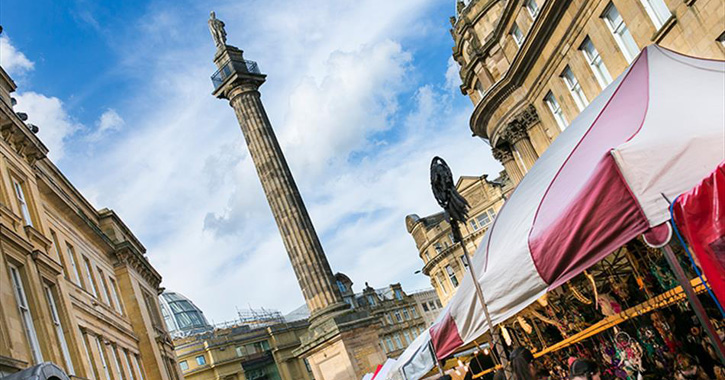 Grey's Monument
As you stroll into the centre of Newcastle Upon Tyne, you can't miss the mighty fine 134ft Grey's Monument. It was built to commemorate former Prime Minister Earl Grey, who was in office from 1830 to 1834. The well-known tea, Earl Grey is named after him! Fascinatingly, a time capsule was buried beneath the monument's foundation stone and it contained a drawing of the monument, a list of subscribers to its erection and a collection of coins, medals and tokens.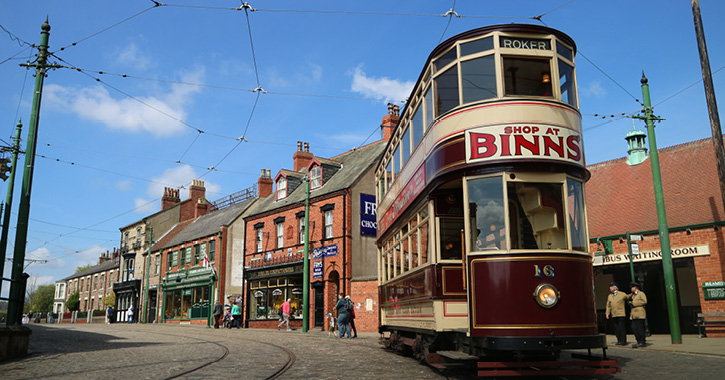 Beamish, The Living Museum of the North
Immerse yourself in the past at Beamish, The Living Museum of the North, an award-winning open-air museum which brings to life the history of North East England. There is not just one building to explore but many! An array of authentic buildings from towns and villages of different time periods have been painstakingly rebuilt and furnished. Pop into Herron's Bakery in the 1900s Town, where you can watch tantalising bread, cakes and biscuits being made using traditional Edwardian recipes!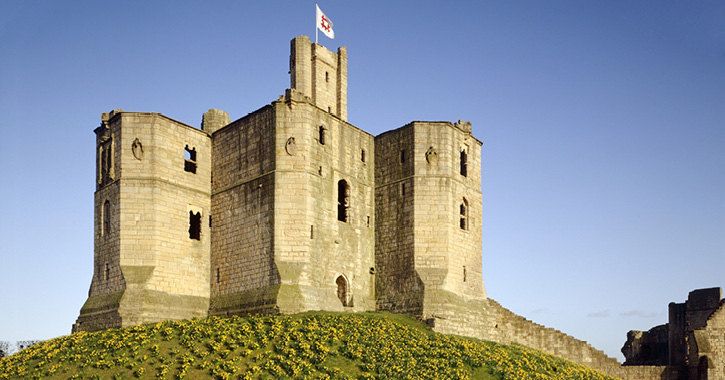 Warkworth Castle
Warkworth Castle is a grand 12th century fortress, towering on a hilltop which looks onto the wonderful River Croquet. It was once the residence of the influential and notorious Percy family, who at times clashed with the Crown. Admire the grandeur of the Lion Tower and look out for carvings of a lion throughout the castle, the badge of the family.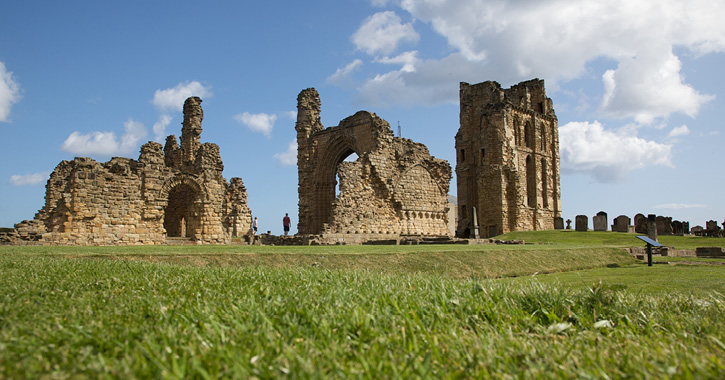 Tynemouth Priory and Castle
The awe-inspiring Tynemouth Priory and Castle sit magnificently on a headland with fantastic views of the North Sea and River Tyne. It began as an Iron Age settlement, then an Anglo-Saxon monastery, a royal castle and a coastal fortress until 1956. It was even once
a place where wayward monks were sent by abbots of St Albans to punish them. A letter from the mid-14th century, which may be from one of the exiles, describes their time at Tynemouth: '…day and night the waves break and roar'.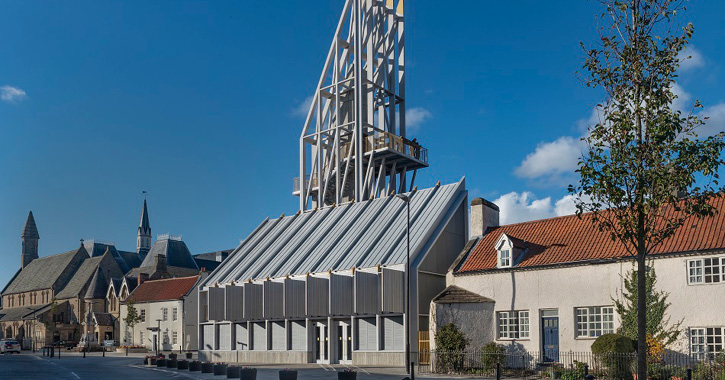 Auckland Tower
Start your trip to Bishop Auckland with a climb up the impressive Auckland Tower. It offers stunning 360° views across the surrounding countryside, the bustling market town of Bishop Auckland and Auckland Castle. Although the tower may look ultra-modern, it in fact hints at historic structures such as a wooden siege engine. Inside, there are intricately decorated ceiling panels.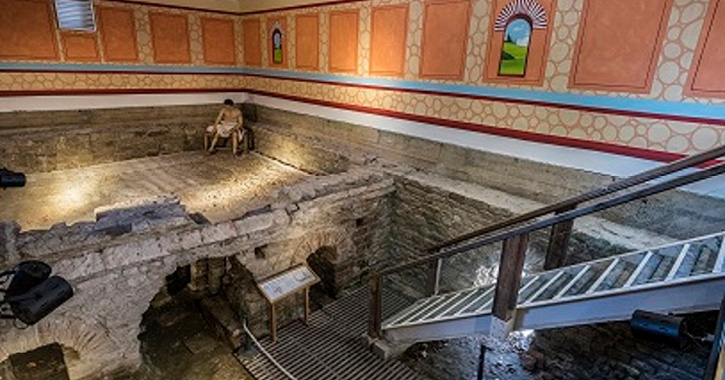 Binchester Roman Fort
Gain an intriguing insight into Roman life at Binchester Roman Fort, which was the home of a cavalry unit. The fort was founded around 80AD and is one of the largest of its kind in northern Britain. A key feature is two amazingly-well preserved bathhouses. You may think that underfloor heating was a recent invention but one of the bathhouses has a hypocaust (underfloor) heating system, which is in incredibly good condition. Be observant as you walk among the ruins, The Beast of Binchester is about!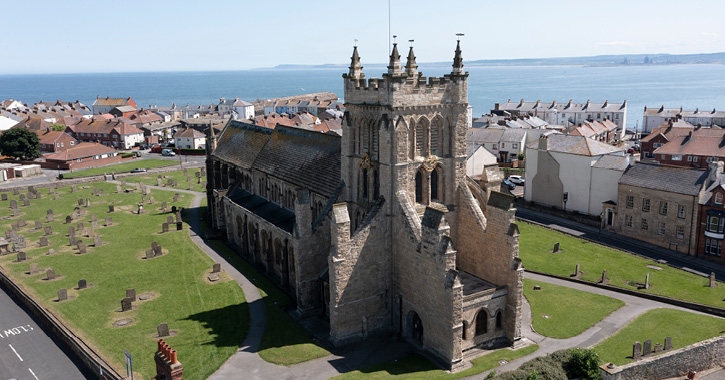 St Hilda's Church
St Hilda's Church is a superb early English church attractively positioned on the Hartlepool Headland, giving you charming sea views. It is believed to be the site of the monastery where Hilda was abbess in the 7th century. She is seen as one of the most important female figures in the establishment of Christianity. There is a visitor centre within the church, and you can enjoy audio-visual displays about its history and an audio tour which details the enthralling story of St Hilda.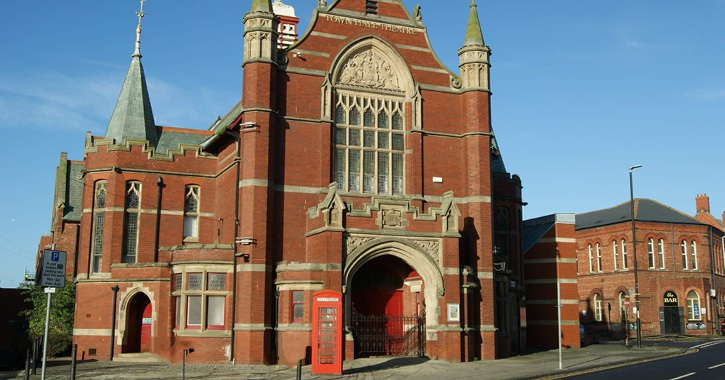 Hartlepool Town Hall Theatre
What may look like an ornate church from a distance, is actually Hartlepool Town Hall Theatre. Originally, it functioned as the Town Hall which opened in 1897 and was designed by architect Henry Arthur Cheers of Twickenham, in the Tudor Gothic style. Now it's a traditional proscenium arch theatre and the place to be for top performances. Above the window on Raby Road sits a beautifully carved Coat of Arms of West Hartlepool.
These are just some of the terrific sights along the Northern Saints Trails.
Click on the See & Do section for more inspiration.
Image of Roker Lighthouse © Dean Matthews, The Auckland Tower © Norman Cooper and Warkwick Castle © Jonthan Bailey.
Related
0 Comments