All along the Durham Heritage Coast you'll find an incredible array of captivating beaches that are waiting to be discovered. From dramatic clifftops to sandy shores and wildlife hotspots, you're certain to find the perfect beach for family days out, dog walks and soaking up stunning sunrises.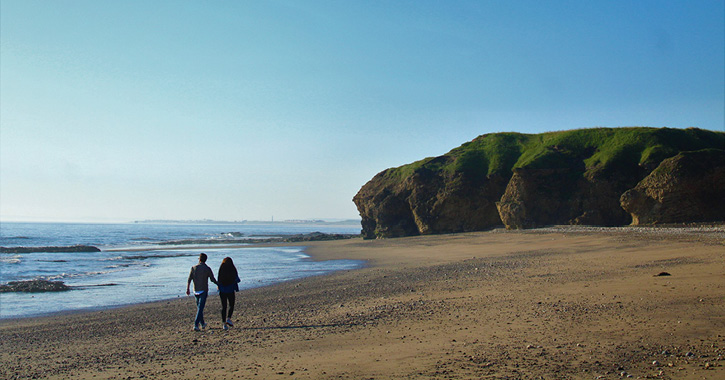 Blackhall Rocks Beach
Famous for its towering cliffs and unique geological formations, Blackhall Rocks is a stunning coastal gem. The layers of sedimentary rock, shaped by millions of years of natural processes, create a mesmerizing sight.
Blackhall Beach has been transformed from the bleak industrial landscape it once was (famously featured in the final scene of 'Get Carter' starring Michael Cane in 1971) to a beautiful stretch of clean and quiet coast, perfect for contemplation and birdwatching. Be sure to head down and explore the rocky beach, where you'll find the largest cliff caves in Durham's magnesium limestone coastline.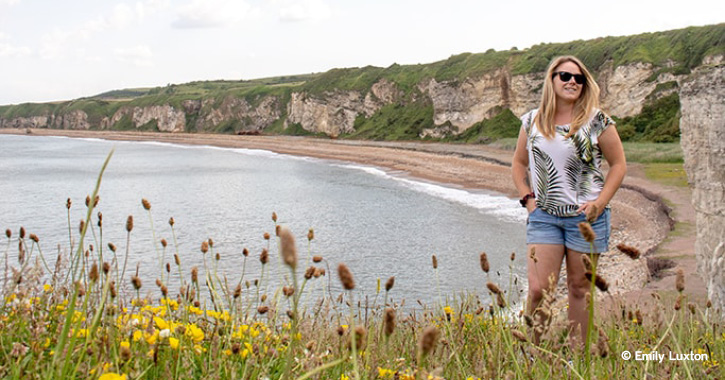 Blast Beach
Blast Beach sits beneath Nose's Point Nature Reserve near Seaham. This wonderful beach offers a captivating blend of nature and history. Once the site of heavy industry, the beach is named after the blast furnaces which once stood nearby. The slag waste from these furnaces was dumped onto the beach. Thankfully the beach has been cleaned, making it a tranquil place bursting with fauna and flora. The dramatic cliffs and rock formations provide a surreal backdrop, making it a favourite spot for photographers and history buffs alike.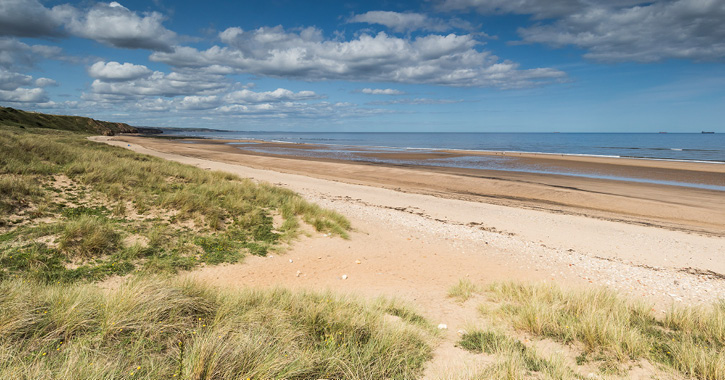 Crimdon Dene Beach
For those seeking a family-friendly beach experience, Crimdon Dene Beach fits the bill perfectly. With its golden sands it's an ideal spot for building sandcastles, enjoying a picnic, or taking a leisurely dog walk. The Dene itself is a nature reserve, offering a peaceful backdrop of greenery and wildlife.
Situated at the southern end of Durham's Coast, this long, pleasant stretch of sandy beach is also home to the Durham coast's only sand dunes. Every summer Crimdon welcomes back one the rare Little Tern seabird, who return every year to breed from West Africa.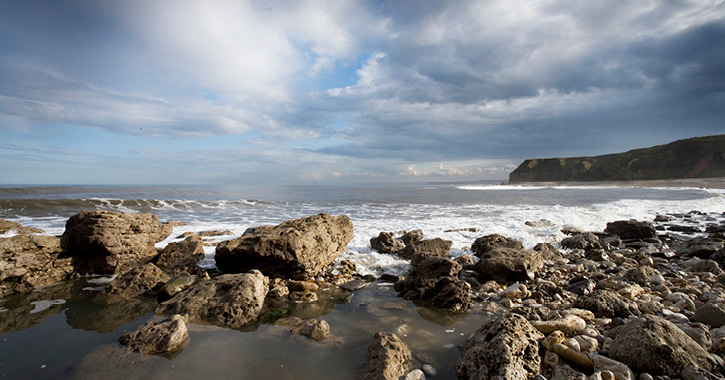 Easington Beach
This small beach lies roughly mid-way on the 11-mile Durham coastal footpath and can be reached via the coastal footpath or Easington Colliery Nature Reserve. This shingle and rocky stretch of coastline attracts fossil hunters, walkers, and nature lovers alike.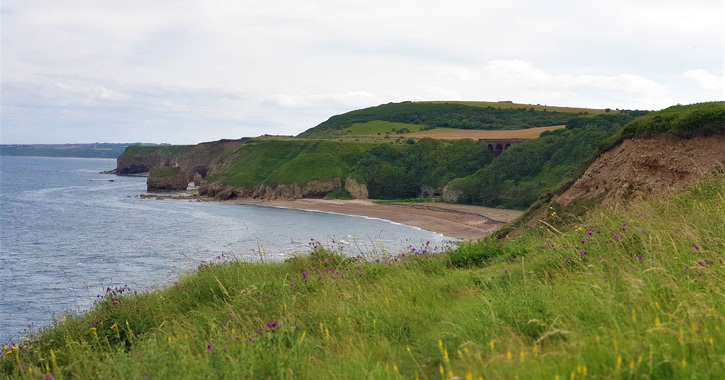 Hawthorn Hive
A beautiful hidden cove, off the beaten track, nestled between Nose's Point Nature Reserve and Easington Beach Banks. This peaceful secluded beach can be found where the cliffs and rocky shore open up under an impressive railway viaduct. Named after the nearby Hawthorn Dene Nature Reserve, where its wonderful woodland and species rich magnesian limestone meadow stretch down to the sea.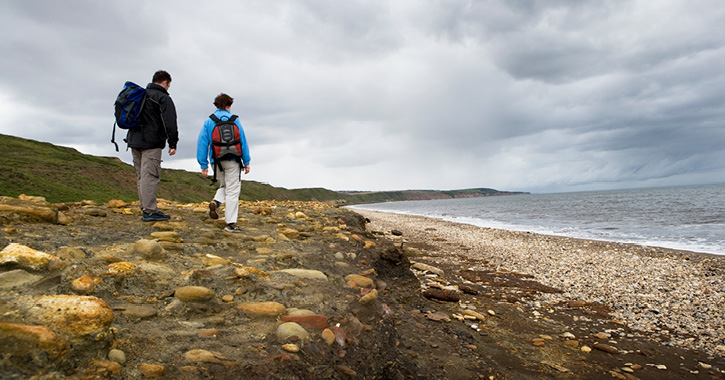 Horden Beach
Horden Beach is a lesser-known gem on the Durham coast, which offers tranquillity and seclusion. With its expansive pebble beach and sweeping views, it's an excellent place to unwind and enjoy the sound of the waves crashing on the shore. The beach also boasts a network of paths that lead you along the stunning coastal footpath or deep into the nearby Castle Eden Dene National Nature Reserve.
Don't miss the Little Tern Sculpture, perched high on the clifftop at Limekiln Gill Beach Local Nature Reserve, overlooking the beach. From here you can enjoy spectacular views out across the mighty North Sea and along the coast.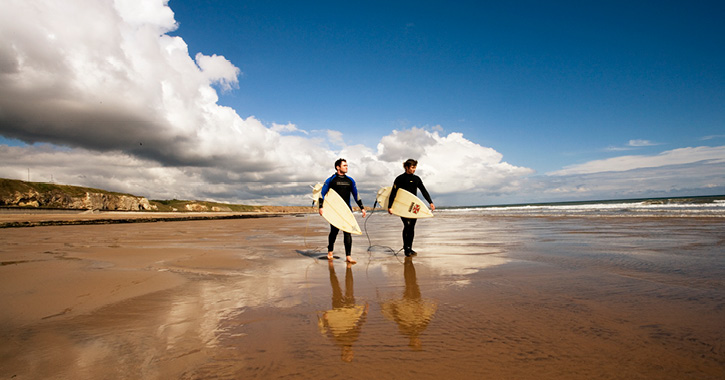 Seaham Beach
Seaham Beach is a true haven for beachcombers and sea glass enthusiasts. With its colourful sea glass pebbles washed ashore from the waste glass tipped into the sea from former Victorian glass factories, it's a captivating place to explore. As you stroll along the shore, the rhythmic sound of the waves and the beauty of the polished glass gems under your feet create a unique experience that connects you to Seaham's industrial past.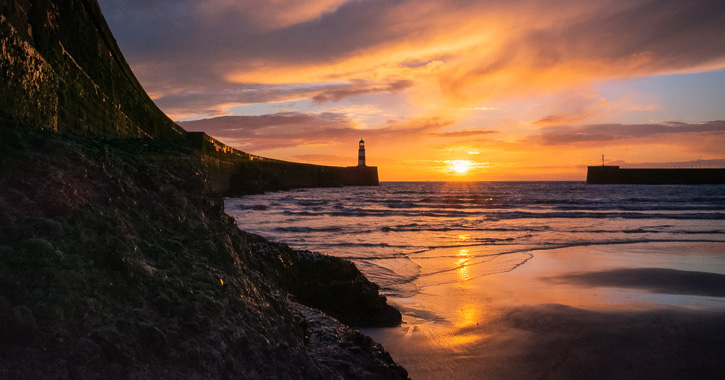 The Slope Beach
Tucked away behind Seaham Harbour Marina, this little sandy beach is popular with visitors and locals alike. Sheltered by the harbour wall, it's the perfect place to enjoy a dip or day at the beach. Throughout the summer months you may even spot dolphins as they jump and play at the entrance to the harbour.
At the bustling harbour marina you can pick up a souvenir from quirky seaside shops, enjoy a bite to eat at unique restaurants and cafés, uncover fascinating stories at East Durham Heritage and Lifeboat Centre, and learn to paddleboard or kayak at the marina's activity centre.
From the sea glass treasures to dramatic cliffs, each beach offers a different experience that showcases the county's rich history and natural beauty. If you're looking for a beach getaway with a twist, venture to the Durham Heritage Coast and uncover its hidden coastal gems.
Related
2 Comments