With Halloween just around the corner, we're getting into the spooky spirit with the eerie ghost stories behind some of the most haunted places in Durham.
Feeling brave? You can visit many of the places linked to these frightful stories in person, to see if you can spot these phantoms for yourself.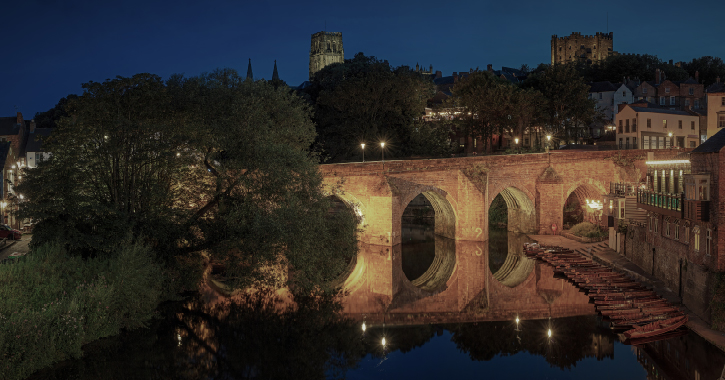 Jimmy Allen, the Gypsy Piper
Stand on Elvet Bridge in Durham City at midnight and you might just hear the eerie music of Northumbrian piper Jimmy Allen, who was brought to Durham for trial, and sentenced to death for stealing horses in the 18th Century.
Jimmy was imprisoned in the House of Correction beneath the bridge, where he sadly died just four days before a pardon from the Prince Regent arrived. The entrance to the old House of Correction is still visible beneath Elvet Bridge in Durham City, where if you listen carefully you may still hear Jimmy playing his beloved smallpipes.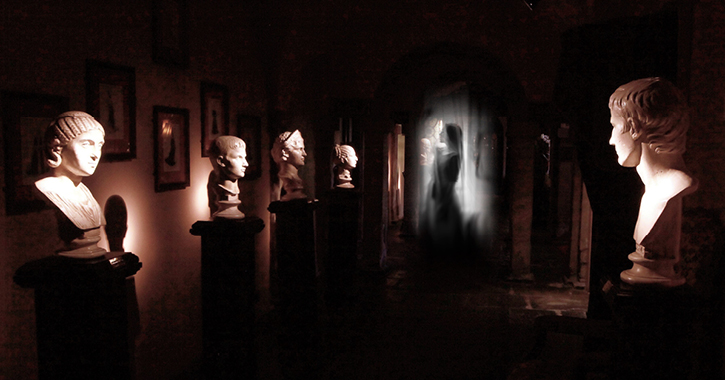 Lily of Lumley
Spend a night at Lumley Castle Hotel and you may encounter a bump in the night! For several centuries Lumley Castle in Chester-le-Street has been the home of a poor old soul named Lily, who is said to haunt the grounds of this ancient castle.
Lily was a young woman who secretly married Ralph Lumley, the creator of the castle, before he married Eleanor Neville. Legend has it that two priests threw poor Lily down the castle's well for refusing to accept the Catholic faith. The murderous priests supposedly believed this would save her soul after she converted from Catholic to Protestant and told Ralph that she had left to become a nun. You can still see the well in the castle grounds to this day.
Many people throughout history, and many hotel guests have seen Lily's ghost wandering through the castle's corridors and grounds, or felt her presence during their stay. Lily even spooked the Australian cricket team when they stayed at the castle before their match with England. It's said she scared some of the players so much that they slept on their teammate's hotel room floor.
Uncover the legend of Lily at the castle's immersive Escape Room.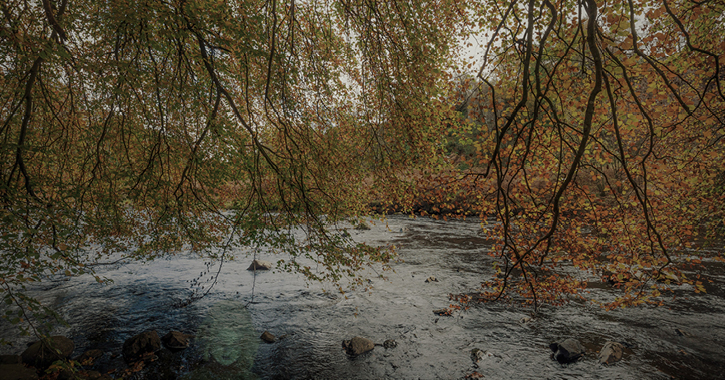 Peg Powler
We can all agree that the River Tees is one of the most beautiful sights to behold when visiting the Durham Dales and North Pennines Area of Outstanding Natural Beauty and UNESCO Global Geopark. However not all is as it seems. If you visit, be sure not to stray too near to the water's edge, as you may become the next victim of Peg Powler.
Known by many names throughout the years, some call her a hag, others a water sprite, Peg Powler lies deep in the dark waters of the River Tees, waiting to lure children, and adults alike into the murky waters below. She is said to haunt Cow Green Reservoir, and the riverbanks around Mickleton and Middleton-in-Teesdale.
With her long, green, water-drenched hair you might get an inkling of her presence in the river if the surface suddenly takes on a frothy appearance.
Read more of Peg Powler's legend...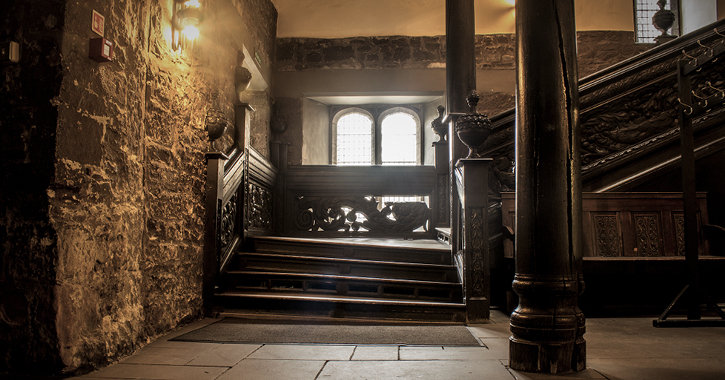 The Grey Lady of Durham Castle
Durham Castle is said to be haunted by not one, but two ghosts. Many students who call the castle their home during term time have reported unnerving sightings within the castle walls.
Start to climb the castle's black staircase and you may encounter the Grey Lady. Said to be the wife of a 19th century Bishop of Durham who fell to her death from its topmost heights. Even if you don't see the Grey Lady, you can certainly see the staircase on a guided tour of the Castle.
When the University first opened its doors in the 1800s, one student stood above the rest - Fredrick Copeman, who lived in the highest room in the Castle, and who's soul sadly never left. Fredrick was very ambitious, and on results day woke early to check the board on Palace Green and see if he had passed his degree. To his horror, his name wasn't on the list of students who had passed the final exam. Thinking he had failed his exam, he returned to his room devastated and was heard pacing around his room for hours, before taking his own life.
Later it emerged that he was in fact, top of the first-class degree, awarded the highest honours possible. But his name was hidden by another sheet of paper. To this day, it's said you can still hear Fredrick's ghost as he paces around his room in aguish.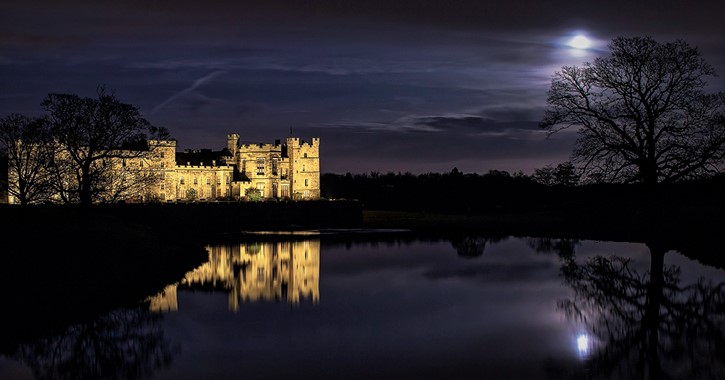 The Old Hell Cat of Raby Castle
In the early 18th century, Christopher Vane, 1st Baron Barnard of Raby Castle married Lady Elizabeth Holles, who was a formidable character with an 'ungovernable temper'. In 1714, their eldest son Gilbert declared that he wished to marry a wealthy 'commoner' named Mary, who was not titled aristocrat.
Baron and Lady Barnard were furious and opposed the marriage and set about destroying his inheritance at Raby Castle. The infamous couple sold many household goods, and stripped the castle of its floors, lead, and glass windows. It's said they also cut down surrounding woodlands and slaughtered many of Raby's deer.
Gilbert and Mary took Christopher and Elizabeth to Court of Chancery in the case of Vane vs Barnard. Christopher and Elizabeth were ordered to cease the destruction and a rebuilding programme began. A furious Elizabeth became known locally as 'The Old Hell Cat', and its said she haunts the battlements of Raby Castle, pacing furiously back and forth, knitting with red-hot needles.
Find out more about the Old Hell Cat of Raby legend...
Discover more of Durham's unbelievable ghost stories
Check out what's happening this Halloween in Durham
Related
0 Comments