By Blog Squad member Nikki from North East Eats and Kids
"For us to understand how and why our present world is the way it is, we have to look to history for answers. Having knowledge of our history allows us to understand where we have come from, it not only reveals the past, but it also helps us create a better future".
Evie and Harry have both recently developed a really keen interest in local history and, here in Durham, we are blessed with many outstanding living and working museums covering all aspects of our region's past.
Over the last few weeks we've enjoyed days out at some of Durham's award winning museums, from exploring lead mining in the North Pennines at Killhope to discovering the earliest days of the rail industry in the world's first railway town at Locomotion, and then immersing ourselves in every day life as we journeyed through time at Beamish, The Living Museum of the North.
Below, I'll share a brief roundup of each of our history-learning visits.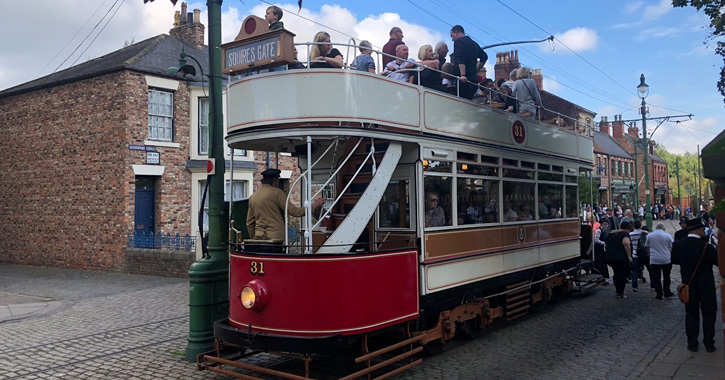 Beamish, The Living Museum of the North
Entry Cost: Adult - £19.50 Children - £11.50 (valid for 12 months)
Booking Needed: ✅
On-site Cafe: ✅
Top Tip: Check the website before visiting to see when themed weekends or festivals are taking place.
What We Thought: We've had unlimited passes to Beamish Museum for years and I've lost count of the number of times we've drove through the red Steam Hammer arch and into the world famous open air museum, which tells the story of life in North East England from 1820 onwards. Beamish is a living, working museum, set in 300 acres of beautiful countryside, where we experienced a real sense of the past and discovered what life was like in North East England in Georgian, Victorian and Edwardian times.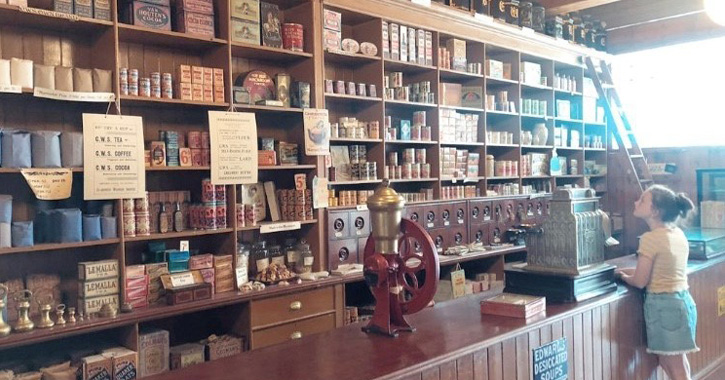 From Old Pockerley Hall and the 1900s Town to the 1940s Farm and 1900s Colliery Pit Village, there's something for everyone at Beamish Museum. For the fully immersive experience we checked out what activities were planned for our visit and tried to catch any demonstrations that were happening while we were there. Although the walk around Beamish is fairly easy, can you really say you've been to Beamish if you haven't hopped on a tram?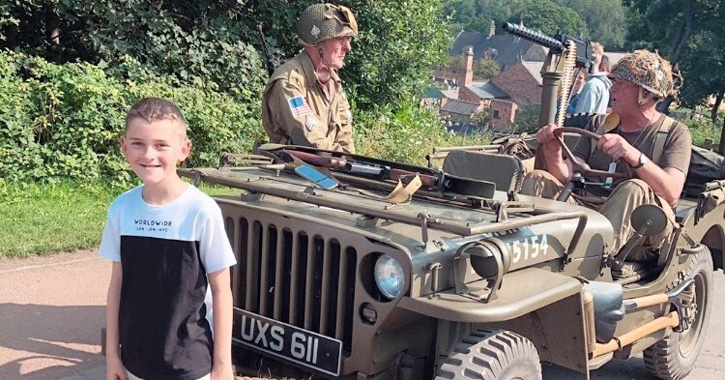 There are a handful of food outlets throughout the museum including Davy's Fish & Chip Shop and Herron's Bakery but we often bring our own because there are plenty of pretty places to pitch up and enjoy a picnic. We've never had a bad day out at Beamish, even when the weather has been far from ideal there's so much to see, and do, indoors and outside.
Beamish Museum truly is a North-Eastern institution and now, more than ever, the charity needs our support.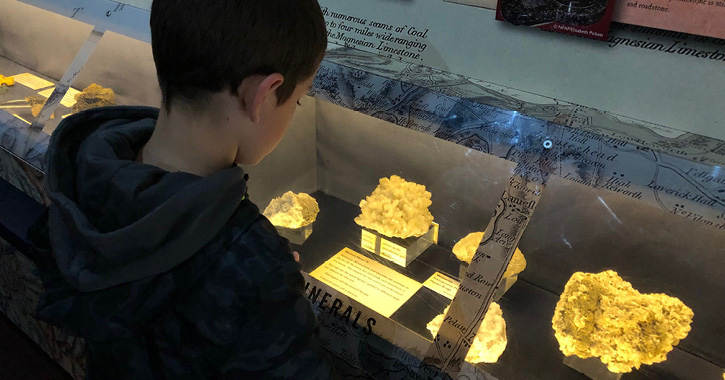 Entry Cost: Free
Booking Needed: ✅
On-site Cafe: ✅
Top Tip: Bring knee high wellies
What We Thought: Harry, like a lot of children, has always had a fascination with rocks so this is his idea of the perfect day out. After a picturesque drive through the Durham Dales, we arrived at Killhope. The museum offers a unique opportunity to experience a day in the life of a Victorian Lead Miner and his family, teaching through interaction and experimentation.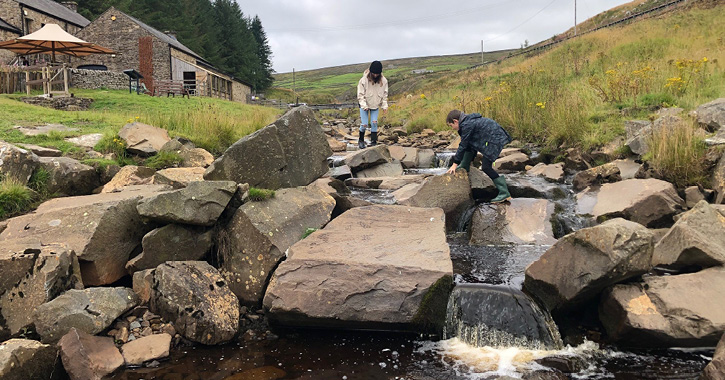 Situated on the bustling Killhope Burn (which is ideal for paddling in) we wandered through the museum building taking in the exhibitions, Evie was particularly captivated with the huge collection of spar boxes on display. Making our way outside we were faced with the stunning sight of Killhope's Water Wheel and Jigger House, it felt like we were instantly transported back to the mines working days from the Victorian Era. Although delayed maintenance work means the Water Wheel and Jigger House are currently closed, they certainly are a sight to behold.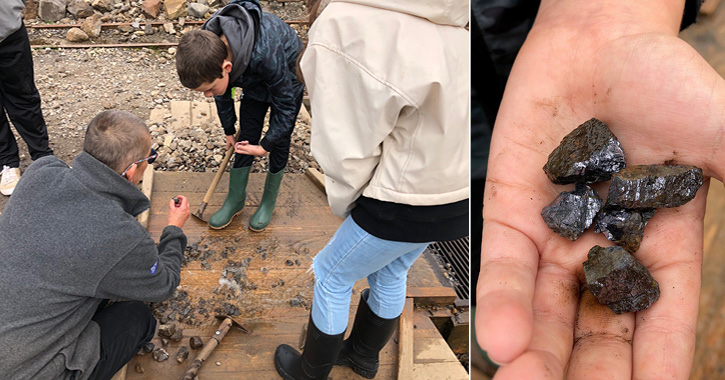 To experience the full hands-on experience Killhope offers, we played the part of washer boys searching for lead ore on the washing floor before donning a hard hat and taking a tour of the enthralling underground mine learning all about the by-gone days of lead mining. We all loved the activities available and the staff we encountered were extremely knowledgeable, helpful and happy which really made our visit.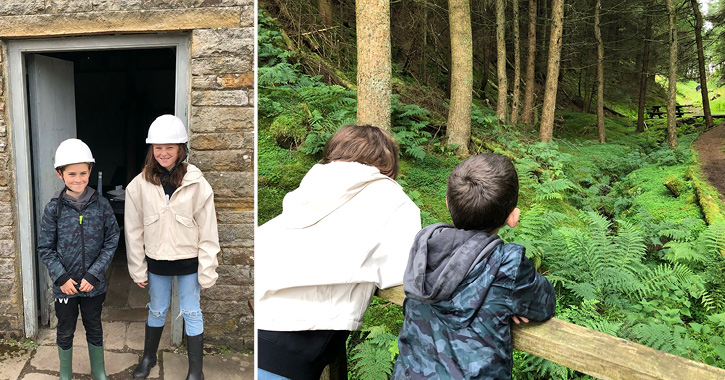 Killhope is set amongst some stunning scenery so, before leaving, we headed in to the woodland area for a bit of bird watching and see if we could spot Killhope's famous red squirrels. Luckily, the animals were feeling cooperative and we spotted many!
We spent about 4 hours at Killhope and we all thoroughly enjoyed our time there – it really is a hidden gem tucked away in the Durham Dales.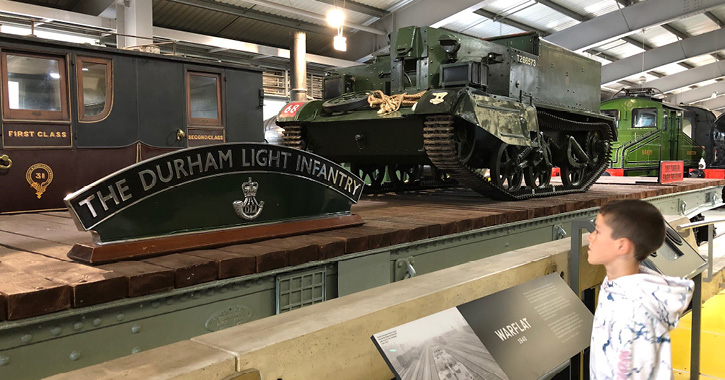 Entry Cost: Free
Booking Needed: ✅
On-site Cafe: ✅
Top Tip: Remember your mask
What We Thought: We've visited other Railway Museums and, although Locomotion is smaller, we were pleasantly surprised by what we discovered. Locomotion showcases an incredible collection of railway vehicles including the APT-E Tilting Train, the Stephenson's Locomotion No. 1 and the mighty Deltic prototype. Each engine has an information board detailing everything you need to know about it.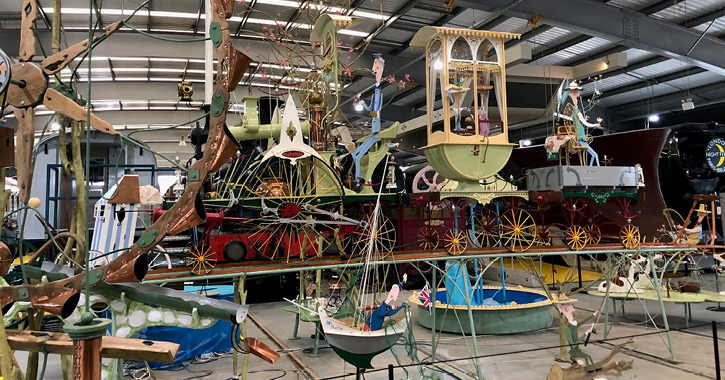 Inside the main museum building we found interactive displays and play areas for children of all ages. Evie was fascinated by the 'A Quiet Afternoon In Cloud Cuckoo Valley' exhibition – an enormous yet intricate sculpture made of eight separate machines which all come to life. The incredible display was the last to be constructed by British artist Rowland Emett.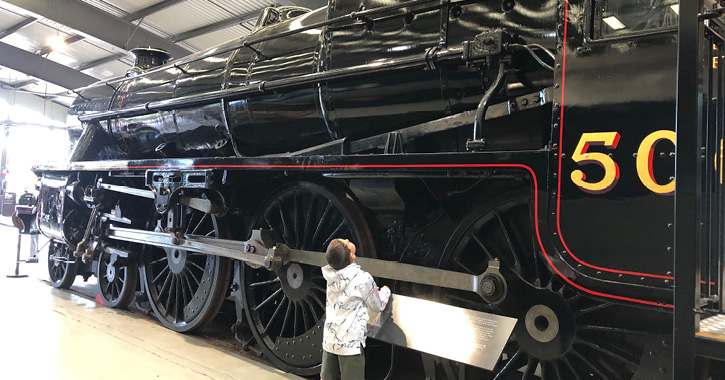 Harry was blown away by the size of the magnificent Black 5 5000 Engine and we were all captivated by the Royal Carriages. During our visit we grabbed a drink and snack from the café purely to sit at the best museum tables we've ever encountered. Before leaving, we checked out the outdoor themed play area and, for an extra challenge, we downloaded the Treasure Hunters app and got snapping!
Overall, we spent about 2 hours at Locomotion and we all agreed it was well worth the visit!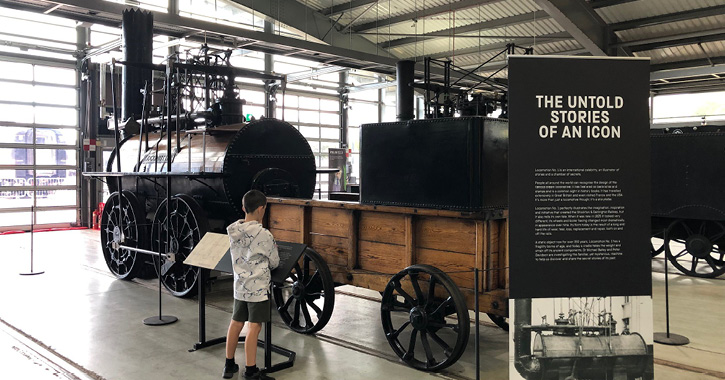 Follow Nikki on Instagram, Facebook or Twitter
View Nikki's website
Related
0 Comments