Visitors to the Bowlees Visitor Centre, situated in the heart of the North Pennines AONB and UNESCO Global Geopark will be able to discover the very foundations of geological mapping, at a fascinating new exhibition.
The North Pennines AONB Partnership is displaying an original example of a William Smith Map as the centrepiece of an exhibition at Bowlees Visitor Centre in Upper Teesdale until 10th June 2018. The exhibition is the first event in the Earthworks project, which has been funded by the Heritage Lottery Fund (HLF).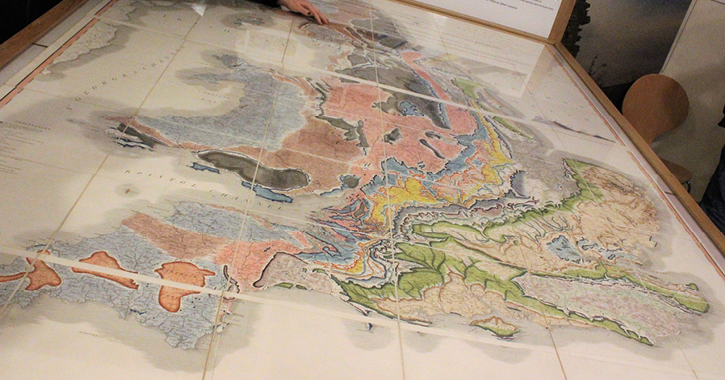 William Smith was the 'father of English geology' and in 1815 produced the world's first countrywide geological map, often known as the map that changed the world. Smith, a surveyor and engineer, travelled the length and breadth of Britain collecting data, going on to create 'A Delineation of the Strata of England and Wales, with part of Scotland'.
The exhibition takes visitors through the evolution of geological mapping, from Smith's ground-breaking work, to the way such maps look today.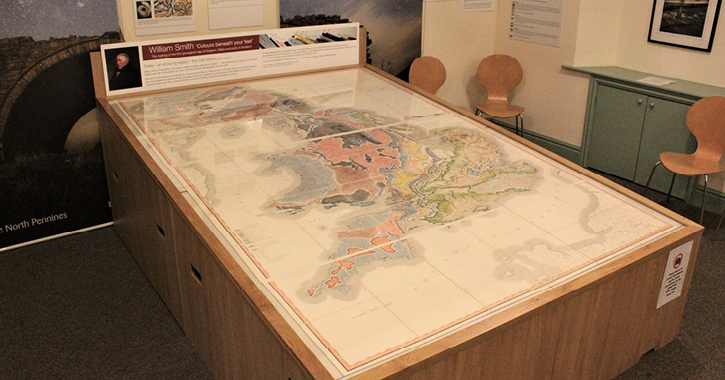 Smith's detailed and beautiful map uses familiar symbols to mark out features such as rivers and roads, as well as mines and other industrial sites. He then applied layers of different colours, by hand, to indicate the various rock types. Today, Smith's techniques and map colours are still used by geologists all over the world.
The owner of this rare and important map is Natural England geologist Jonathan Larwood, who has worked closely with the North Pennines AONB Partnership on the development of this exhibition.
Jonathan said: "Smith's map is an important piece of national scientific heritage and it is great to see it travelling to the North Pennines. The exhibition charts Smith's process for creating the map, but also tells the human story behind it: Smith's remarkable rise from humble beginnings to renowned geologist. What he was able to do in his lifetime set the scene for other scientists to progress the work and make further strides in geological study."
The National Lottery funding for Earthworks will enable the Partnership to expand its work in support of the North Pennines' UNESCO Global Geopark designation, one of only four UNESCO designations in the North East (along with Durham Cathedral, Hadrian's Wall and the Lake District World Heritage Sites).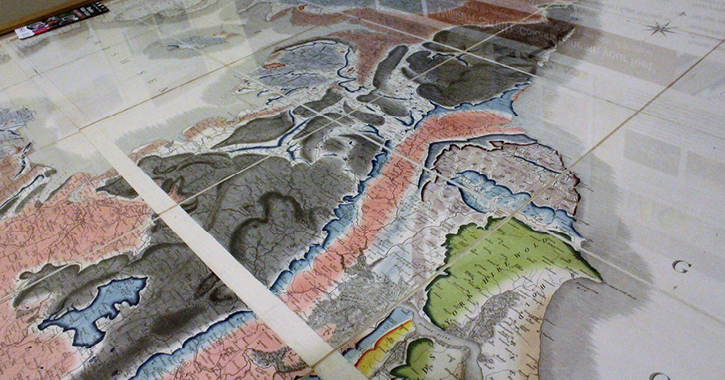 Chris Woodley-Stewart, North Pennines AONB Partnership Director, said: "Bringing this William Smith map to the North Pennines is an important first stage in our Earthworks project. Earthworks will help us to bring this area's geological heritage to life, and we are looking forward to telling the North Pennines' fascinating story of ancient tropical seas, vast deserts, moving continents, huge ice sheets, magma and minerals.

The exhibition is free and runs until Sunday 10 June 2018 at Bowlees Vistior Centre.
Situated amidst stunning woodland, near to Low and High Force waterfalls and surrounded by rolling fields that boast some of the best hay meadows in England, Bowlees Visitor Centre has all you need to make your visit to the North Pennines Area of Outstanding Natural Beauty and UNESCO Global Geopark a memorable one.
The visitor centre has a café, gift shop, outdoor picnic seating, a star gazing hammock, nature trail, mud kitchen, art gallery displaying works by local artists, free wifi and ample parking.
Related
0 Comments