Apollo Pavilion 50th Anniversary
In 2019 the iconic Grade 2 listed public artwork, Apollo Pavilion, designed by artist Victor Passmore celebrates its 50th anniversary.
An iconic example of 1960s public art and Brutalist architecture, the Pavilion marked the culmination of Passmore's work as consulting director of urban design with Peterlee development corporation, and to this day remains a rare UK example of a large-scale experiment in the relationship between art and architecture.
The Pavilion underwent major restoration and conservation in 2009, resulting in a Civic Trust award in 2010, RIBA award in 2011, as well as Grade 2 listed status.
2019 marks 50 years since the creation of the remarkable structure in the Sunny Blunts estate within Peterlee, and 50 years since the 1969 Apollo moon landing, after which the Pavilion is named.
Throughout the year visitors can enjoy a series of events and activities.
Apollo Pavilion 50th Anniversary Lift Off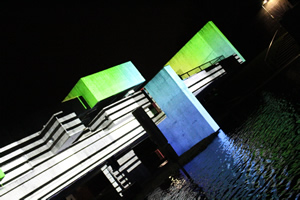 Over two evenings on Friday 22 and Saturday 23 March, the façade of the Apollo Pavilion was transformed into a moving, flowing structure by Berlin based artists Mader Wiermann, specialists in light and video mapping. The evening promises to be a spectacular sight to behold, and a great way to enjoy a taste of what's to come at Lumiere Durham in November.
A free-of-charge musical extravaganza took place on Tuesday 16 July, on the town's Sunny Blunts estate, which featured performances from Mr Wilson's Second Liners and Oompah Brass, as part of Durham's BRASS Festival, and Barry Hyde, lead singer of the Futureheads, who has been working with local schools to create a new song to mark the occasion.
The final event to take place in 2019 will be 'Apollo', a temporary art installation by renowned landscape artist Steve Messam. The piece will be playful and tactile, encouraging people to look at and experience the pavilion in a new way. On display from 19 - 22 September.