Apollo Pavilion 50th Anniversary
In 2019 the iconic Grade 2 listed public artwork, Apollo Pavilion, designed by artist Victor Passmore celebrates its 50th anniversary.
An iconic example of 1960s public art and Brutalist architecture, the Pavilion marked the culmination of Passmore's work as consulting director of urban design with Peterlee development corporation, and to this day remains a rare UK example of a large-scale experiment in the relationship between art and architecture.
The Pavilion underwent major restoration and conservation in 2009, resulting in a Civic Trust award in 2010, RIBA award in 2011, as well as Grade 2 listed status.
2019 marks 50 years since the creation of the remarkable structure in the Sunny Blunts estate within Peterlee, and 50 years since the 1969 Apollo moon landing, after which the Pavilion is named.
Throughout the year visitors can enjoy a series of events and activities.
Apollo Pavilion 50th Anniversary Lift Off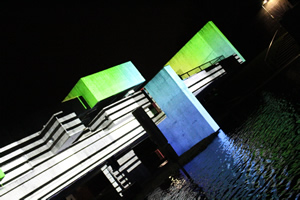 Over two evenings on Friday 22 and Saturday 23 March, the façade of the Apollo Pavilion was be transformed into a moving, flowing structure by Berlin based artists Mader Wiermann, specialists in light and video mapping. The evening promises to be a spectacular sight to behold, and a great way to enjoy a taste of what's to come at Lumiere Durham in November.
A free-of-charge musical extravaganza will also take place on Tuesday 16 July, on the town's Sunny Blunts estate, between 11.00am and 2.00pm, featuring performances from Mr Wilson's Second Liners and Oompah Brass, as part of Durham's BRASS Festival, and Barry Hyde, lead singer of the Futureheads, who has been working with local schools to create a new song to mark the occasion.
This will be followed by a programme of films celebrating humanity's longstanding fascination with the moon and its missions to get there and back, at the nearby Pavilion Community Centre, from 3.45pm. Entry is free.
The performances begin at 11.00am with The Academy at Shotton Hall's theatre school acting out scenes from their new musical Pleasantville, followed by Barry playing a selection of his band's hits at 11.30am.
The BRASS Bus rolls into town fresh from the festival with Mr Wilsons on at 12.05pm, followed by a medley of moon inspired songs by the East Durham Dementia Friendly Choir at 12.50pm.
Oompah Brass, also fresh from the festival, will then perform at 1.10pm before Barry returns to the stage at 1.55pm for Standing on the Moon, a song commissioned especially for the occasion in which he will be accompanied by over 500 children from schools across Peterlee.
Attendees are encouraged to bring their own picnic blankets.
The line-up for the films is as follows:
3.45pm - Wallace and Gromit - A Grand Day Out (U)
4.15pm - Moon Man (U)
6.00pm - A Trip to the Moon (U)
6.15pm - Lunar (U)
6.25pm - First Man (12A)
Free popcorn will be available from 2.30pm to 6.30pm, with artist Theresa Easton helping film fans make their own rocket inspired popcorn holders.