Lumiere, the UK's light art biennial, has announced five world-renowned artists who will exhibit their work at this year's event in Durham City from the 16 - 19 November 2023.
For four nights only, the city will be transformed into a nocturnal art experience with spectacular light installations by artists including Ai Weiwei, Rafael Lozano-Hemmer, Chila Burman, Yinka Ilori and Daniel Canogar.
Fourteen years after Lumiere debuted in Durham City, and more than one million visitors later, it is now the UK's first light art biennial, a global event with major artists from all over the world exhibiting their artwork completely free for the public, cementing Durham's position as the 'Culture County'.
Produced by leading arts producers Artichoke, and commissioned by Durham County Council, with additional support from Arts Council England and Durham University and a raft of further supporters, this beautiful medieval city will undergo an incredible re-imagining, with more than 35 artworks made with light exhibited on its buildings, streets and waterways.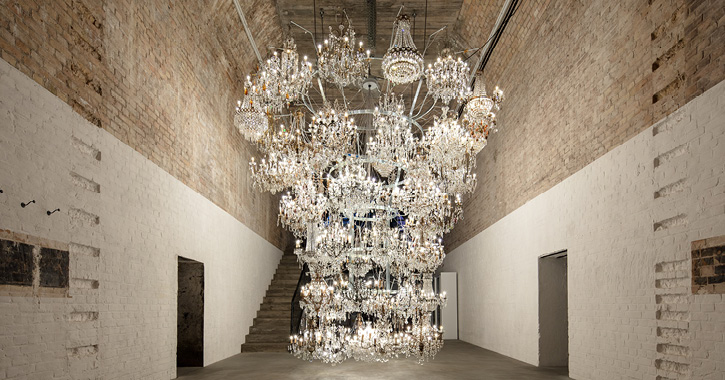 Ai Weiwei
Ai Weiwei's extraordinary work incorporating 61 antique chandeliers, Illuminated Bottle Rack, will be installed in Durham Cathedral's stunning Chapter House. First created by the Chinese artist in 2018, it will be the first time this intricate piece will have been shown in the UK. The immense structure was inspired by Marcel Duchamp's readymade, Bottle Rack, and uses the ordinary object of an enormous, upside-down bottle rack as its chandelier branches.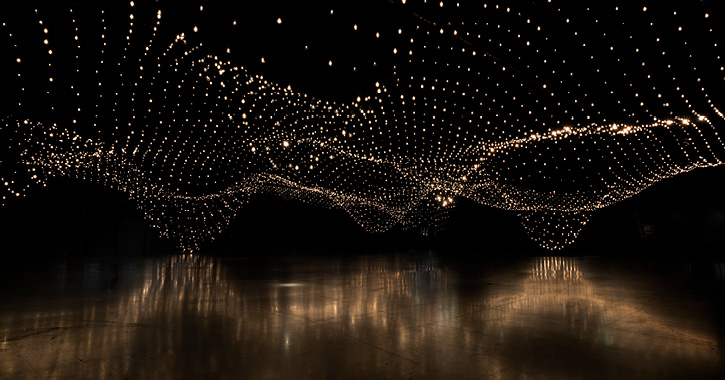 Rafael Lozano-Hemmer
Another UK first will be Rafael Lozano-Hemmer's Pulse Topology. First shown in New York, Basel and San Francisco, this colossal immersive artwork by the Quebec-based Mexican artist will transform the nave of Durham Cathedral into the pulsating heart of Lumiere. Composed of thousands of light bulbs, each will be activated by the recorded heartbeat of visitors, contributing to a glimmering, connective array through which audiences will walk.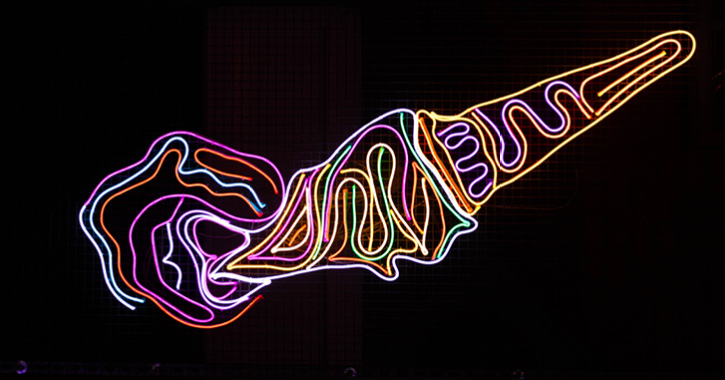 Chila Burman MBE
One of the UK's leading visual artists, Chila Burman MBE, will be exhibiting a joyful, new commission at Lumiere this year. Love Light Life will take over Durham Market Place with a selection of new and existing signature neon-light artworks that celebrates her rich Hindu-Punjabi heritage and speaks to the pressing theme of climate change. The interruption of daily life with art that stops you in your tracks is a key component of Lumiere.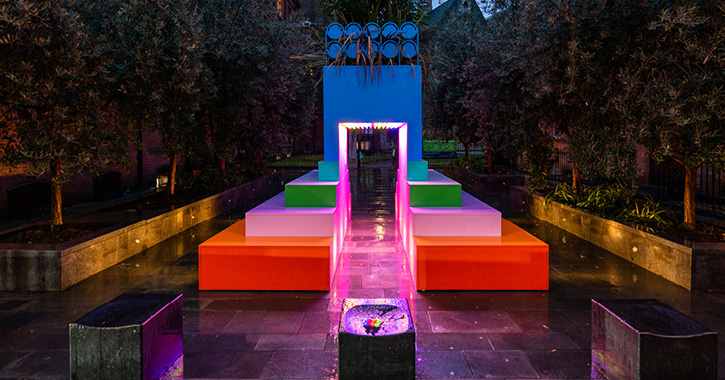 Yinka Ilori MBE
November may be a time when the natural light starts to fade, but this won't be a problem where the gleaming artwork by Yinka Ilori MBE is installed. The British artist is known for his use of bright colours. Originally produced to reflect his native London, In Plants We Trust is the artist's shrine to plants that thrive in urban settings.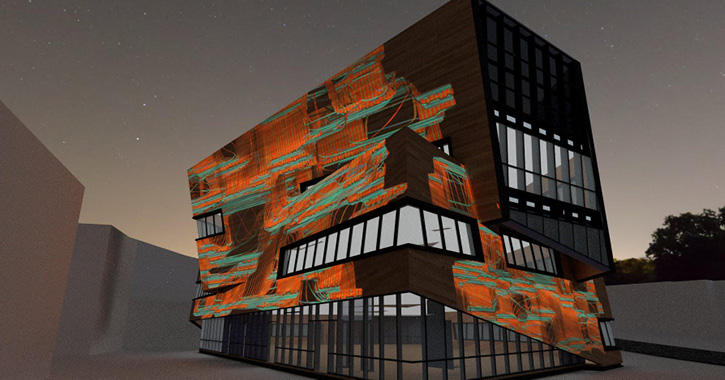 Daniel Canogar
Spanish artist Daniel Canogar will illuminate the façade of Durham University's Liebeskind-designed Ogden Centre, home to the Institute for Computational Cosmology. This new commission, Universal Loom, will be a textile-like animated projection inspired by string theory, interpreting the woven nature of space and time. It will be created with astronomical data provided by the ground-breaking work conducted by the University's physicists led by Professor Carlos Frenk from the Institute for Computational Cosmology, Department of Physics.
These light artworks will join many more by international and UK artists as part of the new, thought-provoking programme that will transform the city's buildings, bridges and waterways. The full Lumiere programme will be announced in autumn and peak-time tickets will be released on Wednesday 4 October 2023.
To be the first to know what's happening, sign up to the newsletter at Lumiere-festival.com
Lumiere Durham is a central pillar of The Culture County, the long-term creative regeneration strategy born out of the Durham 2025 UK City of Culture campaign.
Related
0 Comments