Did you know the simple act of walking and experiencing nature is proven to have numerous physical and mental health benefits?
To celebrate the beginning of the Year of the Coast 2023, we've picked seven ways you can get closer to nature, calm your mind, and boost your wellbeing along the Durham Heritage Coast.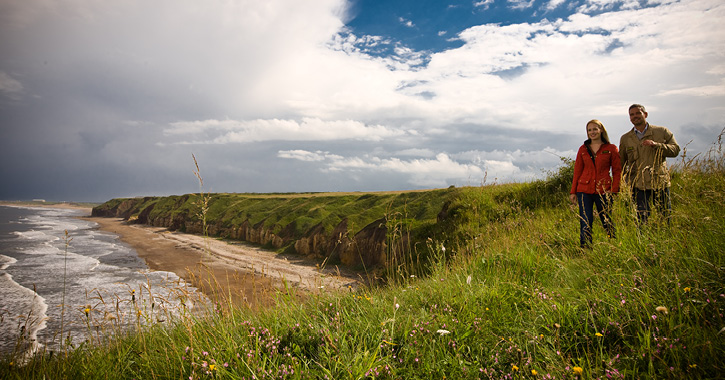 Walk this Way
Boasting tranquil coves, peaceful woodland denes, breathtaking clifftop views and long stretches of sandy beaches, the Durham Heritage Coast Path is the perfect place for some outdoor exercise. Stretching for 11 miles from Seaham in the north to Crimdon in the south, the Durham Heritage Coast walk can be taken on as one long hike, or explored in smaller sections.
Many studies have found that simply spending time by water, especially the sea, is good for mind and body. And all along the Durham Coast you'll find plenty of opportunities to soak up some 'blue space' on a relaxing ramble.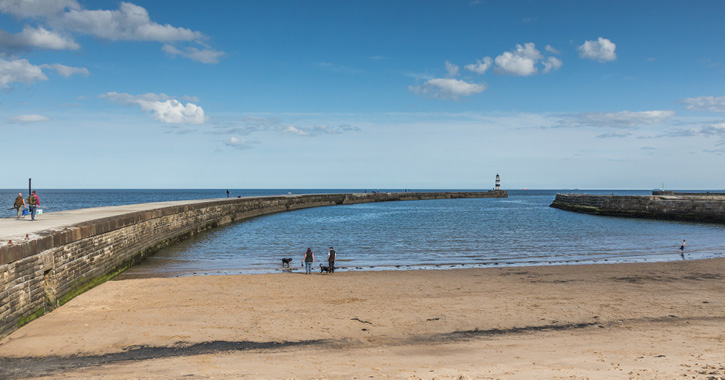 Take a Dip in the Sea
Many would argue there's nothing better than starting your day with a refreshing sunrise dip in the North Sea, and there's some great spots along the Durham Coast for an invigorating seaside swim. Surging in popularity over the past few years, wild and cold water swimming is proven to boost not only fitness, but greatly improve your mood and reduce inflammation.
A popular sea swimming spot with locals and visitors alike, is Slope Beach at Seaham Harbour Marina. Shielded by the harbour wall, this little beach is the perfect sheltered spot to enjoy a dip, and throughout the summer months you may even spot dolphins as they jump and play at the entrance to the harbour.
Never sea swim alone, we would recommend that you join an established group who know local tides and conditions, and how to sea swim safely.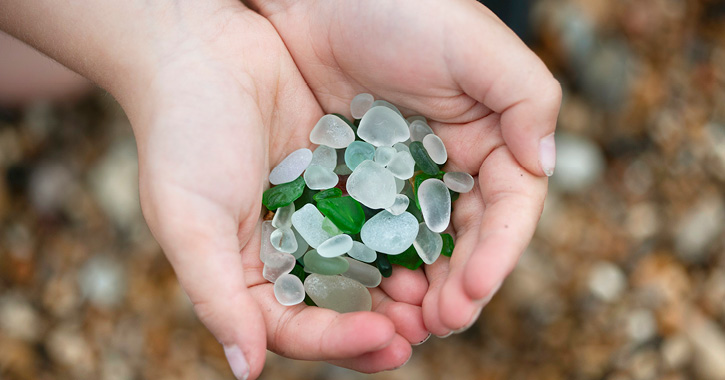 Hunt for Seaham's Famous Sea Glass
Looking for a mindful activity that kids, teens and adults can enjoy together? The harbour town of Seaham is world-famous for its abundance of unique sea glass, and no matter what day of the year you visit, you're certain to spot one or two people hunting for sea glass.
It's a great way to focus your thoughts and soak up the peaceful sounds of the waves and seabirds, as you wander along Seaham's beautiful beaches looking for these colourful little gems.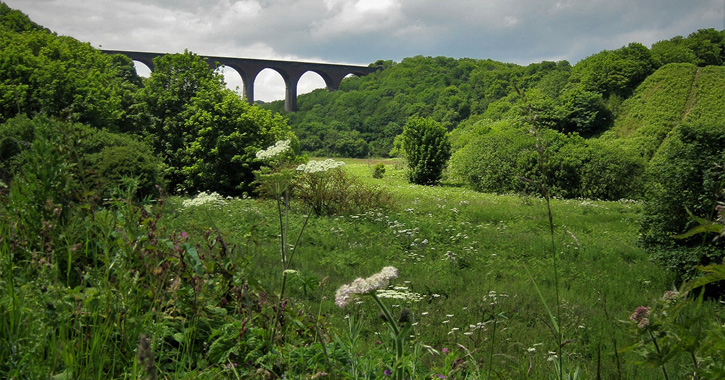 Forest Bathing
Known in Japan as shinrin yoku, forest bathing is a simple relaxation method where you observe nature around you whilst breathing deeply and calmly. The simple practice of being calm and quiet amongst the trees can help de-stress and boost health and wellbeing.
As well as beautiful beaches, the Durham Coast is home to many wonderful woodlands, perfect for a peaceful wander or a spot of forest bathing. Home to over 450 species of plants and mammals, the 500 acre Castle Eden Dene is a great place for surrounding yourself with beautiful sights, sounds and smells to calm your senses. Close by you'll also find the ancient woodland of Hawthorn Dene, which is a haven for wildlife stretching down to the sea, which opens up under the impressive Edwardian railway viaduct onto Hawthorn Hive beach.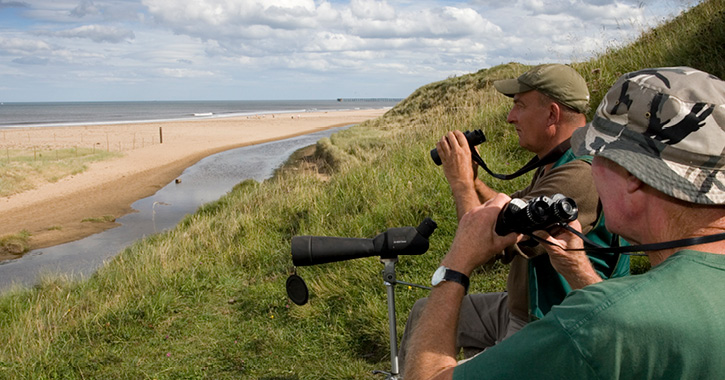 Wildlife Watching
The varied landscapes and habitats along the Durham Heritage Coast are home to lots of unique wildlife, making it a must-visit location for wildlife lovers and birdwatchers alike. Spend some quiet time in clifftop hides and see if you can spot the many wonderful seaside birds including Skylark, Kittiwake, and Sanderling, as well as one of the world's rarest seabirds - The Little Tern, which returns from West Africa every year to breed at Crimdon Dene sand dunes.
As well as seabirds, throughout the year you can spot a wide range of wildlife, from Barn Owls and Deer in the coast's denes, to dolphins, seals and the rare Northern Brown Argus butterfly. View more in our dedicated Wildlife and Nature Calendar.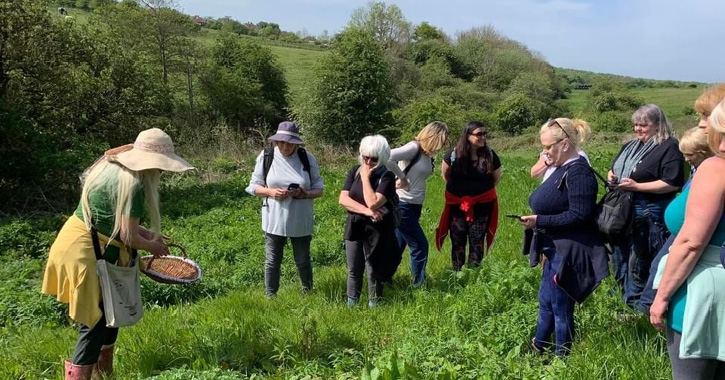 Foraging for Wild Food
On the Durham Coast you'll find Dalton Moor Farm, the county's only Vegan Fruit Farm. And its here you can enjoy a whole host of sustainable events and activities including foraging for wild food.
Throughout the year you can join Jenny, founder and resident Green Witch at Dalton Moor Farm for a voyage of discovery on a guided foraging walk. You'll learn to forage responsibly and safely, meet and eat wild plants under Jenny's guidance, and experience the wild world of Durham's coastal countryside in a new way.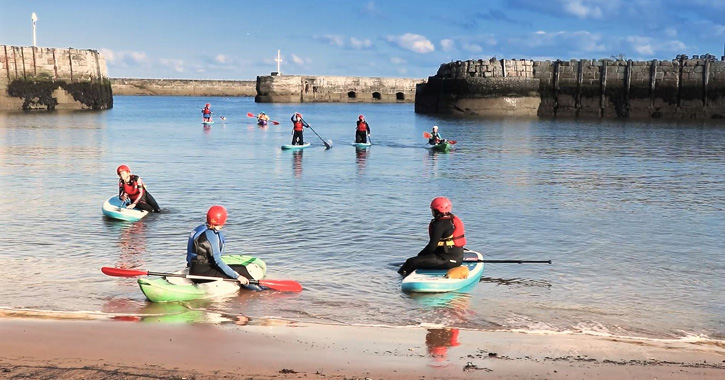 Water Sports at Seaham Marina
Seaham is home to the county's one and only marina, and it's here you will also find the Marina's Activity Centre, where you can take to the water and learn to paddleboard, kayak or canoe. Water sports are a great way to get your adrenaline pumping, get some fresh air and try out something new in the great outdoors.
Visit the SeaScapes website for more top tips to improve your health and wellbeing on the coast in 2023.
For more seaside inspiration check out our Year of the Coast page >
Related
0 Comments