Lumiere, the UK's leading light festival, returns to transform Durham City this November from 18 - 21 November. In the lead up to the full programme announcement, the first digital Lumiere artwork has been revealed.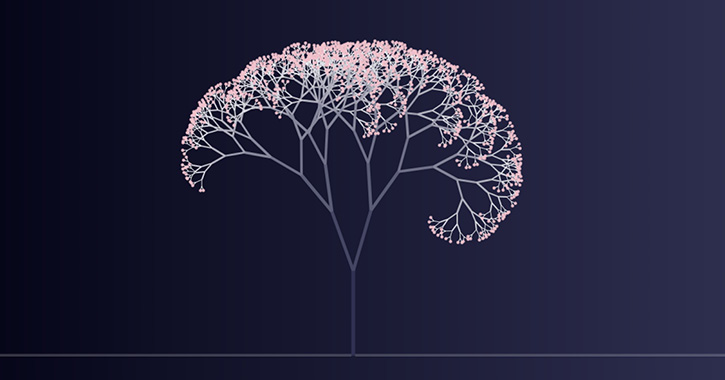 Created by digital studio Tekja and supported by This is Durham, Tree of Hope will add a new digital dimension to Lumiere, and is the first-ever digital artwork commissioned by the festival. The online, crowd-sourced installation will give audiences across the UK and the world a chance to be part of the Lumiere magic without being physically present at the festival, and will continue to live online long after the festival has finished.
The interactive Tree of Hope artwork was inspired by Durham's history as a place of 'big thinkers' and by the county's stunning landscapes and dark skies. People from across the world will be invited to share their hopes for the future online, which will create an artwork in real time. Audiences will be able to see the artwork come to life before their very eyes, as a slender sapling grows into a fully-formed tree that blossoms and blooms with each hope expressed.
The online form to submit your hope will launch late October.
It's a great way for people who can't make it to Lumiere in person the chance to experience and interact with the festival from afar and become part of the global Lumiere community. The artwork will reveal key topics and themes in the millions of data entries being collected, with machine learning and natural language processing algorithms applied to find the most meaningful messages and hopes by common themes. Algorithms based on geometries found in nature are also used to generate the tree's form into distinct branches, which represent the popular themes and topics contained within the data.
Tree of Hope aims to offer a moment of reflection upon what a bright and hopeful future might look like. It is dynamic and will continue to grow and collect hopes after Lumiere, becoming a place of reflection, and a collection of messages to inspire and affirm.
Lumiere is produced by Artichoke and commissioned by Durham County Council with additional support from Arts Council England and a raft of funders and supporters. Lumiere will take place in Durham City 18 – 21 November and is just one of the many reasons why Durham is bidding to become the UK City of Culture 2025.
Related
0 Comments