Spring is a wonderful time of year to visit Durham, with nature bursting into new life throughout the great outdoors.
From forest floors transformed into a sea of blue, to loveable new arrivals, boxing hares and the return of rare species. Springtime in Durham is a must-visit destination for all nature lovers out there, with so many natural and wildlife wonders to enjoy.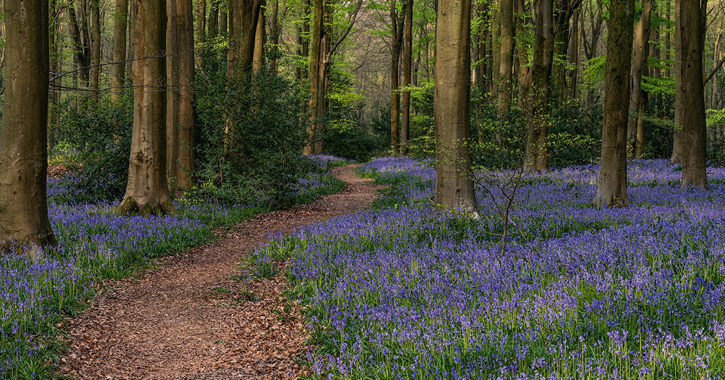 Beautiful Bluebells
Every spring on the outskirts of historic Durham City, you will find the woodland oasis of Great High Wood (also known as Houghall Woods), which is transformed into a sea of blue, as the welcome sight of spring Bluebells blankets the woodland floor. A must-visit spot for dog-friendly walks and Instagramable springtime shots.
You can explore Great High Wood as well as the riverbank of the ancient River Wear on the Durham City South Walk – a 5 mile circular walk where you can take in some of the city's most beautiful sights.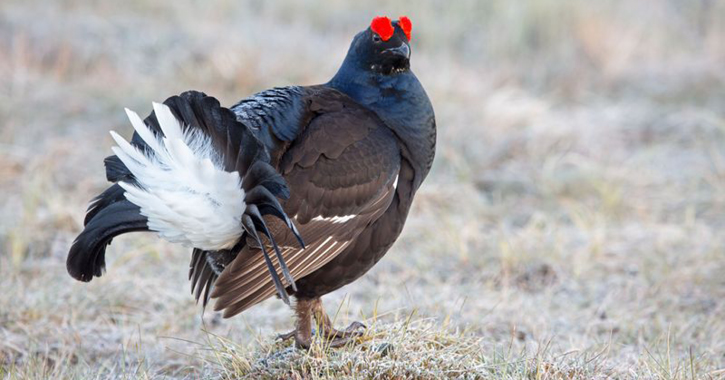 Black Grouse lek
Spring is the best time to spot the male Black Grouse (also known as the Blackcock) in the moorlands and grasslands of the Durham Dales and North Pennines Area of Outstanding Natural Beauty & UNESCO Global Geopark. But be warned you need to get up early to catch a glimpse of this amazing bird's courtship display known as the lek.
Males gather at lek sites to put on dazzling mating dance displays. During these displays they will fan out and raise their long tails to expose bright white feathers beneath, and make curious bubbling sounds as they rush, jump and strut at one another.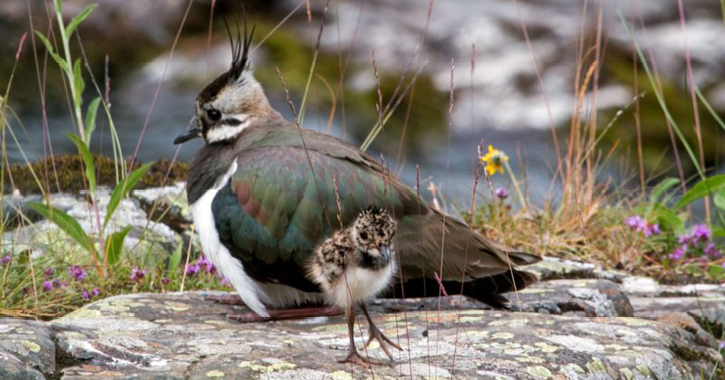 Breeding waders
The pastures and moorland fringe grasslands of the North Pennines AONB, which encompass much of the Durham Dales is a great place to spot beautiful breeding waders, including Common Redshank and Snipe.
Curlews – Europe's largest wading bird, breed in large numbers in the grasslands, and Lapwings are known to nest in areas with short vegetation so they can keep an eye out for predators.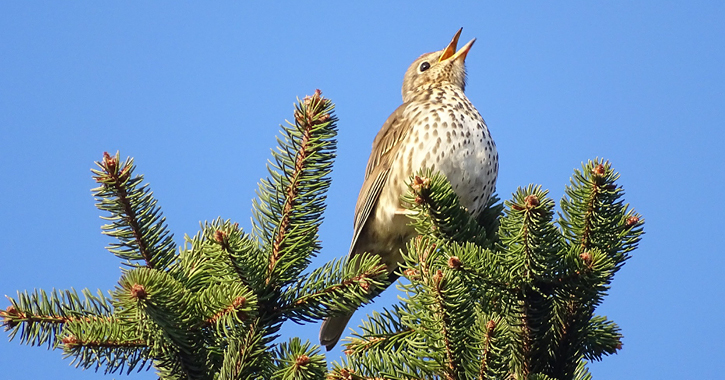 Dawn chorus
As the sun begins to rise, the crisp spring mornings are filled with the enchanting song of our feathered friends, as they defend their territories and sing to attract a mate.
If you plan on visiting Durham during spring, May and June are regarded as the best months to enjoy the dawn chorus. Be sure to set an alarm to rise early, so you can enjoy nature's greatest symphony. Birds you may well hear in Durham include Robin, Blue Tit and Thrush.
Did you know there's even an International Dawn Chorus Day, celebrated every spring on the first Sunday of May?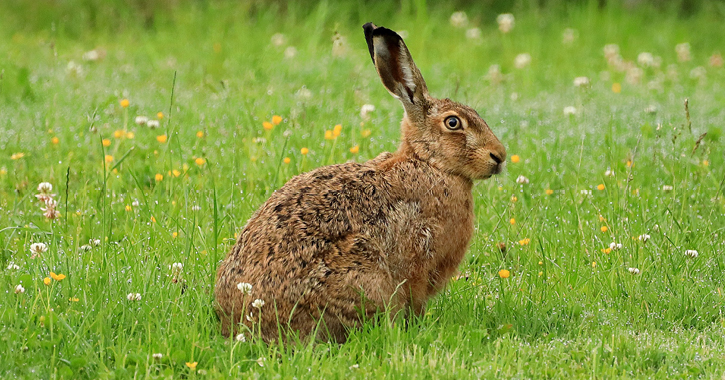 Mad March Hares
Keep an eye out as you explore Durham's grasslands and woodlands as you may stumble upon a Brown Hare, who take shelter in depressions in grasses and hedgerows. If you disturb them, you might spot them bounding away using their powerful hind legs.
One of the great sights of spring is that of boxing march hares. If you're lucky you might spot these usually shy creatures 'boxing' or fighting in early spring when breeding season begins, as females fight off the unwanted mating urges of the males.
The saying "mad as a March hare" comes from the springtime antics of these little creatures, referring to their excitable and unpredictable behaviour.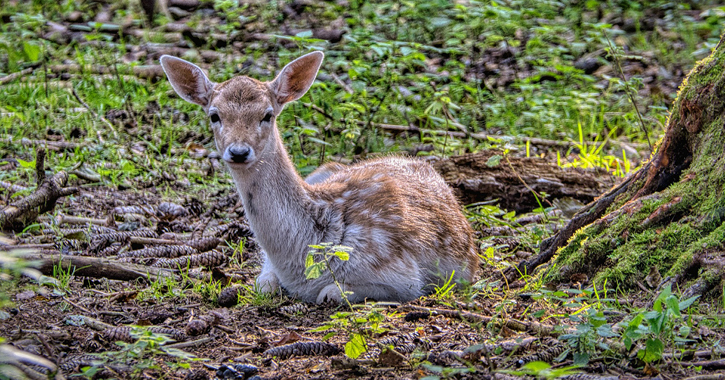 New arrivals
Throughout the spring season Durham's great outdoors bursts to life, with beautiful colours and also the welcome sight of adorable new arrivals, including Red Deer calves and Fallow Deer fawns at Raby Castle's Deer Park.
Between May and July female deer in the castle's deer park give birth. The Red calves and Fallow fawns are a beautiful sight to behold, but visitors should always remember to show respect and keep a safe distance. These new arrivals are the descendants of deer which have been found at Raby Castle since Norman times.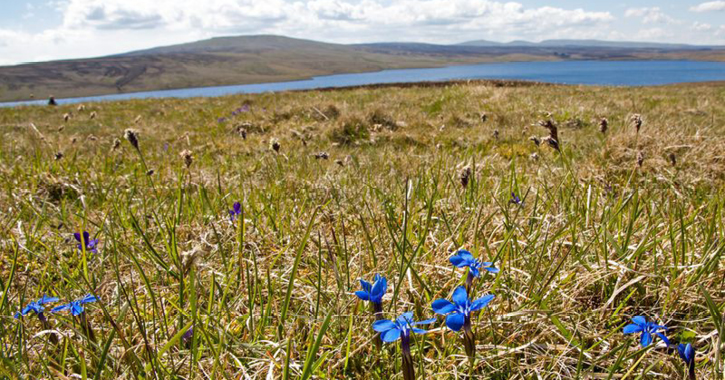 Spring Gentian
The rugged moorlands of Upper Teesdale in the Durham Dales and the North Pennines AONB is the one of only two locations in the world it's possible to see the Spring Gentian (also known as Teesdale Gentians). It is an internationally important plant, which represents the kind of plant life that would have been found in the dales 10,000-12,000 years ago.
These beautiful blue flowers are best seen on warm, bright days from April to early June, as these special little flowers will only open in direct sunlight.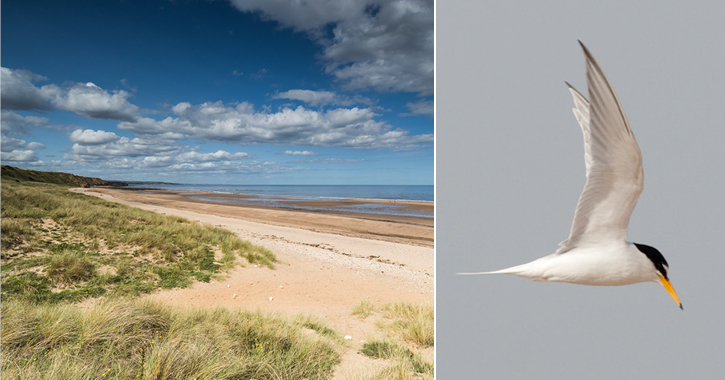 The Little Tern returns
One of Britain's rarest and smallest sea birds – the Little Tern travels from West Africa every spring to breed, nest and rear its young on the sand dunes of Crimdon Dene beach on the Durham Heritage Coast. Throughout the breeding season (May to September) wardens patrol the beach to protect these small sea birds before they return to West Africa for winter.
Whilst walking along the coast you may spot these little birds diving into the North Sea to catch small fish, or the impressive aerial mating displays of the male Little Tern. You will also find a 'not so little' tern sculpture overlooking the nearby Limekiln Gill Beach.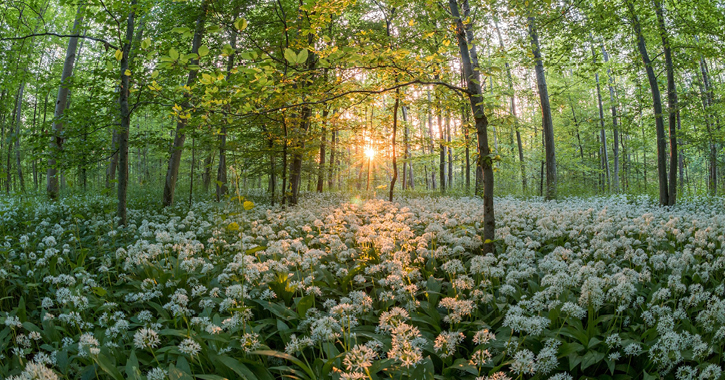 Wild garlic woodlands
Plan a springtime walk through Castle Eden Dene National Nature Reserve to take in the beautiful sights and smells of Wild Garlic (also known as Ramsons or Bear's Garlic), as the green and white plants carpet the ancient woodland floor.
The star-shaped flowers flower from April to June, and looks similar to Lily of the Valley, which is poisonous, but unlike Lily of the Valley it has a very garlicy smell, which fills the surrounding woodlands when in full bloom.
Wild garlic is plant used to identify ancient woodland, meaning if you spot it whilst exploring the outdoors, you are most likely walking through rare and special habitats, like Castle Eden Dene - a Site of Special Scientific Interest, found on the Durham Heritage Coast.
To view more of the incredible natural wonders you can spot across the county (no matter what the season) check out our online nature and wildlife calendar.
You can even download our wildlife watcher check list and see how many you can tick off this spring!
Spring Gentian, Black Grouse and Lapwing courtesy of Martin Rogers and Little Tern image courtesy of Colin Forester.
Related
0 Comments