The doors to Locomotion re-opened this summer and some things may look a little different when visiting the museum.
The museum's dedicated team have been working hard to ensure all visitors have an enjoyable and safe visit.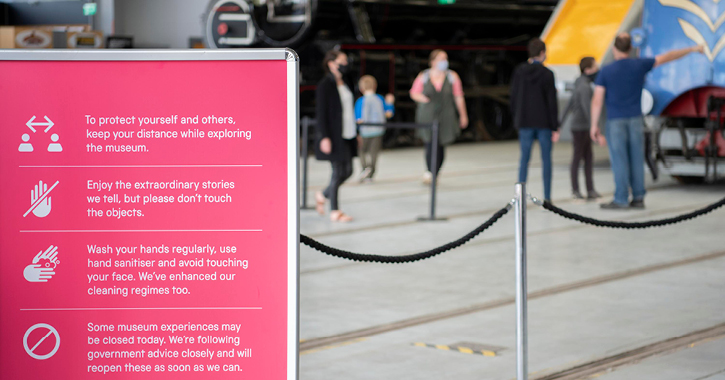 What's Changed?
Tickets
All visitors will need to pre-book a free ticket before they visit to gain entry to the museum.
You will be able to select the time and date of your visit and are available to book up to three weeks in advance.
This will help the museum manage the volume of visitors and ensure social distancing.
Each ticket contains a QR code which will be scanned when you arrive at the museum, this can be shown on your mobile device or from a printout.
If you arrive without a ticket, you may not be able to get into the museum and will be asked to book an entry time. Depending on the number of visitors already in the museum you may need to wait for the next available time slot. This can be done by smartphone, by calling the call centre or by speaking to a member of the Visitor Experience team at the entrance.
To avoid disappoint visitors are always advised to pre-book your time slot entry before arrival.
Opening Hours
Locomotion is open from 11am to 4pm, Wednesday to Sunday.
These reduced opening hours enables the museum to carry out enhanced cleaning regimes and time to regularly review the safety measures in place.
Face coverings
All visitors to Locomotion will be required to wear a face covering, in line with government guidance, for your safety and the safety of other visitors and museum staff.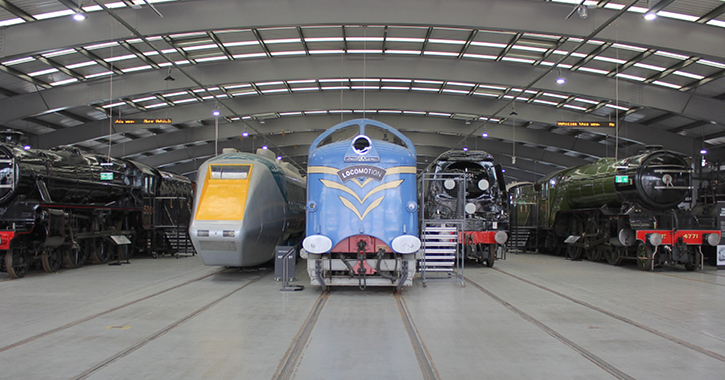 Locomotion is 'good to go'!
Locomotion have been awarded the VisitEngland 'We're Good to Go' industry standard mark.
This quality mark reassures visitors that Locomotion has followed Government and Public Health guidance and have carried out a COVID-19 risk assessment.
This means they have clear COVID-19 processes in place to ensure you have a safe visit, maintaining cleanliness and aid social distancing.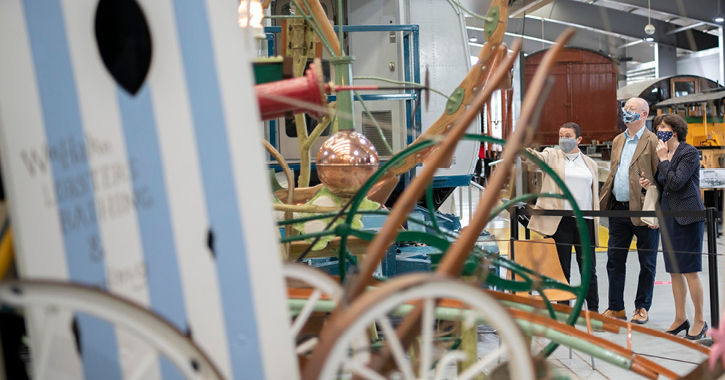 What's Open?
The Collection Building - with one-way system. Home to more than 70 heritage rail vehicles, you can get up close to legendary locomotives.
A Quiet Afternoon in the Cloud Cuckoo Valley demonstrations. Created by the much-loved British artist Rowland Emmet, see this enormous yet intricate moving artwork come to life before your very eyes.
Museum Shop – overflowing with railway gifts, models, books, posters, clothing and more!
Outdoor Playground – let the little ones blow off some steam as they get on board the climbing frames, slides, scramble nets and swings on the railway-themed outdoor playground.
Café – serving hot food, drinks and ice cream throughout the day. Visitors will need to wear a face covering until they have sat down at their table to enjoy their meal or drink.
Picnic areas, toilets and baby changing areas
At the moment the Under-5s play area and Model railway remain closed. Visitors will not be able to access cab and carriages, however you will be able to look inside. All tours, talks and passenger rides are also unavailable.
Want to know more before you visit? You'll find lots of helpful information on Locomotion's FAQ page.
Related
0 Comments