The doors of Seaham Hall - the iconic Georgian manor house on Durham's Heritage Coast have now re-opened, and guests staying at the five-star luxury hotel are in for a real treat this summer with an exciting range of new experiences to enjoy.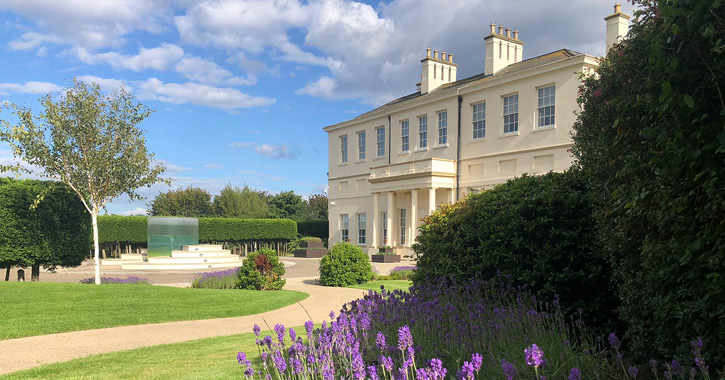 Surrounded by 37 acres of landscaped gardens, with just 21 boutique suites, and just a five-minute stroll from Seaham's beautiful beaches, Seaham Hall is the perfect post-lockdown escape.
As well as getting out and exploring the wider county this summer, guests can enjoy an incredible range of fun experiences throughout summer, to help them relax and unwind.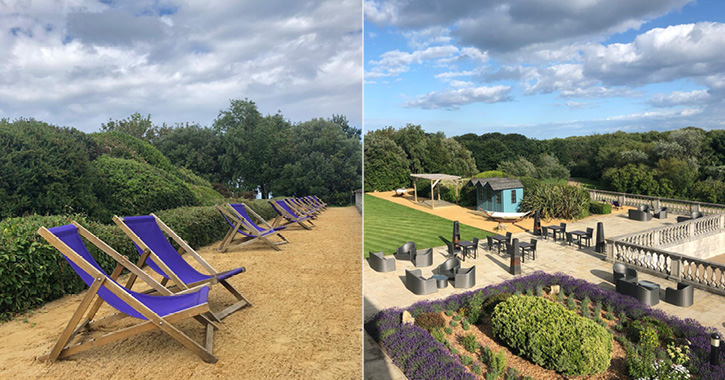 Outdoor Resort Lounging
Saunter on to Seaham Hall's expansive terrace and lawns and choose your own lavish lounger amidst plenty of space and fresh air or cuddle up in a hooded pod for two. This is a place to unwind in the stunning surrounding scenery, from sunrise to sunset, with The Dining Room restaurant team on hand to provide the refreshments of your choice.
Gourmet Picnics
To celebrate National Picnic Month, Seaham Hall is offering a range of new luxury picnic hampers for guests to enjoy. Whether you choose a garden setting or would like to pitch up on the beach, the hotel team will provide blankets, deck chairs and an ice bucket, plus a selection of locally-sourced, savoury and sweet treats for your pleasure – and even a bottle of Taittinger if you feel so inclined!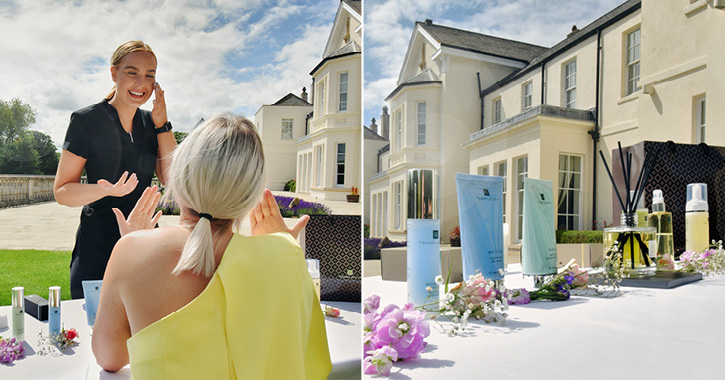 Summer Spa Party on the Terrace
The Serenity Spa team will ensure your skin is summer-ready with its outdoor treats. On the terrace, in an intimate corner close to the spa, a Temple Spa guru, expert in the luxury skin care brand, will take you through a personal skincare session, using key products to leave your skin glowing. In this interactive session, guests will be able to try the products and receive skincare recommendations.
Chef's Selection Apéritif Afternoons
Head chef Damian Broom and his team will be serving spontaneous afternoon apéritifs in the Seaham Hall gardens. Lie back, relax and await the surprise delivery service! Guests can tuck into a selection of delicious nibbles, from cold canapés to BBQ bites, and more.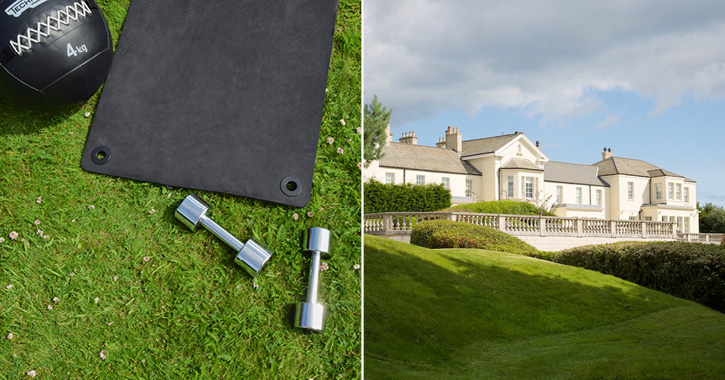 Pop-up Outdoor Skill & Core Set Corner
Soak up the stunning coastal views and fresh sea air while enjoying an outdoor sunrise training session with the hotel's pop-up Technogym. Guests can even book a one-to-one PT session with Seaham Hall's trainer, Phil, who can provide specialist workout plans for any experience level.
Bikes & Bites
Pre-book a bike and enjoy time spent peddling around the 37-acre grounds and along the Heritage Coast's waymarked trails. The hotel team will be happy to provide you with a picnic to take along, and all bikes will be cleaned thoroughly between each use.
And if that wasn't enough, there's lots of new in suite indulgences to enjoy during your stay…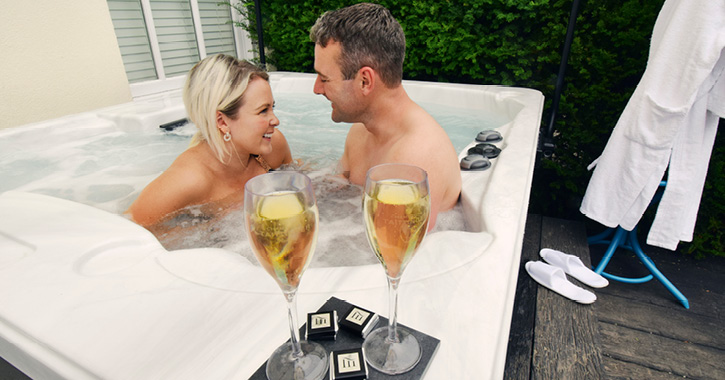 Candlelit Alfresco Dinner in your Garden Suite
From the comfort of your own secluded Garden Suite, the Seaham Hall team will create a delicious alfresco dinner for two (all dishes will be delivered to your suite at a set time to ensure social distancing is maintained). After dinner, guests can relax in their private hot tub under the stars.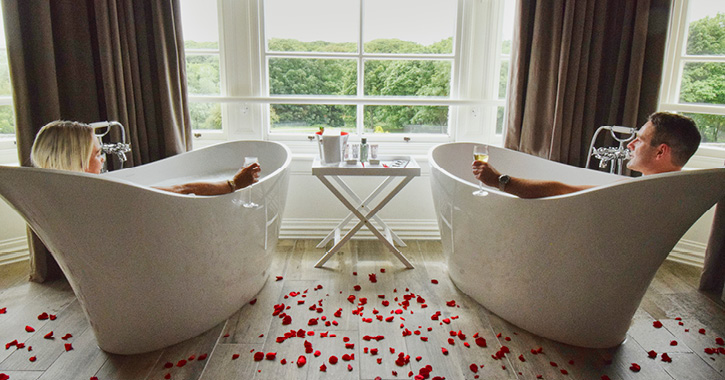 Romantic Tub & Taittinger for Two
The perfect romantic end of day treat – soak, reset and reconnect with your partner in a luxurious Temple Spa treat of bath and body oil, surrounded by scattered rose petals, while sipping on Taittinger Champagne; delivered to your suite by a Spa Hose.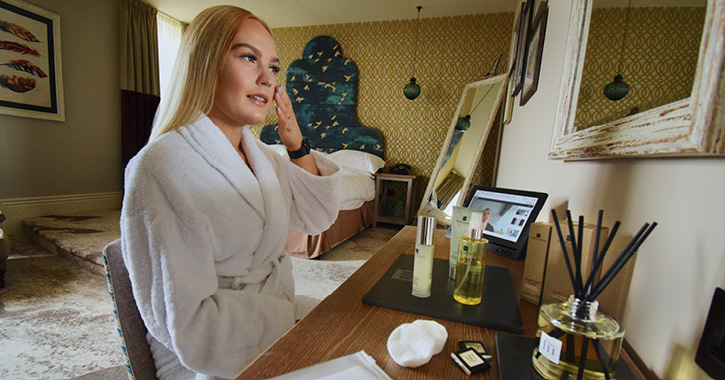 In-room Pamper Hamper session
Cuddled up in your fluffy robe and slippers, in the privacy of your own room, your preferred skincare set will be delivered to your suite, including full-size cleanser, toner and moisturiser. A Spa Team member will take you through a personalised skin consultation via the suite's in-room tablet, with a tailored skincare routine and application tutorial.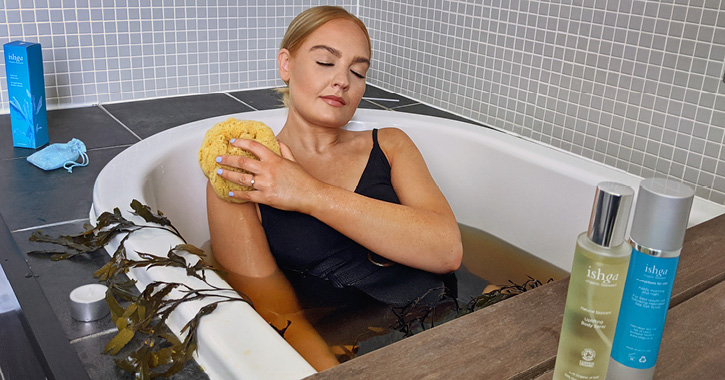 Ishga Seaweed Bath Butler
Delivered to your suite (at a set time to ensure social distancing is maintained), hand-harvested pure Scottish seaweed from the Hebridean coast will be placed in your perfectly-prepared bathwater by the Seaham Bath Butler. Rich in vitamins and minerals, there are many healing properties in seaweed that strengthen immune systems and delay the ageing process.
Bedtime Hypnosis Meditation
Seaham Hall's resident hypnosis guru, Silvia Mather, has pre-recorded a selection of bedtime hypnosis sessions, available on each suite's tablet. The sessions encourage you to sink into a deep state of relaxation, perfectly primed for a good night's sleep after a day in the fresh sea air of Seaham.
With so many amazing experiences to enjoy throughout the summer, Seaham Hall is the perfect staycation resort. What better reason do you need to take advantage of Seaham Hall's current summertime offers - 4 nights for the price of 3 or enjoy even more relaxation with 7 nights for the price of 5.
Related
0 Comments