North-East based creative talent has fuelled Lumiere from the beginning. Since 2011 the festival's BRILLIANT competition has invited anyone originally from or currently living in the North East to submit an original idea for a light artwork.
Today we're in conversation with 2015 BRILIANT winner and "Big Knitter", Victoria MacLeod to discuss how she created her epic artwork, what inspires her and how it feels to bring Big Knitting back to Durham as part of Lumiere's 10th anniversary edition this November (14 - 17 November 2019).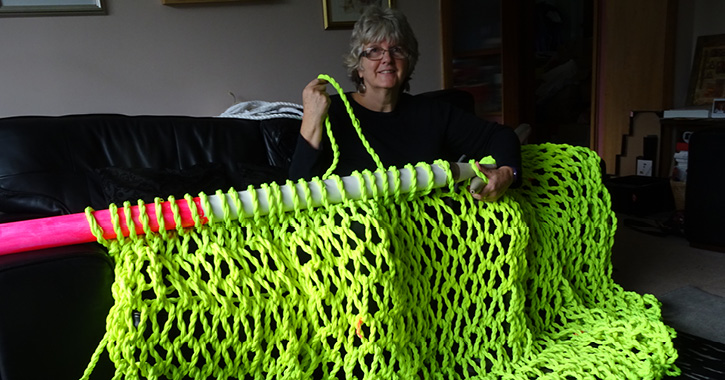 Could you tell me a bit about yourself and how you became an artist?
"I've worked in education for most of my life. I wanted to live abroad, so I went to live in Zambia for 3 years and when I came back I did my teacher training course. I've lived in the North East for the past 27 years and one of my last jobs was working in Chester-le-Street, which is about 7 miles north of Durham City, as an adult education coordinator at a large community centre there.
Always in the background I've had a love of fabric and threads. I started knitting when I was about 7 and later, while living abroad, I really felt the lack of artistic materials, so when I came back to the U.K I enrolled on a City & Guild Creative Studies course in embroidery and it all took off from there".
What has your experience of the arts and culture community in the North East been like?
"I've been a member of the Embroiderers' Guild in Durham since 1995. I was a joint founder of the Durham City branch of the Guild and Chairman for 5 years. It's great because there are experts and teachers, but also people who are just interested in stitch and they can come along and have access to courses in all manner of techniques.
Another arts group that I'm a member of is called Interface Arts and that's based in Durham. The group includes painters and ceramicists, etchers and textile artists and it's an amazing opportunity to be able to exhibit with other artists using different media. At the moment we have an exhibition called 'East Meets West' which is on at the Oriental Museum in Durham until 15 December 2019".
Why do you think it's important to try and keep artistic techniques like embroidery and knitting alive?
"I think because there's so little done in schools. The syllabus changed many years ago and like lots of the arts, needle work has been neglected. Encouraging people to be creative is so important".
What's your most important tool? Is there something you can't live without in your studio?
" A needle and thread, whether that's an embroidery needle and thread or drainpipes and rope".
Are there any particular artists or creatives that inspire your work?
"There are a lot of artists that I have been on courses with who have taught in very inspiring ways. One artist whose work I have admired and has influenced me a little is Alyson Midgelow-Marsden, who works in copper, bronze, stainless steel and woven material.
I'm also inspired by Jan Messent, an embroidery artist and Maggie Grey, who was one of the pioneers of textile art. Maggie Grey who also works in mixed media, and Jan Messent who does wonderful knitting as well as exquisite embroidery".
Who or what was it that inspired you to apply for BRILLIANT in 2015?
"My daughter. She spotted an email inviting people to submit ideas for the next Lumiere. We'd thoroughly enjoyed the previous festival in 2013 and had seen some super things. One artwork in particular was a red telephone box filled with water with fish swimming around (Aquarium, Benedetto Bufalino). I read through the questions in the BRILLIANT competition form and it actually wasn't a matter of thinking about it for long, I could see a picture in my head of these great big needles suspended from a bridge with knitting hanging down from them - it was quite odd really!
To begin with I imagined that the "wool" could be chasing LED lights, so it would look as if the knitting was growing. Then after I'd spoken to one or two people and I changed my mind. I wanted electro-luminescent wire so that you would plug it in. I thought that the knitting needles would be made of Perspex tubing illuminated from within, but after talking to the Artichoke technical team we came up with a different method. In the end, the whole artwork was made using fluorescent paint and yarn with UV light shining onto it. It was amazing to see the artwork come to life at the festival. It looked just like it had when it first come into my head!".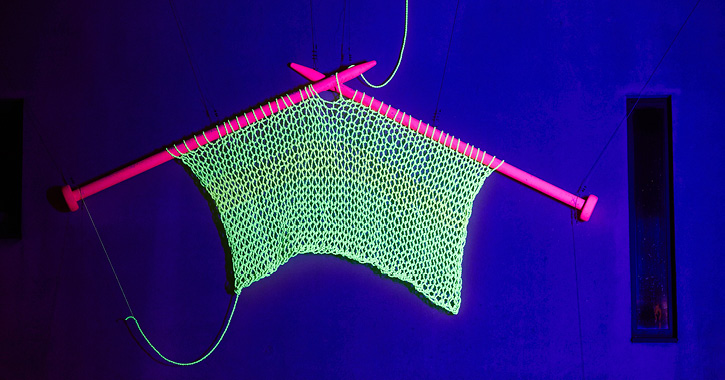 How did you find the process of working with Artichoke (Lumiere's producers)?
"The support was relaxed and they were confident in my ability to produce this huge piece of knitting. Of course, I didn't know anything about how the knitting needles would be constructed or load-bearing or health and safety. I had to try all sort of different types of material to see if they would bend and if they were resistant to rain. I had to rule out electro-luminescent wire because it wouldn't bend. Instead I tried all sort of things: rope and hose pipes covered with white shirts and even glow rope used for climbing up mountains.
I then travelled down to Stockton to see the giant needles that the Artichoke produced had made had been produced and they were just gorgeous. On the day of the artwork install, I took my knitting on the carpet tubing that I had knitted it on along to Durham city centre and I slipped it into onto the giant needles. Then the Lumiere technicians spent 4 – 5 hours hoisting it up the library wall and it was just fascinating to watch".
What was the biggest challenge of adapting your idea to be shown at a big outdoor event?
"The knitting yarn itself was the challenge, because it had to be thick enough and pliable and fluorescent. In the end I found a knitted cord (mainly used for nightclubs and parties) which I ordered in a 200m reels from America. It had the pliability and the bendability that I needed, but it didn't have the thickness so I doubled it up, twisted it and doubled it again to make it a thicker 4-ply yarn, using tent pegs in the recreation ground and my husband helping with an electric drill. In the middle of all of this, Kate Harvey (Artichoke's Senior Producer) came up to Durham because she had found someone in Belgium who used a fluorescent material called masons' line to enable builders to work in poor lighting conditions.
So I twisted the cord I had ordered together with the masons' line to create a yarn which would have a glow to it even during the day. I was surprised that the bulk of my time was spent on research. It only took about 5 hours to do the actual knitting. I found these polystyrene cones, normally used in florists and trimmed the ends so that they fitted into the carpet rolls to create giant knitting needles. Then I had to call out to my husband for help whenever I got to the end of the row so that we could pick the needle up and move it across my knee to the other side".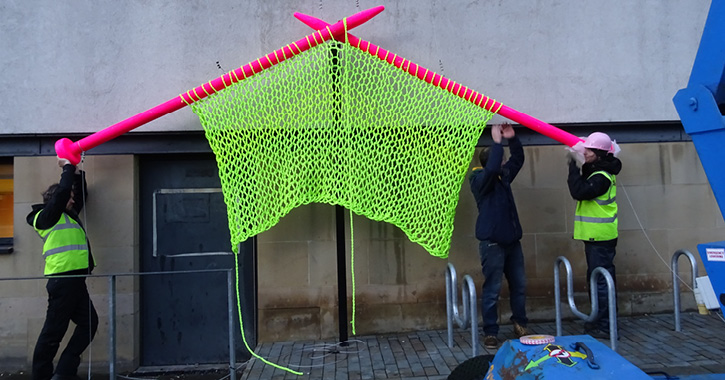 What did it mean to you to have your work exhibited publicly in Durham City?
"Living near Durham City meant that I felt that most of my friends would see it. Each year Lumiere seems to have grown bigger and bigger with more people coming along and my piece was displayed in such a fabulous space as well. If you stood in the Market Place and looked down, it was on the wall of the library".
What effect did taking part in BRILLIANT have on your career as an artist?
"It definitely raised my profile. I had a few more visitors to my website and after Lumiere someone I was commissioned me to do a community hanging mural for Blackhall Community Centre, an ex-coal mining village in East Durham. It was a banner, 2 meters long by a meter and a half wide – a map of the village. I involved the WI and the Brownies in the project to engage the local community".
Did BRILLLIANT give you an appetite for working with light in your art again?
"Yes, it did! After Lumiere I had an idea that if I had big piece of garden mesh then I could use the yarns I had combined for Big Knitting and to create a huge piece of embroidery like you would on a canvas work. I had a vision of this 1m-wide mesh either going around the top of a building or under a bridge. It's amazing the kind of things people put your way and the way something like the BRILLIANT competition broadens your interest".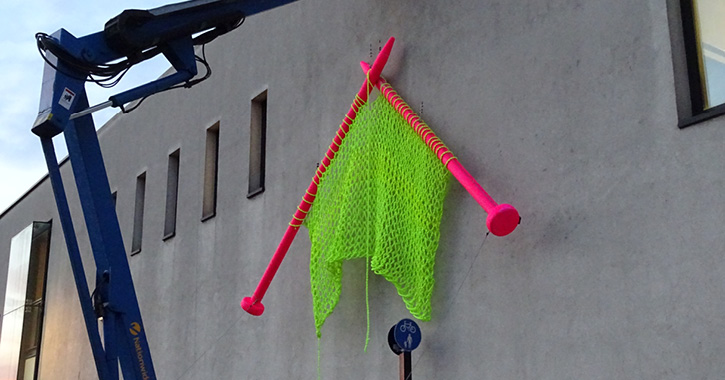 What does it mean to you that Big Knitting has been selected as part of Lumiere's 10th anniversary programme?
"I think it's wonderful. Lumiere benefits Durham City and the surrounding area and people have a high expectations of the festival now too. For most people who come to Lumiere it's a talking point for several weeks afterwards: did you see the Whale in the river? It's great because you feel that you've not only won something but also that it has had a longer appeal than you thought it had. It definitely justifies me keeping Big Knitting hanging it up in my garage since 2015".

Lumiere takes place 14 - 17 November and is open each night between 4.30pm and 11pm. You will find Big Knitting exhibited on the corner of High Street and Prince Bishop's Shopping Centre. A free ticketing system is in place to access the central peninsula of the city for the peak hours of the festival (4.30pm – 7.30pm).
Related
0 Comments