Lumiere - The UK's largest light festival returns to Durham this November.
From the 14 - 17 November 2019, Lumiere Durham will transform Durham City into a nocturnal art trail during the special 10th anniversary edition, which will feature past festival favourites as well as new works of art.
As excitement builds for this year's Lumiere festival we take a look back at festival favourites from previous years.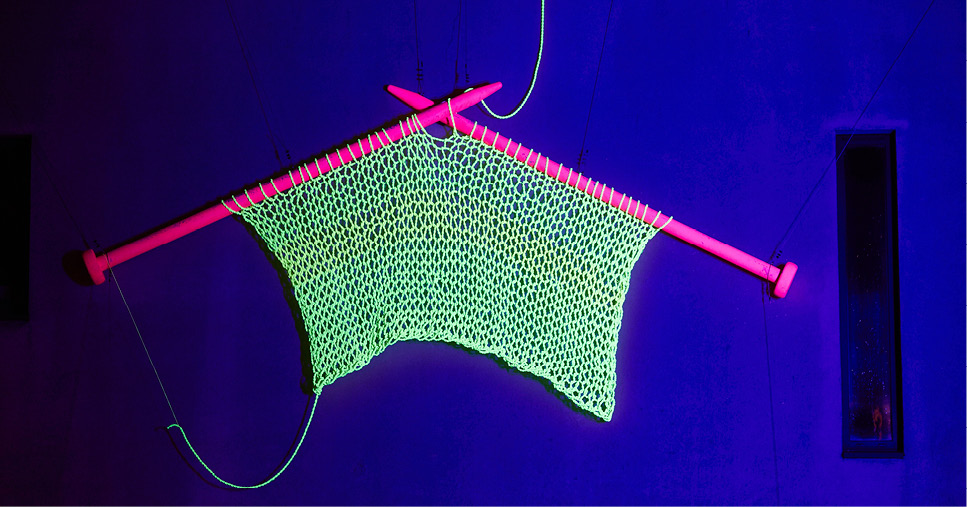 Big Knitting by Victoria MacLeod at Lumiere Durham 2015.
Big Knitting
Hanging from a wall, a set of jumbo knitting needles and luminous wool glowed above the streets of Durham during Lumiere Durham 2015. Artist Macleod knitted the installation herself. Big Knitted was commissioned as part of the Lumiere Durham BRILLIANT competition, which was open to anyone based in or orginally from the North East of England who had a 'bright idea' for an installation.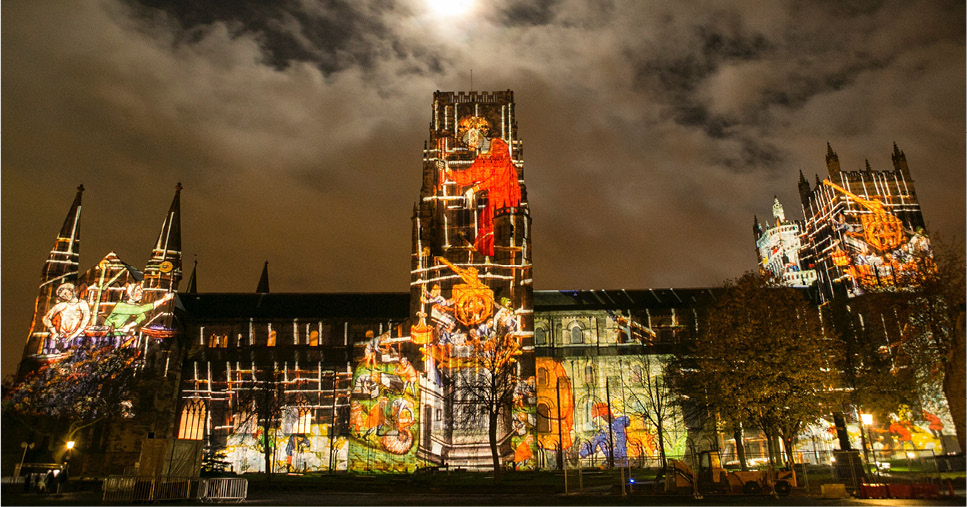 Crown of Light by Ross Ashton, Robert Ziegler and John Del'Nero at Lumiere Durham 2013.
Crown of Light
As a place of pilgrimage for a thousand years, Durham Cathedral's extraordinary architecture was transformed into a spectacular 100 metre wide illumination as manuscripts from the Lindisfarne gospels and other treasures from the North East were illuminated onto the magnificent landmark.
Crown of Light was a collaboration between three leading artists - projection artist Ross Ashton, musician Robert Ziegler and sound designer John Del' Nero. Together they created a spectacular son et lumiére especially for Durham, inspired by the powerful history of Christianity in the North East.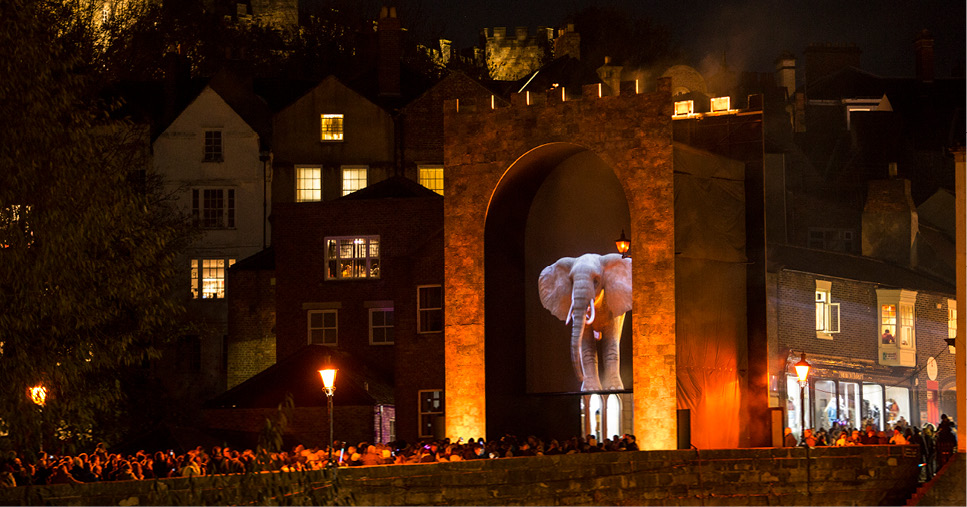 Elephantastic by Top'la Design at Lumiere Durham 2013.
Elephantastic
Emerging stomping from a cloud of dust, an enormous elephant lost in the city, made his way through the bustling crowds in Durham City, bringing with him the sounds of the jungle. Lumiere Durham 2013 visitors were able to experience the strangeness of a giant wild animal in the urban context.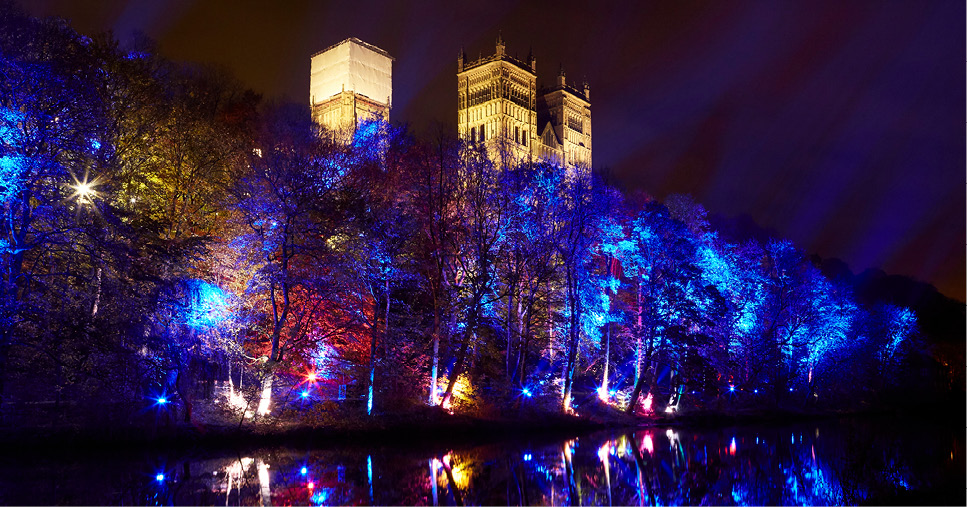 Frequencies by Kari Kola at Lumiere Durham 2017.
Frequencies
Frequencies by finnish artist Kari Kola transformed the riverbanks walk in Durham City during Lumiere 2017. Frequencies created an absorbing contrast to the natural beauty of the river and its surroundings, with a 360 degree installation using soundscape and captivating light.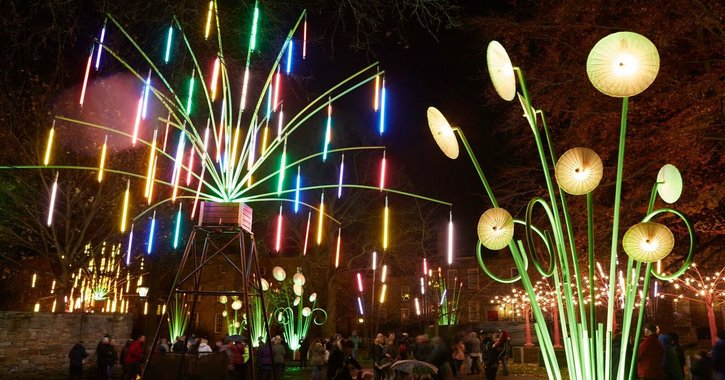 Garden of Light by TILT at Lumiere Durham,2015.
Garden of Light
2015 visitors enjoyed a winter walk through a magical mass of plant sculptures, which illuminated the night skies with the radiant glow of giant gleaming flowers and trees dripping with pretty multi-coloured light leaves.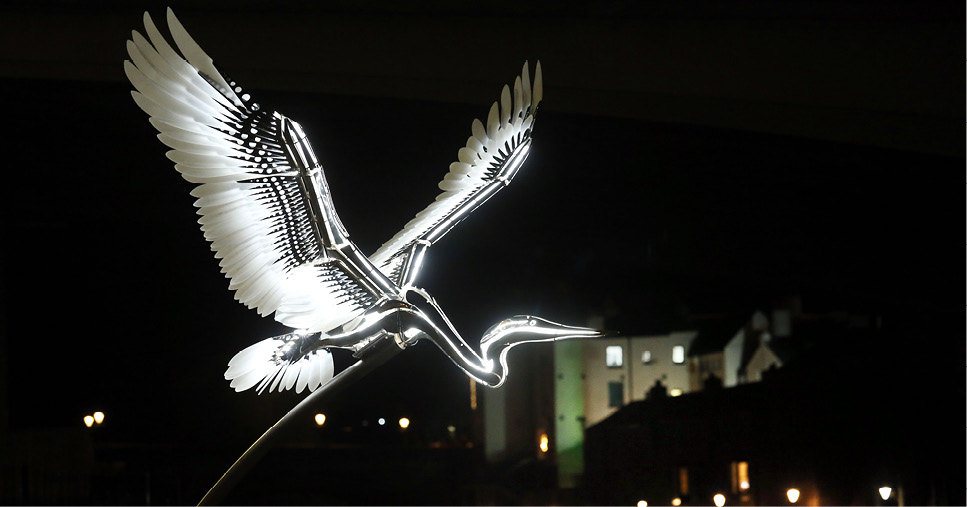 Heron by Jon Voss at Lumiere Durham 2017.
Heron
Heron first appeared in Durham during Lumiere 2017. The installation was designed as a homage to one of England's most magnificent birds and the piece glows in soft luminescence, as if caught in a camera flash while flying. The Heron was uneiled in 2018 the latest lumiere legacy piece on the banks of the River Wear near Freeman's Quay.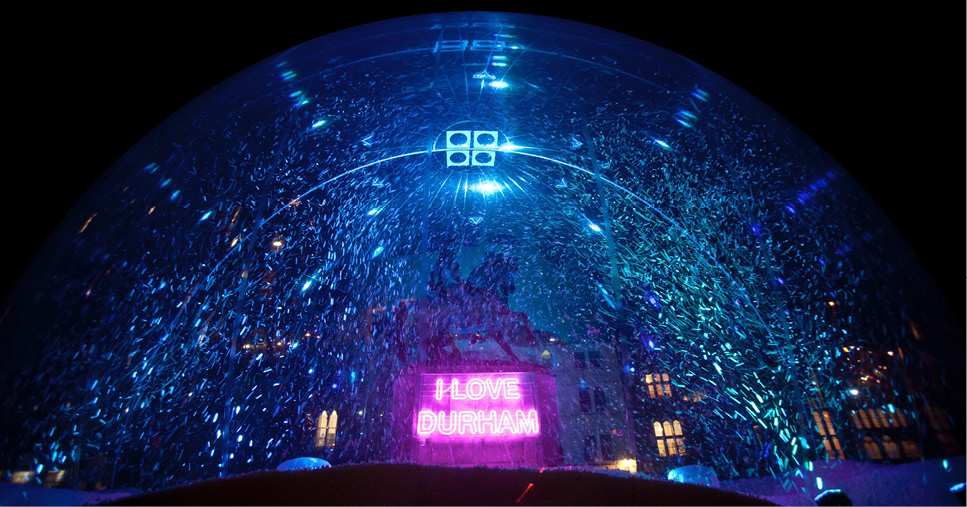 I Love Durham by Jacques Rival at Lumiere Durham 2011.
I Love Durham
French artist Jacques Rival brought to life the controversial equestrian monument to The Third Marquess of Londonderry, known to generations as 'the man on the horse' with a playful tribute during 2011's festival. A monumental dome covered the statue and engulfed it in billowing 'snow' - a giant glittering snow globe.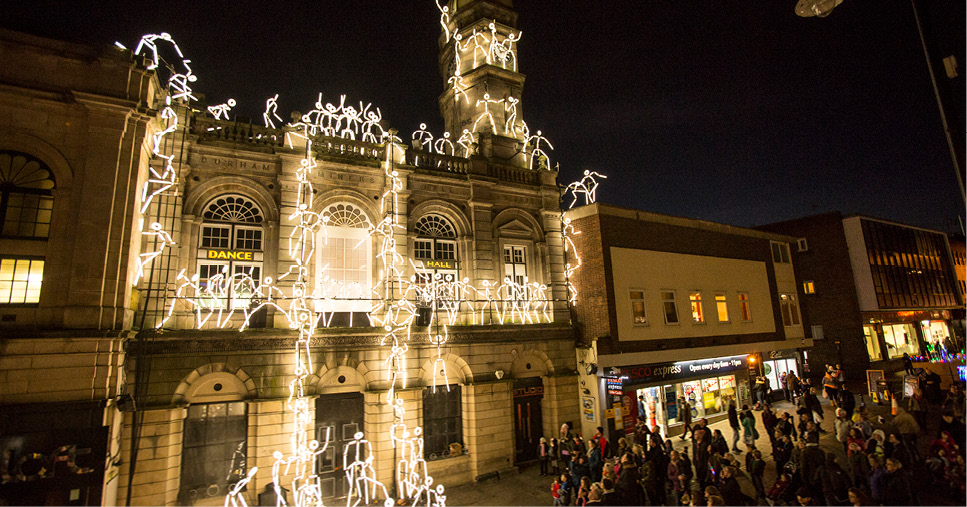 Keyframes by Groupe LAPS and Thomas Veyssiére at Lumiere Durham 2013.
Keyframes
Groupe LAPS' brought the magic of movement to the festival with their quirky illuminated stick men in a light-hearted commemoration of the building's heritage. Part animation and part moving sculpture, the LED figures danced to a sound track performed by one of Durham's brass bands.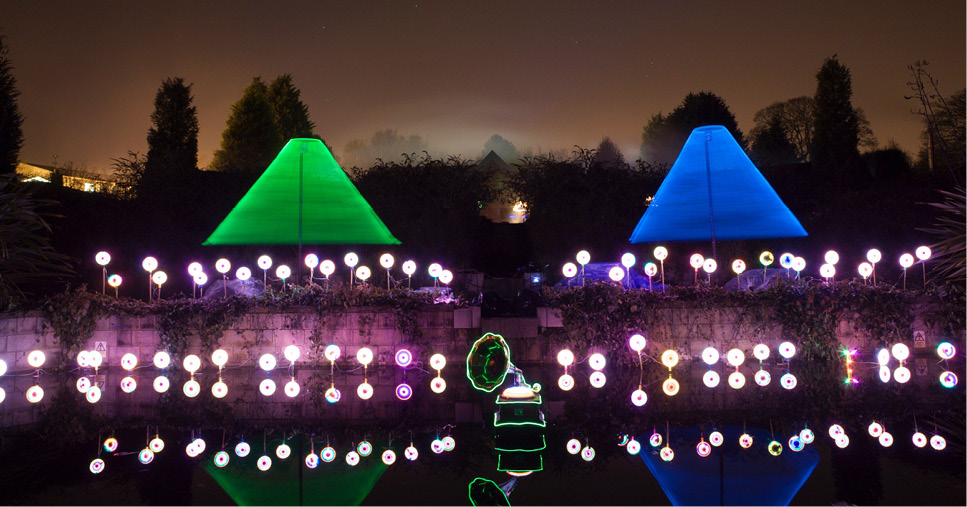 Power Plant at Lumiere Durham 2009.
Power Plant
The first Lumiere Durham light festival took place in 2009, with 22 light installations dotted throughout Durham City. Durham University Botanic Garden was transformed with 25 pieces of art for Power Plant, which was designed by five international artists. Nature and art were intriguingly intergrated by sound and light, as visitors moved through the spectacular night-time garden.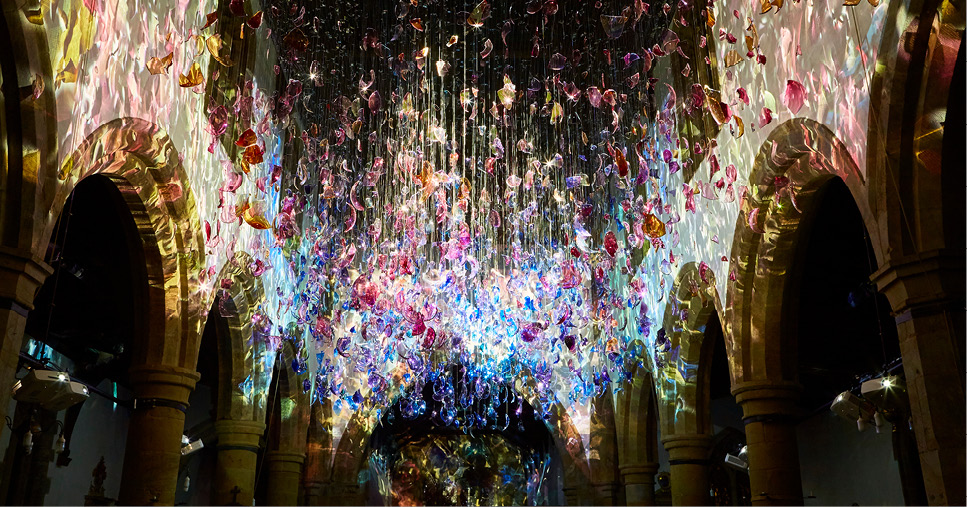 What Matters by Shuster & Moseley at Lumiere Durham 2017.
What Matters
Located inside St Oswald's Church and Churchyard during Lumiere 2017, What Matters consisted of two immersive light and glass installations. Inside the church thousands of hand-blown glass pieces depicted the birth of light in the universe and in the churchyard, pieces appeared to join together to form glass bubbles.
Click here to start planning your Lumiere Durham getaway >>
All images © Matthew Andrews apart from Heron courtesy of Durham County Council.
Related
0 Comments