Durham's loudest festival is back this summer - with brilliant bands and outstanding musicians heading to the county for a ten-day celebration of all things brass.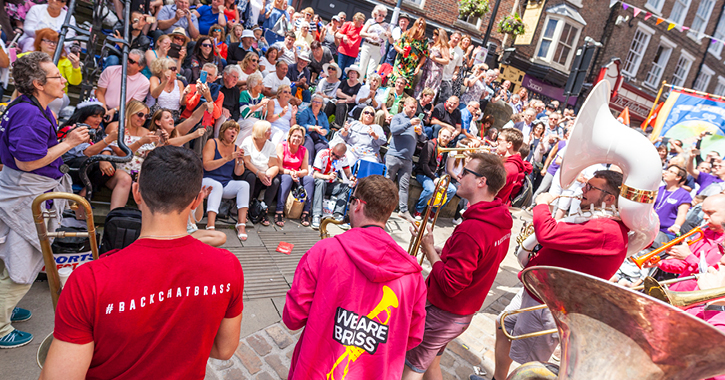 The 12th annual festival boasts a true international flavour, as street bands and musicians from across the globe descend on Durham for the annual 10 day celebration.
Australian trumpeter James Morrison, New Orleans' all-female jazz band Shake 'Em Up and the award winning Carlton Main Frickley Colliery Brass Band are just some of the many world famous performers who will be in Durham from Friday 13 to Sunday 22 July.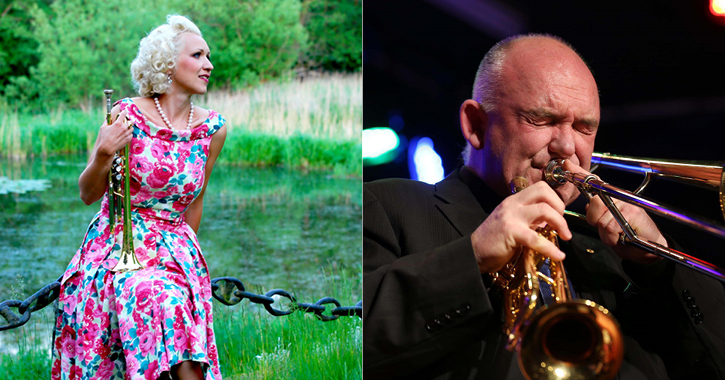 Pictured above Gunhild Carling and James Morrison.
This year's festival also sees a special focus on female performer to mark 100 years of women's suffrage, starting with Women and Brass on the festival's opening night. The celebrations will showcase the influence of female musicians, including a tribute to pioneering band leader Ivy Benson, as well as a performance from Swedish internet sensation Gunhild Carling.
The ever popular streets of brass will return to Durham City, while parks across the county will host this year's Big Brass Bash events where revellers can enjoy a real party atmosphere with the ever-popular street bands from Francem Serbia and Spain to name but a few.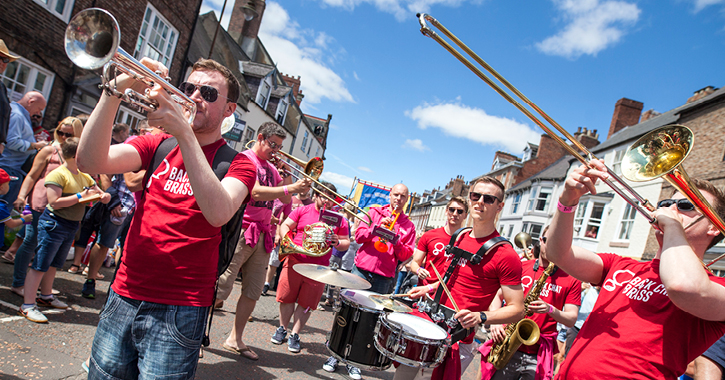 The festival will conclude with a large free concert in Wharton Park, Durham City where the Reg Vardy Band will be joined by a big choir to perform Carl Orff's instantly recognisable Carmina Burana - better known as the X Factor judges' music.
Other events new for this year include a new commission inspired by Quentin Blake's BFG exhibition, which will be on display at The Bowes Museum during the festival.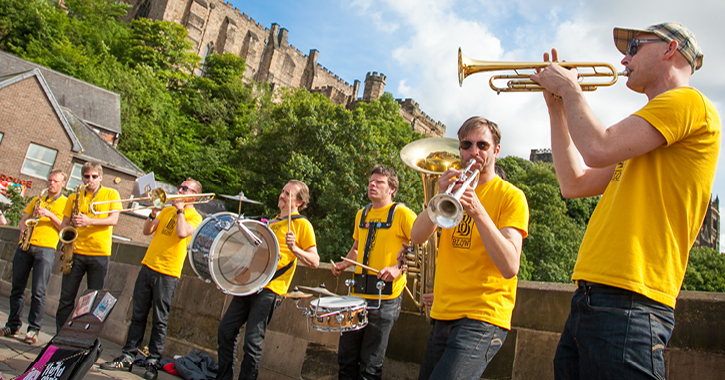 Brass International Festival programme of events
Friday 13 July, 7.30pm at Gala Theatre, Durham City
Opening the Festivals' women and brass celebration will pay tribute to the legendary bandleader Ivy Benson.
Sunday 15 July, 7.00pm at Gala Theatre, Durham City
Join the Scottish Swing Orchestra and the BRASS Hollywood Chorus for swing versions of great Hollywood tunes.
Monday 16 July, 7.30pm at Gala Theatre, Durham City.
Join Australian trumpeter James Morrison, one of the world's most in-demand jazz musicians, for an evening of unforgettable music.
Tuesday 17 July, 7.30pm at The Bowes Museum.
The brilliant Fine Arts Brass Ensemble perform Mussorgsky's Pictures at an Exhibition in the beautiful and appropriate setting of the Bowes Museum.
Friday 20 July, 7.00pm at Durham Cathedral.
Durham Cathedral Choir is joined by leading period instrument orchestra St. James' Baroque, for an evening of Bach in the stunning acoustic of Durham Cathedral.
Saturday 21 – Sunday 22 July, 11am – 5pm in Durham City.
Durham's World Heritage Site City Centre resounds to the sound of Brass with the ever-popular Streets of Brass. Street bands from Spain, Serbia and France will be joined by leading UK bands for two days of high energy and brilliant music making.
Saturday 21 July, 7.30pm at Gala Theatre, Durham City.
A unique collaboration between one of the finest voices and one of the finest brass bands in the country celebrating the songs of the great Barbra Streisand.
Sunday 22 July, 6pm at Wharton Park, Durham City.
The Durham BRASS Festival Chorus are joined by the Reg Vardy Band for a rousing rendition of Carl Orf's brilliant Carmina Burana.
Sunday 22 July, 3pm at Gala Theatre, Durham City.
Join one of the top ranked Brass Bands in the world for an afternoon of wonderful music.
For more information and tickets to events click here.
Related
0 Comments