The iconic Silver Swan musical automaton has returned to The Bowes Museum and will be on show at the weekend, when a portrait of its inventor, John Joseph Merlin, will also be unveiled.
The Swan has been in London since February, wowing visitors to the Science Museum's blockbuster Robots exhibition, but will be back on show in Barnard Castle from Saturday (7th April), as The Bowes Museum gears up to celebrate its 125th anniversary.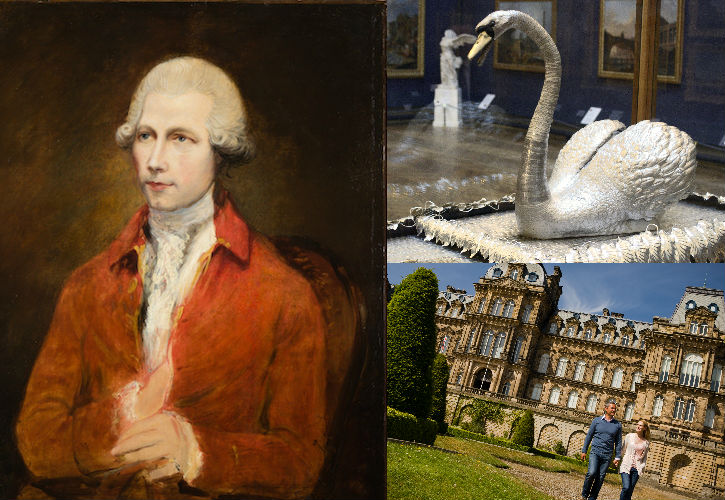 The Swan, which plays to onlookers at the Museum at 2pm every day, will be accompanied by a portrait of its inventor, John Joseph Merlin - a fine addition to the Museum's increasingly important group of English works of art.
The newly-discovered painting by Thomas Gainsborough – one of the leading artists of 18th century England - is a version of a more finished portrait of the inventor - whose best known work is the Silver Swan, for which he provided the internal clockwork mechanisms that power the automaton and its musical accompaniment – now at Kenwood House in London
Museum Director Adiran Jenkins, said: "The painting celebrates and is a direct connection to the Museum's most iconic object, the Silver Swan, and being able to show a portrait of its maker, by one of England's most revered artists, creates a further dimension to our ability to pass on the secrets of the Swan's inner workings to our audiences and to explore a mind of the late 18th century Enlightenment."
The Silver Swan's journey home...
Follow Matthew Read on Twitter to see the story of how the Swan was carefully dismantled, shipped north and put back together again, or take a look at some of the highlights below:
Today follow us for exclusive insight into the #silverswan with @WorldbyRead post #Robots @sciencemuseum @TheBowesMuseum @Conservators_uk pic.twitter.com/XuA6zGojuc

— West Dean College (@westdeancollege) March 27, 2017
Great day with our @worldbyread working on the #silverswan post the #Robots exhibition @sciencemuseum with great staff +from @TheBowesMuseum pic.twitter.com/EZZZLBKoZi

— West Dean College (@westdeancollege) March 27, 2017
You #knowthescore now. Turn this in to a fully functioning #SilverSwan in a week ☺️#simples pic.twitter.com/JC3nSfu0bd

— Matthew Read (@WorldbyRead) April 3, 2017
#SilverSwan is on the move @TheBowesMuseum pic.twitter.com/ugCyqd9ho8

— Matthew Read (@WorldbyRead) April 3, 2017
Neck of the #SilverSwan back on 🙂@TheBowesMuseum pic.twitter.com/7goeGaX1fs

— Matthew Read (@WorldbyRead) April 4, 2017
And we're back... the #silverswan returns home safely @TheBowesMuseum under the care of our @WorldbyRead Updates this week @Conservators_uk pic.twitter.com/XTEqefNblF

— West Dean College (@westdeancollege) April 3, 2017
#cannotgettoomuchofagoodthing @TheBowesMuseum pic.twitter.com/EXX2Xt08Gt

— Matthew Read (@WorldbyRead) April 5, 2017
Kayleigh does #SilverSwan neck manipulation @TheBowesMuseum #Robot comes home pic.twitter.com/knEIo4LI9R

— Matthew Read (@WorldbyRead) April 5, 2017
Well good people of #Teesdale your beloved #SilverSwan is back in one piece c/o @WorldbyRead and @TheBowesMuseum team pic.twitter.com/3i87LemOYT

— Matthew Read (@WorldbyRead) April 5, 2017
Related
0 Comments