Lumiere Tickets
Tickets are free, but you don't need a ticket to experience Lumiere. As with previous editions of the festival, the central peninsula area will only be ticketed nightly during the peak visiting hours of 4.30pm - 7.30pm.
26 of the 37 artworks, including some of the most spectacular installations, will be located outside the central peninsula area and can be visited any time without a ticket between 4.30pm and 11pm. All visitors will be able to enter the central city area without a ticket after 7.30pm. Large crowds are expected and even with a ticket you may have to queue in some areas.
You can obtain a ticket in person at one of 11 ticketing sites around the county. Tickets are not available by telephone.
Ticket Update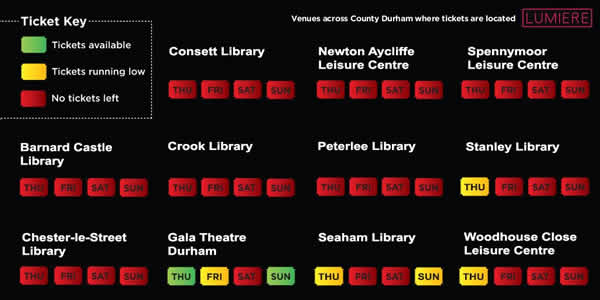 Collect tickets in person
Tickets are available to collect in person from the following venues across the county -
• The Gala Theatre & Cinema
• Stanley Library
• Seaham Library
• Woodhouse Close Leisure Centre

Tickets collected in person incur no charge. Each venue will have a set allocation of tickets to distribute. Tickets will be available at each of these venues until the allocation runs out.
The Gala Theatre & Cinema will be open each day from 10am - 8.30pm. All other ticketing sites will be open from 10am – 7pm on Monday 28 October and Tuesday 29 October, then revert to their standard opening times.
A maximum of six tickets per household are available. If your child is carried in a baby carrier or sling then they won't need a ticket. All other children will need a ticket.
For the latest ticket information, visit durham.gov.uk/lumieretickets