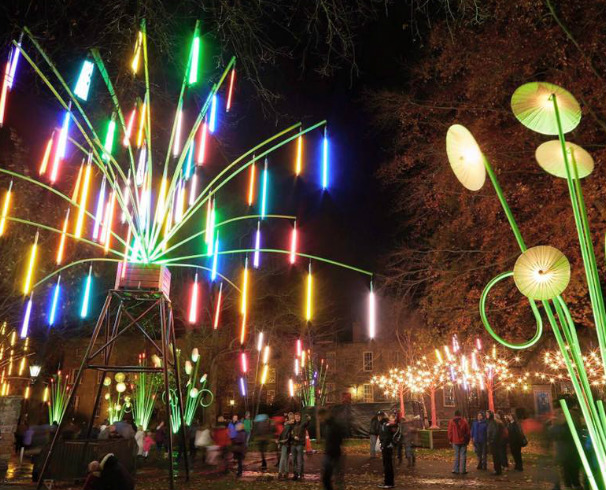 Lumiere, the UK's largest light festival, will return to Durham for the fifth time between 16 - 19 November 2017, and the first iconic locations to be featured in the spectacular have been revealed.
Durham Cathedral, Durham Castle and the historic Miner's Hall at Redhills will be focal points for the festival, which will see more than 40 awe-inspiring light sculptures and installations illuminating the city.
Leading international artists such as Pablo Valbuena and Hannah Fox, as well as the British artistic collective Shared Space and Light are set to respond to the city's unique locations for their art.
Working closely with communities on each of their projects, Pablo has drawn from the Bell Major of Durham Cathedral and bell-ringing communities from across the country as inspiration. His piece, called 'Methods,' will be performed nightly by bell-ringing teams from around the UK.
Meanwhile, Hannah Fox's work 'Our Moon' comes to Durham Castle, bringing the faces of local people from all walks of life to the landmark. At the Miners' Hall at Redhills, Common Good are presenting a powerful and touching piece of 3D video work, set to reveal the inner life of the city through anecdotes, stories and 70 participants from the community.
Where to stay during Lumiere...
Accommodation gets booked up very quickly before the festival. With so many visitors heading to the county, make sure you book as early as possible.
Here is a list of accommodation in Durham City, or you can explore all accommodation across the county here.
For further help and advice contact Durham's official Visitor Contact Centre on 03000 26 26 26, email visitor@thisisdurham.com.
How to find out more?
Further information will be announced in due course. Make sure you're following us on Facebook and Twitter, and watch out for the #LumiereDurham hashtag.
Lumiere is commissioned by Durham County Council and produced by Artichoke.
In case you didn't make Lumiere in 2015 or want a little reminder here's a video of the highlights:
Related
0 Comments