Visitors to Durham's UNESCO World Heritage Site can now discover the history of the Durham Light Infantry thanks to a new, free gallery at Palace Green Library.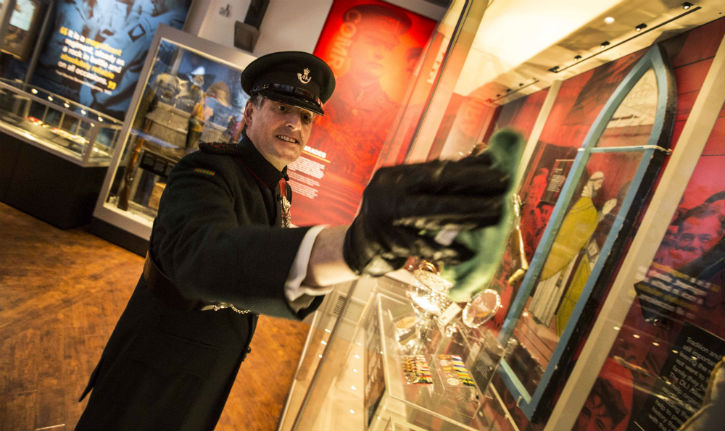 The DLI Collection Gallery – 'Courage, Comrades, Community', at Durham University's Palace Green Library, draws on the DLI Collection to chart the distinguished role of the regiment in more than 200 years of conflict across the globe.
The new, free gallery brings the stories of the Durham soldiers to heart of the city, making it easily accessible to the hundreds of thousands that visit the World Heritage Site each year.
The new gallery tells the story of the Durham soldier and highlights the special place the regiment has in the lives of the people of the county. You will be able to see objects that have never been on display before as well as some favourites from the collection.
These include the magnificent Lahore Trades Cup, uniform and medals, a wonderful engraved glass goblet dating from the early nineteenth century and a church window that was handcrafted by DLI soldiers serving overseas.
The chairman of the DLI Trustees, Col. James Ramsbotham, said the new Courage, Comrades, Community exhibition, will help ensure an "exciting future" for the collection.
"Though the regiment no longer exists, having become the Light Infantry in 1968, then the Rifles in 2007, the DLI Collection is very highly respected and means so much to so many people, so we must ensure that the DLI story continues to be told."
"One hundred years ago I don't think there would have been one house that was not involved with the DLI in one way or another, but while looking back to the bravery and sacrifices of the past, we must ensure, like the regiment itself, that we are forward looking.
"That is what Courage, Comrades, Community is part of – a refreshing and reinvigorating way we tell the DLI story for future generations, ensuring that our proud history is celebrated in the manner it so richly deserves."
Opening times:
The new gallery is free to access and is open Tuesday to Sunday from 10am until 4.45pm and Mondays from noon until 4.45pm.
For more informaiton, visit the website >
Related
0 Comments