Electric Bikes
Let the chain take the strain with an electric bike adventure around the Durham Dales and North Pennines Area of Outstanding Natural Beauty.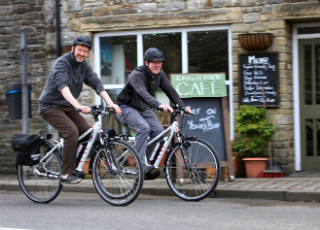 Photo: Andy Lamb, Northern Echo
Leave the car behind and head off on an electric bike to explore the breathtaking North Pennines, discovering award-winning attractions and delicious food and drink along the way.
There's no need to worry about those hills now! Cycling is one of the best ways to explore the wonderful countryside, and now you can do it under your own steam with the arrival of a new form of transport in this area – electric bikes.
Explore natural wonders and award-winning attractions hidden amongst the beauty of one of England's most special places. Seek out rambling rivers and woodlands packed with an array of birds and plants that thrive in this area. Enjoy the sights at your leisure as you choose from several hire points.
Enjoy a drink as warm as the welcome as you stop to refuel and recharge at Chatterbox Café or the Bowlees Visitor Centre, and pick up a taste of Durham by stocking up with local produce from Bradley Burn Farm Shop.
Find all the routes and more information on the North Pennines Electric Bikes Network website.
North Pennines Electric Bike Network is a North Pennines AONB Partnership project.