Itinerary Planner
The Way of Light – Taster Walk 3 (Reivers, Hadrian, Meandering Rivers and a Lively Historic Market Town)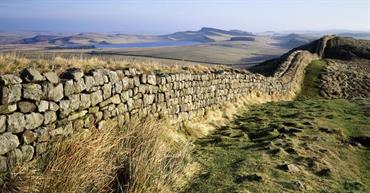 Visitor Type: Small groups
Visitor Needs: Escapism / adventure (night time walking)
Theme: History and Landscapes
Distance: 4-6 miles
Start: Hexham Market Place (public bus, train, car or bike)
Route: Hexham Market Place – Hallstile Bank – Tesco's roundabout – Hexham Bridge – Bridge End – The Hermitage – A69 via footbridge – Acomb – East Wood – Heavenfield
Finish: Battle of Heavenfield site near Hadrian's Wall
In a nutshell:
From Reivers to Romans with a World Heritage Site as the end prize. Hexham is home to the earliest purpose-built prison in England, reflecting the lawlessness of the area when cattle and sheep rustling were commonplace. Further exploration will uncover the town's heritage of glove-making and tanning.
The River Tyne is England's top salmon fishing river (ask the actor and angler Robson Green!). The Autumn salmon run can be viewed from Hexham Bridge where the plucky fish can be seen jumping clean out of the fast-moving water to swim up the weir. Some make it first time, some take several attempts. Not many give up the struggle, so strong is the urge to reach the spawning grounds upstream.
2022 marks the 1900th anniversary of construction starting on the immense frontier universally known as Hadrian's Wall. Picture the soldiers' life on the edge of Empire whilst exploring the Emperor Hadrian's ever-fascinating frontier using the Hadrian's Wall Path National Trail.
Why not visit:
Hexham Abbey
Hadrian's Wall World Heritage Site
Product Information
Contact Details:

The Parish Office
Hexham Abbey
Hexham
Northumberland
NE46 3NB

Tel:

01434 602031