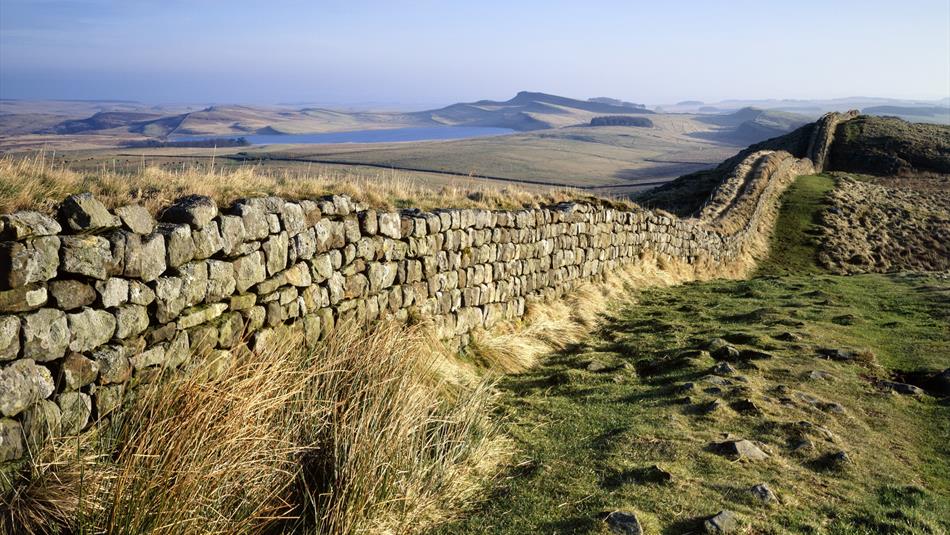 About
The northern frontier of a mighty empire that once covered the known world. Hadrian's Wall is a UNESCO World Heritage Site.
For around three centuries, Hadrian's Wall was a vibrant, multi-cultured frontier sprawling almost 80 miles coast-to-coast. Built by a force of 15,000 men in under six years; it's as astounding today for its sheer vision as it is for its engineering. Milecastles, barracks, ramparts and forts punctuate a diverse landscape that provides a dramatic backdrop. It was built to protect the Roman Empire from attacks by Picts and other tribes to the north, to establish customs and trading point and physically mark the northern frontier of the Roman Empire.
Explore bath houses, turrets and shrines, visit galleries and museums and watch live excavations uncover fresh details of ancient Roman Britain before your eyes. However you discover it, Hadrian's Wall is a unique, must-see monument and a remarkable place to experience.
Hadrian's Wall Country stretches across the north of England from the west Cumbrian Roman coastal defences at Ravenglass, through Whitehaven, Workington and Maryport to Bowness-on-Solway, along Hadrian's Wall through Carlisle to Hexham in Northumberland and on to Newcastle upon Tyne, Wallsend and South Shields.

Unlike many other historic places, Hadrian's Wall Country has something for everyone - world-class archaeology, spectacular landscapes, rare wildlife, complete solitude, vibrant cities, wonderful pubs and a population of friendly and welcoming people. There is much to learn along the way - why not swot up and discover 17 Things you Didn't Know About Hadrian's Wall and Vindolanda.

Hadrian's Wall Country offers infinite opportunities for cherished memories and special moments. The sheer scale of the World Heritage Site combined with the four seasons, the living landscape and the people who live, work and visit here mean it is an ever changing canvas. It is where history is accessible to all, where adults and children learn and it is where the Romans are still part of everyday life 1,600 years after they left.
In Tyne and Wear - you can visit parts of Hadrian's Wall at Segedunum, Wallsend and Arbeia Roman Fort, South Shields. Great North Museum: Hancock in Newcastle city centre has an excellent collection of Roman artefacts on display. All three sites can be accessed by car, bus and metro.
How to get to Hadrian's Wall using public transport
During summer, the easiest way to Hadrian's Wall in Northumberland and Cumbria is using public transport is on the AD 122 bus from Hexham. The AD 122 goes to all the major towns, Roman sites and museums in the middle of Hadrian's Wall Country. For more information, visit the website. The Go North East number 10 or Arriva 685 buses from Newcastle's intu Eldon Square bus station or the train to Hexham from Newcastle Central Station provide regular services to Hexham where you can then take the AD 122.
During autumn and winter, the AD 122 bus does not operate and you can't reach the main sections of the Wall by public transport alone. Other options include getting public transport to one of the main towns to the south of the Wall, such as Hexham or Haltwhistle, and then taking a local taxi from there or hiring a car. During winter, access to the rural sections of Hadrian's Wall is difficult and weather conditions can be treacherous, so please go prepared with suitable clothing and footwear.
TripAdvisor
Access Information
Map & Directions