Itinerary Planner
The Angel's Way - Bitesize Walk Two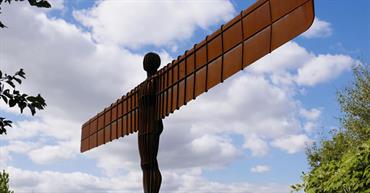 A Hidden Gem Art Gallery, a Victorian Park and Iconic Artwork.
Distance: 2-4 miles
Start: Shipley Art Gallery, Gateshead (via public bus, car or bike)
Route: Shipley Art Gallery – Edendale Terrace – Avenue Road - Saltwell Park – Saltwell Road – Gold Medal pub – Hertford Road - Angel of the North –
Finish: Angel of the North
In a nutshell:
Joseph Shipley (d.1909), local solicitor, self-made businessman and lover of law and art generously provided Gateshead with its Shipley Art Gallery. A Contemporary Craft Gallery and the famous "Blaydon Races" painting are just some of its treats. And look out for a goat's head (you weren't expecting that, were you?).
Onetime Sculling Champion of the World James Renforth's dramatic death in 1871 in the arms of his race companion Henry Kelly is depicted in a sculpture outside the Gallery.
An ancient "salt well" and its healing properties provided the name for a new "People's Park" opened in 1876. Tasty refreshments are on offer in the flamboyantly designed Saltwell Towers built as the private mansion of respected Victorian stained glass manufacturer, William Wailes.
Anthony Gormley's powerful "Angel of the North" quickly became a potent symbol of regeneration, optimism and energy acting as a catalyst for the revitalisation of the surrounding area.
Why not visit:
St Helen's church, Low Fell
St Mary's Heritage Centre, Gateshead Quays
Product Information
Contact Details:

St Mary's Church
Oakwellgate
Gateshead
Tyne and Wear
NE8 2AU

Tel:

+44 0191 433 4699

Contact Details:

East Park Road
Gateshead
Tyne and Wear
NE9 5AX

Tel:

0191 433 3267

Contact Details:

Durham Road
Low Eighton
Gateshead
Tyne and Wear
NE9 7TY

Tel:

+44 0191 478 4222
Itinerary Distances
From
To
Distance * (metric)
St. Mary's Heritage Centre

(54.96683,-1.60422)

Saltwell Park and Saltwell Towers

(54.94342,-1.60748)

2.35
Saltwell Park and Saltwell Towers

(54.94342,-1.60748)

Angel of the North

(54.91433,-1.58944)

3.09
Total Distance *
5.45 miles
Estimated Journey Time
11 minutes
* Approximate distance by road